Gala Live Casino Another Playtech Giant
Gala live casino is run by Playtech the same as their main casino. The landing page is a simple affair just a block of what's on offer. Gala like to keep things simple the background is plain but the different games on offer have a different background colour to them so the page stands out a bit more. Gala offer the choice of games from Playtech's Latvian studio and its Filipino studio. European or Asian the dealers are good looking, smartly dressed and of course professionally trained. Playtech have been doing this for a long time now and they have perfected the systems. The whole thing is as smooth as silk. It's a shame the same cannot be said for the customer service team at Gala/Coral. The joint service team lately have become a little unsure of themselves. Contact was made to ask how many blackjack tables were available for peak times and the answer I got was one table. This is just a dumb answer there are at least two on the landing page. Customer service was always a big thing with these guys. Both Coral and Gala have gone downhill in this area for sure. Still don't know how many tables are available at Gala but Playtech have loads. There are at least ten blackjack tables with limits from a paltry £0.50 to a hefty £500 per hand. Roulette have limits from £0.10-£100, the hold'em is £0.50-£50, baccarat £5-£1000.

Recommended Casino Operators
Bwin
Free Spins
UKGC Regulated
Read Review
Mansion Casino
£5000 Welcome Bonus
UKGC Regulated
Read Review
888 Casino
£100 Welcome Bonus
UKGC Regulated
Read Review
Gala Casino

Bonus

£400

Regulation

UKGC

Games

Slots, Table Games, Video Poker

Websites

www.galacasino.com
Be Quick
Gala live casino is popular especially on the weekend. If you find a room you like get in there as quick as you can. If you haven't placed a bet with a minute or so you will be booted out. You get a warning but you will lose your seat. There is a rather annoying bit about this software. If you find a table with only a couple of seats available they may well be gone by the time you click play, ok, but you then get shunted back to the main casino lobby. Why not get put in a queue? You then have you through the whole process again.
The Usual Suspects
There is of course roulette, blackjack, baccarat and casino hold'em. These four are the staple of all live dealers Gala have sicbo in their line up as well. As just mentioned the exact amount of rooms available is not known. There has been a different amount every time we logged in. But the norm is that there are several to choose from with roulette getting a good share. Which is ironic as you don't need as many to cater for large numbers like you do with blackjack. The Asian dealers bring a bit more of an exotic feel to an otherwise UK facing bog standard casino. All of these tables are networked so you will be playing with punters from other brand names in the Playtech family. As with all Playtech offings the interface is easy to use. A novice gambler will have no trouble.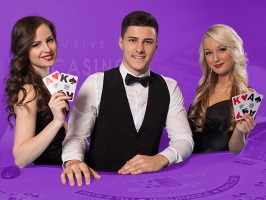 Gala Exclusive Blackjack And Roulette
Gala have at least spent some money on having the exclusive tables as part of their Playtech package. Male and female dealers and croupiers run the tables. The only real difference here is the décor and the fact that you will be playing with other punters from Gala and nobody else. The games play exactly the same. There are no promos or bonuses that refers solely to the live casino at Gala. You can use the main casino bonuses in the live area.
In Summary
The Coral/Gala/Ladbrokes family have a fair few online brands now. Gala have tried with their re-worked site to stand apart from the rest. They do come across as being different. The live casino is basically the same as all the rest the games are Playtech. There are a few differences admittedly. The main one being the landing page. Gala just feels like it couldn't really be bothered to make much effort were the live casino is concerned. The landing page looks like an afterthought. The blurry colours just doesn't go with the rest of the site. Which is rather classy in an understated way. The site is of course safe fully legal and powered by Playtech. The very disappointing part was the customer service. As bad as a call center can be. Which is a big shame. The games play very well of course. Gala payout and don't mess you around. It just feels like the site is not show casing as well as it could. There is a lot of money behind the brand and a bit more effort should go into presentation. Apart from that you will be entertained. It's Playtech after all.