Rise of Ra Slot Review – A Retro Casino Game with Attractive Jackpots
The Rise of Ra slot machine traces its humble beginnings back to 2016, when it was released by the Bulgarian software developer EGT. Although at that time there were many modern slot titles, Rise of Ra made an immediate impression on the iGaming world with its charmful retro visuals and simple gameplay. While many industry critics prophesized that this particular title will soon "blip out" from the radar of the iGaming mainstream, Rise of Ra managed not only to hold out to the tests of time but also retain its popularity with the help of its balanced gameplay features. In today's Rise of Ra slot review, we will explore everything the game has to offer!
The Rise of Ra Slot Game Story
The entire slot is seemingly adorned with the symbolism and icons of the ancient Egyptian culture. The sun god Ra himself is considered to be the centre point in the slot's plot, which revolves around the player spinning the different reels while hoping to uncover the buried treasures of the deity's tomb and claim them for himself. While the game doesn't have a deeper storyline than that, it doesn't need one! The game's art style might seem a bit outdated; however, all visuals are still rendered in crisp HD quality.
The Many Special Features of the Rise of Ra Slot Machine
Like most EGT titles, the Rise of Ra slot game operates with a five-reel, three-row layout that works with a standard rolling mechanic. The slot uses 13 symbols – Ra, Hathor, Pictogram, Green Vase, Golden Ankh, Falcon, Sphynx, Eye of Ra, Anubis Hound, Crook & Flail, Treasure Chest, Scatter, and Scarab. The Scatter and the Scarab are considered to be the highest-paying symbols of the game, but providing huge wins is not the only thing they are used for!
A Wild Symbol That Serves a Better Purpose
As a "wild", the Scarab will substitute all other symbols, except for Scatter – but that's not all. Every time a wild symbol is a part of a winning combination, it will double the prize amount that is produced by it! In fact, the symbols paytable of the Rise of Ra slot machine online, displays what the regular win amounts are, as well as their "wild-enhanced" values.
A Scatter Combo Wins You Free Spins and Enhances Your Winnings
If you manage to land two Scatter symbols anywhere on the reels, you will get a reward. Scoring at least three of them will cause the Rise of Ra slot machine to provide you with 15 free spins, but there is more! Once the free spins mode is engaged, the payout produced by any successful symbol combination will be multiplied by x3! If you would like to see how those particular features function for yourself, you can play the game for real money or in demo mode in the following casinos: PlayOJO, Drueck Glueck, NetBet, Videoslots Casino, Mega Casino.
Enjoy the Progressive Jackpots of the Rise of Ra Slot
If you're a slot player that looks for that "big win", you will definitely enjoy the fact that the Rise of Ra slot machine online has not only one, but four separate progressive jackpots! From lowest to highest, they are designated as Club, Diamond, Heart, and Spade! In order to win any of them, you will need to complete the so-called Jackpot Cards Mystery Bonus. This feature is triggered completely at random after a spin has concluded, and any resulting wins have been paid up.
The Jackpot Cards Mystery Bonus will lay out 12 face-down cards on the playing field. The player will then start to pick the cards one by one, until they have successfully revealed three cards with a matching suit. Once this is done, the player will win the jackpot amount that corresponds to that suit. When the winning amount is paid out, Rise of Ra will return to its base play.
The Basic Slot Specifications You Need to Know
Although Rise of Ra might look a bit confusing at first glance, it is actually quite easy to play. The Rise of Ra RTP value is listed to be 95.97%, which is often described by the iGaming industry to be the "golden average" of today, even though the game is more than five years old. As a slot with a mid-to-high volatility rating, landing successful symbol combinations isn't expected to happen frequently; however, there's a good chance that the prizes in the game will prove to be significant.
The Rise of Ra slot has 15 adjustable paylines. Winning symbol combinations will be formed from left to right, starting from the first reel. This, of course, excludes Scatter symbol combinations which will pay regardless of where they are positioned. Scatter wins will be multiplied by the total value of a player's bet. In contrast, payline wins will be multiplied by the value of the particular payline. Rise of Ra gives you the opportunity to activate and play on 1, 5, 7, 10, or 15 lines.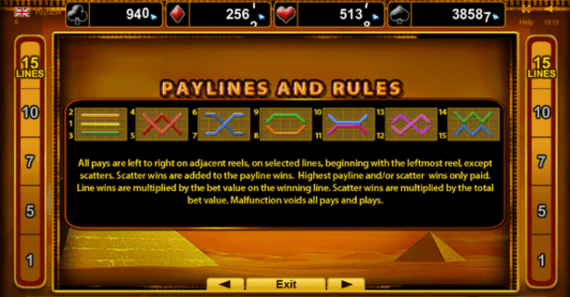 Bet Adjustment and Winning Symbol Combinations
When talking about placing bets in the Rise of Ra slot machine, we need to mention that any monetary units will be indicated as "coins" rather than any specific currency. With that being said, we come to a very interesting design decision made by EGT when they developed the Rise of Ra slot game – which is the incorporation of five different "spin" buttons, every one of which has a unique coin bet value. Generally, the smallest amount of money you can spend per spin is going to be 15 coins, while the biggest – 300. Since all the values are laid out, all you have to do is press the button with the desired amount, and the game will initiate a spin.
The prize amounts for the lowest and largest wins produced by particular symbol combinations will be determined by the value of your bet per spin (BPS). For example, while using the lowest BPS (15 coins), we have found out that the smallest amount that can be won, will be produced by a combo of two Chest symbols – which will yield a prize of 2 coins. If, on the other hand, you manage to score a single combination of five Wilds at a BPS of 300 coins, then the payout will be 10,000! The win amounts and BPS values depicted here, are based on all activated paylines.
The Most Rudimentary Auto Spin Mechanic Possible
If you would like to have Rise of Ra start and stop spins on its own, all you would have to do is press the orange autoplay button located next to the "credit value indicator". Auto spins will run continuously with the last BPS a player has set. One small drawback with this mechanic is that you won't be able to select a pre-determined number of spins, or specify any feature-disabling conditions. If you would like to disable the mechanic, the only way to do so is by pressing the auto spin button again.
Try to Increase Your Wins with the Gambling Mechanic
The Rise of Ra slot machine online provides its players with an additional chance to increase their most recent wins. If your last spin has produced any type of prize, a "gamble" button will appear on the screen. There, players will be given a chance to choose between a card colour (red or black). Once the choice is made, a card will be drawn – if it turns out to be the same colour as the one predicted by the player, their last win will be doubled!
The gamble feature can be played up to five times; however, if a player's guess isn't successful even for a single prediction, they will forfeit all winnings. Using the gamble mechanic is not mandatory, but if you want to take advantage of it, the last win you initiate the feature with, must be less than a specific value pointed out in the game's settings. That value will be determined by the size of your bet. For example, if you're betting 15 coins per spin, enabling the gamble feature must happen with a win that's less than 525 coins; however, if your BPS is set at 300, then using the risk mechanic can't happen with more than 10,500 coins.
An Appealing Mobile Play Version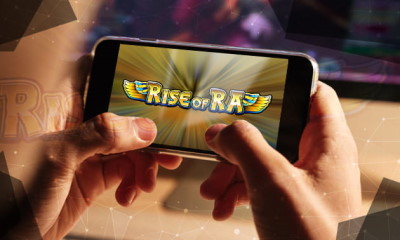 Due to the slot's "retro-style", many players think that Rise of Ra isn't ideal for playing on a mobile device, but it actually is. EGT has made sure that the game runs flawlessly on any type of Android and iOS device, without the need for any additional downloads. If you're interested in playing the Rise of Ra slot machine on your favourite tablet or smartphone, all you have to do is launch it via a recently updated browser. Our research has shown that Rise of Ra works best on the mobile version of Google Chrome.
The first thing that players will notice when engaging Rise of Ra on their preferred mobile device, is the redesigned gaming interface of the slot. All controls are repositioned on one side to accommodate use with one hand, and adjusting the number of paylines and BPS amounts seems much more intuitive. One thing to mention that the Rise of Ra mobile slot has, is an adjustable auto spin function. Here, players can choose to process between 10, 20, 50, and 100 on automation, as well as set the feature to "infinity". Although there are no other visual differences between the mobile and PC versions of the game, players often state that the slot looks and plays better on a smartphone.
Conclusion
Although the visual style of the game does seem a bit "wonky" and way too cartoonish, it reminds the players of slots from the late 90s, when the industry's first attempts started producing slot games with visual themes that were breaking away from the "fruit-themed" status quo. EGT's slots are known for their inherent nostalgia style, which doesn't impede their ability to produce games that exude a "classic vibe" but still feature a plethora of modern gameplay and bonus features. If you're not sure whether you would like to place a few real money bets or not, you can also try the Rise of Ra slot game in demo mode!
FAQ
What Is a Good Strategy When Using the Gamble Mechanic in Rise of Ra?
Usually, the small wins produced by the game are expected to be less than what you spent for a particular spin. If this is the case with your gameplay session, you could consider it a good idea to enable the gamble mechanic. If you've doubled your most recent wins successfully and have "broken even" for your last bet, we recommend you collect any winnings and continue spinning. While people who consider themselves to be "big risk-takers" tend to use larger sums of money to minimize previous losses, but we advise against this tactic.
Why Can't I Play Rise of Ra in Demo Mode in My Casino?
While the game is made available in demo mode by the developer EGT, it is possible that you can't access the free version due to lawful regulations that are followed by your online casino. There are a number of countries that restrict demo play in general, as a preventative measure against underage gambling.
How Many Times Can I Retrigger the Rise of Ra Free Spins Feature?
Rise of Ra doesn't have a limit when it comes to retriggering any bonus rounds! What this means, is that as long as you're lucky enough to land Scatter symbols during free spins mode, the slot will continue to add increments of 15 FS to your bonus rounds counter. Bear in mind that when this happens, you will receive only the free spins – while at the same time, the win multiplier rate will remain the same, regardless of how many times you retrigger the feature.
Where Is the Rise of Ra "Fast Play" Button Located?
Unfortunately, there are no additional game settings that will allow you to spin the reels faster in Rise of Ra. A regular (non-winning) spin will process from start to finish in approximately 3 seconds; however, if you decide to do it manually (slam stop), you can bring this time down to 0.5 seconds!