Does the House Always Win – Playing Successfully in a Casino
Published:

31st March 2021

Author:

Morgan Bartlett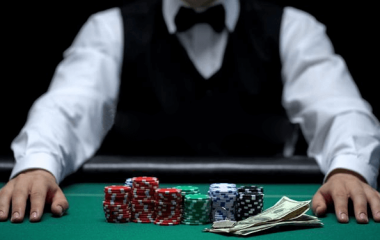 One thing is for sure – people that visit either land-based or online casinos have a "natural hope" that when they play, they will win. Of course, if you are deliberately looking for a casino to play with real money, you are probably aware that there is a chance that you might lose. A general misconception that is most often adopted by beginner players, is that the chances between winning and losing are the same (50/50). The truth is, they are not; in fact, all casinos have an inherent mathematical advantage that is incorporated within every game they have.
The House Edge Is the Casino's Undisputed "Gameplay Tax"
The term "house edge" (HE) refers to the natural mathematical advantage a game has over the players. While this particular term is represented in a percentage for each individual game, its value shows the potential loss a player is expected to sustain over time, by playing a specific casino game. To put things into perspective, let us say that a specific casino game has a house edge of 4%. If a player spends an hour playing it with a bankroll of £100, after multiple wins and losses, they would have lost £4. Naturally, the house edge percentage will be different for each game, and while some values can be significantly low, there are no casino games with a 0% house edge.
The RTP Is Referring to the House Edge from a Different Perspective
The "return to player" (or RTP), is the theoretical mathematical probability of how much a player would receive from a particular game over a specific number of rounds. Although all casino games have an RTP rate, it is most commonly used when referring to different slot games (online and offline). For example, "slot A" will have a 93% RTP rate – which means that after playing for a significant amount of time with a bankroll of £100, you will receive a return of £93. Following basic math, the house edge on this particular slot will be 7% resulting in an overall loss of £7.
How Do You Beat the Casino at Their Own Games?
When it comes to the house edge, generally, there is nothing a player can do to minimise it, especially when it comes to table games. In the case of slots, however, the percentage might be slightly affected by the use of special in-game bonus features. Unfortunately, if those do not consist of "buyable bonuses", you won't be able to affect anything. Even though the nature of some games will make it so that the house edge will slightly vary, that range will be pre-determined by the game's manufacturer. Even though the odds are literally stacked against the player, there are a couple of things that can be tried out in order to try and preserve (and maybe increase) your bankroll.
Players Use Strategies in Order to Try and Improve Their Chances
One of the most popular ways players try to improve their winnings, is by implementing a number of strategies. Given the fact that nearly all games are operating in an almost "automated manner" (meaning that the player isn't required to do anything else besides place bets), the majority of gameplay strategies revolve around different types of betting patterns. While working great on paper, those strategies might provide a temporary profit, but in the long run, they are as losing as ever. Some examples of popular betting strategies include:
The Martingale
The Paroli
The Labouchere
The Oscar's grind
The Brains of Players Are Wired to Believe in a Better Outcome
People are fascinated by stories that are about big casino wins. From blackjack players who have won several hundred thousand pounds to lucky slot players that have scored a jackpot in the millions, we all remember those stories. When it comes to the other side of the "casino experience", however, we've also heard the really bad ones.
The real trick here is that the brains of all people are wired to remember and desire the most fortunate possible events, so when walking through the casino doors, they strongly believe that they have a good chance to win, regardless of the game they are going to play. Having said that, take a look at a few short tips that will classify as "beating the house".
If you want to play a particular game, make sure that you know what to expect.
Don't play: while some casino games might look incredibly exciting to engage in, they might have a house edge that will sap your money fast.
Treat casino gaming as a lottery: go in with a specific amount, if you lose it all, don't continue gambling – if you win anything by betting its entire amount and you come on top, quit while you're ahead.
The most alluring aspect of casino gaming is that you might be lucky and win some money. On the other hand, if you want to feel a bit more prepared, learn more about the game you're interested in before playing it. Although informing yourself better about a particular casino title won't increase your winning chances, it will reduce the losing ones. People often make "bet mistakes" that cost them a lot over the course of their gaming session.
Other Intricate Ways That Casinos Make You Lose Money
This is an interesting concept that has been employed by many casinos that want to sap more money from their customers. You've probably heard things like "hot cards" or "hot numbers" or "popular combinations". Those usually refer as the most repeated numbers in a game over the course of several gameplay rounds. The outcome of all casino games is random, and the fact that some numbers or cards have been repeated doesn't guarantee that the next time you bet on them, you will win. This is just another clever marketing tactic by the casinos, so you can make a meaningless bet and lose it.
Some of the Games with the Smallest or Biggest House Edge
Some casino games have an incredibly low house edge, while other casino titles and genres feature an incredibly high percentage. It is universally accepted that blackjack is the game with the lowest house edge in all casinos. The "single deck" version of the game has a 1.5% house edge, which increases proportionally with the addition of more decks.
Following closely after baccarat, the second game with the lowest HE is Craps. The dice game has a HE range between 1.4% and 5%. When it comes to the games with the biggest HE value (which is even worse for your bankroll), those will be titles based on the Big Six Wheel, which was inspired by the popular "wheel of fortune" television show series. Nearly every single gambling industry expert suggests people to not try the wheel at all, as the HE value of nearly any prize-wheel game is between 11% and 24%.
Remember: It's about Having Fun – Not Becoming Rich
Even professional players that have made their outstanding fortune by becoming regular gamblers, testify to the axiom that in the end the casino always wins. While there are some hints and tricks that might be implemented to give your bankroll a temporary boost, in the end, the house's inherent advantage will always win. If you are going to play, make sure that it is short term and with an amount of money you can afford to lose.
All casinos are built on the idea of profiting from their customers' losses, and the most common losers are the ones who didn't quit while they were ahead. You can't make a profit from something that is designed to make a profit from you – just have fun. If you're lucky, you will win something; however, if you leave empty-handed, you will have an interesting story to tell how you lost some money in a casino.