Must Read Gambling Books That Will Take Your Game to The Next Level
Published:

26th October 2021

Author:

Morgan Bartlett
If you are a keen gambler, and it is safe to assume that you are if you are here reading this, then there is every chance that you are interested in doing extra some reading about the subject. Over the years, a huge number of books have been published about gambling, covering everything from gambling mathematics to psychology and more.
Many of these books will provide you with valuable insights and strategies that will help you take your game to the next level. If you are wondering what should be next on your gambling reading list, then take a look at the following suggestions.
Gambling 102: The Best Strategies for All Casino Games
The title of this book explains exactly why you should read it. Michael Shackleford, also known as the 'Wizard of Odds', wrote it, and he is hugely respected within the gambling community. The book is not designed for beginners (otherwise, it would have been titled Gambling 101); it assumes that the reader has a good understanding of the rules of the games being discussed. However, the book provides an excellent summary of the best strategies for each of the games discussed, which include many of the most popular casino games.
Beat the Dealer: A Winning Strategy for the Game of Twenty-One
This has become one of the most famous gambling books of all time. Its author, Edward O. Thorpe, is the man who invented modern card counting. He first rose to prominence when his card counting system won $11,000 in one weekend before he was asked to leave by casino security. Thorpe explains his card counting system and the concepts behind it. It is necessary to have a good knowledge of blackjack before reading the book, but if you are a serious blackjack player, then it is a must read text.
Slots Conquest: How to Beat the Slot Machines
Slots remain the most popular casino game, both online and offline, and in this book, author Frank Scoblete attempts to give readers a mathematical edge over the machines together with tips about how to choose which games to play. Scoblete has been gambling and writing about it for close to forty years, and he now has more than 30 books to his name, making him one of the most prolific gambling writers of all time. He is still writing today for a number of websites and regularly produces fascinating articles.
Scarne's Guide to Modern Poker
Author John Scarne has been recognised as a gambling expert since the early 1970s, and he wrote this book as a guide for beginner and intermediate poker players. The book is focused on draw poker, but Scarne then explains how the principles of draw poker are applicable to other forms of the game. He also provides insights into how to bluff players and provides strategies and tips on how you can prevent other players from reading your intentions. If you are interested in becoming a poker player, then this book will provide you with a valuable foundation.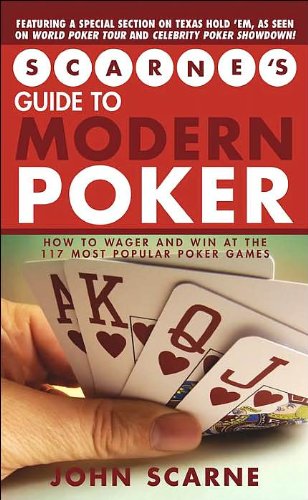 Winning Casino Blackjack for The Non-Counter
Following the publication of the aforementioned book by Edward Thorpe, nearly all serious blackjack players turned to card counting. Author Avery Cardoza wrote this book as a reaction to the sudden prevalence of the technique. In it, he explains how you can win at blackjack without using complicated and risky card counting strategies. Cardoza himself is a true gambling expert. He has published over 21 books on the subject, and he established Cardoza Publishing, which has become the premier publisher of gambling books.
Forever Craps
Craps is one of the most iconic casino games but also one of the most complicated. The author Frank Scoblete was one of the first to start applying serious strategies to trying to win craps. He rose to fame with his book "Beat the Craps Out of Casinos", which introduced strategies such as the Five-Count and Supersystem. This book builds upon that and introduces additional concepts such as dice control, rhythmic rolling, and more. The book is suitable for all levels of player, and while there is some controversy over the topic of dice control, it is a fascinating read.
Winning Casino Craps
Craps is such a complicated game that it deserves more than one book on this list. In this book, author Edwin Silberstang takes the beginner through everything they need to know to play casino craps. There are chapters on the game and its rules, the types of bets, the odds, strategies, and more. It has been a hit book since it was first published in 1979, and it joins a number of other books by Silberstang, such as "Winner's Guide to Casino Gambling" and "Winning Blackjack for the Serious Player".
Busting Vegas: The MIT Whiz Kid Who Brought the Casinos to Their Knees
In what is now a famous story, during the 1990s, a team of students from MIT developed their card counting skills and then headed to Vegas. This book, by Ben Mezrich, tells the story of the team starting with their time at university and then it follows them to Vegas, Atlantic City and Monte Carlo. At times, the book reads like a thriller, and some of it is certainly fiction. However, it is an enjoyable read, nonetheless. There are many other books that cover the same story, and it has also been immortalised in various films, so anyone who is interested should find plenty of material.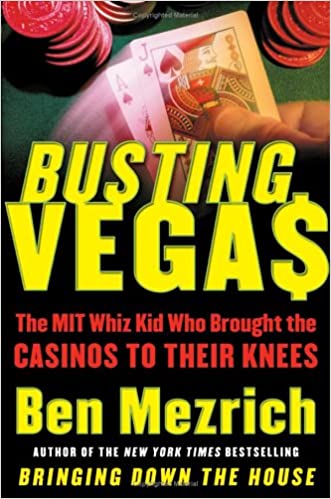 Professional Blackjack
If you are already a serious blackjack player, then this book is not to be missed. Written by Stanford Wong (the pen name of John Ferguson, who was a Professor of Finance at San Francisco State University), this book builds upon the card counting system first introduced by Thorpe. It looks at how players can compensate for methods used by casinos to interfere with card counting methods. The book is full of detailed examples that provide some truly valuable insights. Of particular use may be Wong's tips on how a card counter can remain anonymous while visiting a casino, which many believe is just as important as winning.
The Gambler
To round off this list is a fictional cautionary tale about gambling by Russian writer Fyodor Dostoevsky. It is a short novel that reflects Dostoevsky's own addiction to roulette, and he actually wrote the book in order to pay off his gambling debts. It tells the tale of Alexey Ivanovitch, a young tutor working in the household of a domineering Russian general. While this book may not help you win, it is a fantastic piece of writing and one that all gamblers are sure to enjoy.