Gold Canyon Slot Review – One of the Best-Rated iGaming Titles Online
If you're looking for fast-paced reel action with explosive bonuses, then the Gold Canyon slot game might have something to offer. Made in 2019 by Betsoft, this online video game is a long way from the three-reel cherry-themed slots of the '90s. By featuring two gameplay modes, special symbol features and additional functions, this title was immediately added to the portfolio of the top-rated casino sites from the moment it was released. In our Gold Canyon slot review, we will not only reveal interesting information about the game itself but also provide you with some useful tips!

The Gold Canyon Slot Offers a Western Story
Whether experienced on a mobile or PC, Golden Canyon has a story to tell. The visual theme of this game is seemingly set in the Wild West, following the exploits of "the Cowboy". A wanted man who loves playing cards, handling explosive sticks of dynamite, and someone who is seemingly dedicated to getting as much as he can form the gold mines. As a "new age" game, the Gold Canyon slot invites players to experience its visual story in high definition.
A Gold Canyon Slot Game with Explosive Features
This western slot might feature a standard 3×5 reel pattern, but this is where the "classic" part of the game ends. In fact, the symbols found in the Gold Canyon slot game are considered to be quite innovative and lucrative, if we are to judge by their technical definition. For example, there are two high paying symbols (golden nugget, horse), two special symbols (cowboy, dynamite) five mid symbols (lantern, sheriffs star, horseshoe, wanted poster, a hand of cards), and four "standard" symbols (J, Q, K, and A).

While the high paying symbols are known for offering a chance for massive wins, it's the special ones that give the game its unique features. You can experience them for real money, or even try them out for free – the Gold Canyon slot machine is also offered in demo mode in most top-rated casino sites in the UK. On the other hand, if you wish to understand the features better before playing the game, you can read all about them in the paragraphs below.
The Cowboy Symbol Becomes Bigger
Appearing only on reels 2, 3, 4, and 5, the cowboy symbol will expand every time it appears on the screen.
Regardless of its position, this special symbol will take up an entire reel, and substitute all others with the exception of the dynamite scatters.
Multiple expanding wilds are possible here and will also be present during bonus play.
Dynamite Scatters Give Free Spins and New Symbols

If you land three dynamite bundles anywhere on the screen, you will receive one free spin (FS) per symbol – the more you land, the more Gold Canyon FS you will receive. Not only will dynamite scatters give you what you're looking for, but will also destroy symbols on adjacent positions, which will drop new ones from above, that have a chance to form another winning combination before triggering the FS gameplay mode.
If that wasn't enough, dynamite scatters can also land during bonus rounds, providing even more FS, essentially becoming "unlimited"!
A Lucrative Gambling Mechanic
When the reels stop spinning, and they have produced a win, the Gold Canyon slot machine will give you the opportunity to "risk" your winnings for the chance of doubling them. Once you click on the "double-up" button, a mini-game window will be displayed, prompting you to choose heads or tails on the coin. This gamble feature is considered to be a lot more forgiving when compared to others – simply because you can choose to bet only 50% of the amount. Even if you lose the coin toss, you will still get to keep half of your winnings.
An Easy to Control Interface – First Instructions
The game has 20 fixed paylines, which means that every coin value you will see in your wager selector, will designate your bet per spin (BPS). Gold Canyon might be a fast-paced game, but it allows players of all budgets to have a go – the smallest BPS that can be made is as little as 0.20 coins, while the largest – 20. Take note that this is considered to be a high volatility slot, and although you might find yourself racking small wins more often than not, you should always be mindful of your balance and control both the gameplay pace, as well as your spending.
With a 96.13% RTP rate, the Gold Canyon slot machine can be considered to be "generous" by industry standards; however, don't forget that every following spin is as random as the previous one, so be careful not to fall into the "gambler's fallacy". Although this title might not have a jackpot, the maximum amount that can be won is listed to be x4,774.80 times a player's bet! Only the highest winning line combination will be paid, from left to right; however, if there are any scatter wins, they will be added on top.
Going Faster According to the Player's Preferences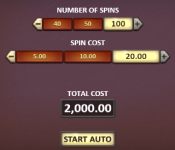 We can't forget to mention that the Gold Canyon slot game has an excellent "slam-stop" function. Almost immediately after activating the reels, players can again click on the spin button to stop the rolling motion dead in its tracks. If you don't wish to do this manually every time, you can change the game settings and toggle the "turbo mode" selector. Our experts discovered that using turbo mode in combination with the autoplay function delivers the fastest possible gameplay experience.
Players that like to keep the reels spinning will like the autoplay feature of Gold Canyon, as it gives them the chance to choose both the number of spins they want to initiate, but also the bet amount at which they will happen. The interesting addition to this feature is the "cost counter" that calculates how much those spins are going to cost, according to their number and bet amount. This way, a player will have a better overview of their own play budget.
Original Wild West Audio and Graphics
Every single element of this game seems to be meticulously crafted by the art department of Betsoft. Not only do the HD graphics look absolutely stunning, but the original western soundtrack in the background only adds to the overall allure of the game. As a developer that wishes to present an individual experience with each and every one of its games, Betsoft has made Gold Canyon to look, sound, and play like a unique Wild West game.
One of the Top-Rated Western Slots, Ever
We can easily rank the Gold Canyon slot machine as being one of the best Western-themed titles in the iGaming industry. This incredible title offers everything a slot player would want, and then some. Its balanced betting system, combined with its highly responsive and platform-optimised functionality, create a gameplay experience that few slots in the entire industry can deliver. If Gold Canyon is good for the top-rated casinos in the United Kingdom and the world, we reckon it would be something that you might enjoy too!
Frequently Asked Questions
What Playing Strategy Can Be Considered as Good for the Gold Canyon Slot?
Through our testing sessions, we've found that neither betting the lowest nor the highest amount per spin is favourable. If you would like to bet low, consider betting one coin; however, if you want to go big, think about wagering 10 (not 20). This way, if you're playing small, your potential rewards won't be as minimal when playing for 0.20 coins; and with a 10-coin bet you will still have the chance of scoring good wins, and still have twice as more spins (as opposed to betting with 20 coins).
Is There a Way to Increase the Appearance Frequency of the Golden Nugget Symbol?
Unfortunately, there isn't. Due to the fact that it provides the largest five-symbol winning combination amount in the entire game, it is understandable why you won't see it that often; however, there is always a chance that you might "hit gold" if you keep playing.
How Many Free Spins Can I Win during Gameplay?
There is no limit! If we are to judge by the game's rules and specifications listed by the developer, you can earn as many free spins as possible. If you're lucky enough to continue landing more dynamite scatter symbols with every spin, you might be able to keep playing in FS mode indefinitely.