Vikings Slot Review — a Truly Entertaining Casino Game
Take 5 Productions and Octagon's "Vikings" series made waves around the world. The show is an epic saga of intrigue, raiding, and revenge that was followed (and shamelessly binge-watched) by millions. If you already miss Ragnar and his kin, you can join these legendary warriors on a quest for plunder in NetEnt's "Vikings" slot.
This reel machine has stunning visuals and payout features that will get your adrenaline pumping. In our review, we'll discuss all of its captivating aspects and help you find reputable casinos to play it online.

The Vikings Slot Pays Homage to Four Main Characters
Many events occurred during the show's six seasons. Before we dive deep into the features, it's worth pointing out that this game primarily revolves around the characters that got the most airtime — Floki, Bjorn, and Lagertha. Of course, Ragnar Lothbrok, the iconic figure who set the story in motion, is also featured in the Vikings slot machine.
Symbols and Features of the Vikings Slot Game
Alright, let's see what this release is all about. NetEnt has opted to use a standard setup of five reels and three rows. This matrix might seem uninspiring, but you can consider it as a staging point for the features that we'll discuss in a bit.

There are 243 winning ways that work from left to right. You can expect a payout every time three or more identical symbols appear on the reels, starting from the first column on the left. The game includes 10 payout symbols that can be separated into two groups:
High-payers — the "Vikings" slot logo is the most valuable, followed by Ragnar, Lagertha, Bjorn, and Floki.
Low-payers — five playing card ranks (Ace, King, Queen, Jack, 10).
The four Vikings have intriguing special properties. They can appear as regular symbols or giant, stacked ones capable of taking up two positions and even an entire reel. Furthermore, you might have noticed that the middle column is electrified. If a giant Viking occupies it entirely, all other single and stacked face symbols will be swapped to match the one in the middle. These transformed tokens will act as scatters, so you'll also get paid for 3- and 4-of-a-kinds that aren't connected.
Shield Wall!
With the Vikings slot NetEnt has opted to not include wilds. Instead, there's an interesting alternative called "Shield Wall." It has a random chance of triggering on every spin. We've seen clusters of 6, 8, and 10 symbols during the base game. They appear after the reels have come to a rest and turn the regular symbols they guard into six identical ones. The shield wall gets even bigger during the bonus mode, which we'll cover right away.
The Loot Gets Bigger in Raid Spins
We didn't tell you about the "Raid Spins" symbol because we wanted to save the best for last. In a nutshell, this is a standard scatter that can appear on the third, fourth, and fifth reels. Once three of them land simultaneously, the Vikings slot machine and your prospects of winning become a lot bigger.
The game will expand to 7 reels and 5 rows, packing the massive 78,125 winning ways. Also, the electrified spot in the middle grows to cover nine positions in total. If you're lucky enough for a stacked symbol or "Shield Wall" to pop up somewhere near the centre, you can expect a massive payout like the one on the image.
Our Vikings slot review team admits that this is one of the most rewarding and volatile bonus stages we've seen in a while. Our only disappointment is that there's no way to extend it, but hey, all good things must come to an end.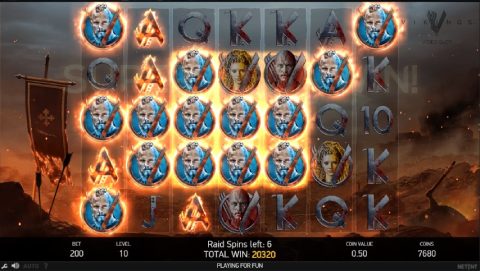 The Vikings Slot Has a Massive Jackpot
The difference between the top prizes of the regular and "raid spins" modes is like night and day. The first is comparable to pillaging small villages in the Baltic, while the second feels like sacking the capital of West Francia.
You'll be able to win a maximum of x607 your bet while the slot is in the standard 5×3 configuration. However, when it expands, your payout potential jumps to a massive x10,000 your bet. Given that the Vikings slot wagering limits stand at £0.20-£100, it's possible to snatch up to £10 million on each raid spin. Granted, the likelihood of going x10,000 is super small, but with a little luck, you should get great wins from the bonus mode.
Vikings Slot Machine – RTP & Volatility
By now, it should be obvious that this is a high-risk/high-reward product. Its incredible win potential is unlocked during the raid spins, which don't occur that frequently. There's never a guarantee that you'll win big during the bonanza, either. However, with enough patience and some prudent bankroll management, your virtual pillaging should bear fruit at some point.
The house edge measures at 3.95%, which converts to a 96.05% RTP for the Vikings slot. NetEnt likes to keep its newer games at such values, as they are satisfying for casinos and players alike. The title certainly felt more generous during our testing, but the several hundred spins we went through aren't a big enough sample to draw conclusions.
An Audio-Visual Masterpiece
The "Vikings" series is known for its striking visuals, so it would've been a shame if this game lagged behind in the aesthetics department. Fortunately, NetEnt is known for its premium products and has done its best to deliver an unforgettable experience to casino players.
You'll notice many moving elements in the otherwise bleak, wintery background. Snow falls, and the mist moves as winds caress the grass and trees. The reels contradict these gentle movements by spinning extremely fast. In the Vikings slot machine, an arrow will shoot through the reels and hit the scatter whenever it lands. Even the various buttons and low-paying symbols are properly stylized to fit the theme.
The heathen soundtrack is unobtrusive and easy on the ear, although it could have done a better job at building hype when the wins start rolling. On the bright side, you'll hear famous phrases and battle cries on feature triggers.
Made for Mobile
While the show first aired in 2013, its iGaming interpretation broke cover in 2018. NetEnt is known for producing mobile-friendly content for more than a decade, so the Vikings slot game is bound to be compatible with your portable device. It's made with a technology called HTML5, which works with iOS, Android, and all modern web browsers.
There are absolutely no differences in terms of animations, features, and payouts between the desktop and mobile versions. The only change is made for convenience: spin and auto-spin are fused into one big button that sits to the right of the reels, while all the settings are accessible through the buttons at the bottom-right side.
How and Where to Play the Vikings Slot by NetEnt
The first step to joining Ragnar's raiding longboat is to select a suitable online casino licensed by the UKGC. The Vikings slot is quite popular and available on nearly 300 sites. If you're wondering where to sign up, see our top 5 recommendations: 888casino, Casumo, MansionCasino, Kassu, PlayOJO.
After you register and deposit, simply type "Vikings" into the search bar, and you'll quickly locate this release among the thousands of other slots.
It's time to consider your betting approach. Our advice is to keep your bets low and have enough in your bankroll for at least 150 to 200 spins. You'll have the highest chances of walking away as a winner during the bonus mode, so you'll need to ensure that you can last long enough to enter it.
Once you've decided, use the buttons on each side of "coin value" and "level" to adjust your wagers (see the three-line menu on mobile). Then, you can play the Vikings slot machine with the big circular icon.
Ready to Raid?
In conclusion, this branded NetEnt release is a must-try for fans of the show and any slot enthusiast. Its colossal jackpot and thrilling features are supported by our favourite photogenic cast of barbarians and thrilling visuals. At the same time, you should be aware of the game's high volatility, which is capable of emptying one's bankroll much faster than any medieval raid.
Setting realistic win and loss limits and playing smartly is non-negotiable if you want to avoid misery. Also, the Vikings slot is compatible with just about any deposit promotion out there, so don't forget to claim a sweet deal if you decide to play for real money.
Frequently Asked Questions
Is the Vikings Slot Fair?
Yes, this is a licensed product coming from one of the most reputable casino software developers. Its RTP rate has been audited by independent testing laboratories, and it's available at most UKGC-regulated websites.
What's the Vikings Slot Game Jackpot?
The base game has a top bet multiplier of x607. However, when you enter the "raid spins" bonus, the win potential skyrockets to x10,000 your stake, which is $10 million if you play at the maximum permitted bet.
What's the RTP of the Vikings Slot Game?
96.05%, which is just above the average for online reel machines.
How Should I Set Up My Wagers for the Vikings Slot?
It's best to divide your bankroll into small, even bet units that can cover 200 or more spins. The highest win multipliers are in the "raid spins" level, so you'll need to give yourself a good chance of entering it. This machine has a £0.20—£200 betting range, making it suitable for most budgets.
Where Can I Play the Vikings Slot by NetEnt?
This casino game can be found in hundreds of licensed UK gaming sites, including: 888casino, Casumo, Unibet, PlayOJO.