Picking a Winning Slot Machine – What You Need to Know before Spinning the Reels
Published:

22nd April 2021

Author:

Morgan Bartlett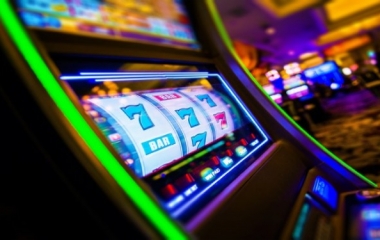 If you've ever wondered what the most popular casino gaming genre in the world is, that's an easy one – its slots. Currently, there are thousands upon thousands of slots title produced by hundreds of developers; however, no slot is created equal, and people often want to know one thing in particular "how do I choose a winning slot machine?". The topic is such, that no straight answer can be given; however, there are many elements that need to be explored in order for a person to formulate a viable opinion regarding the matter. In this amazing post, you will learn more about it, and then some! Check it out.
Make Sure You Always Find the Slot with the Best RTP Rate
The so-called "Return to Player" value is a theoretical representation of how much a Slot game will give you back after playing a considerable number of spins. Bear in mind that this isn't something that is considered to be sure, however, it will still give you an idea of how "generous" a particular game is going to be if you're playing it for a long period of time. With that being said, the iGaming industry has generally accepted that a slot machine's average RTP percentage should be approximately 95%. This means that if someone started playing their £100 on a slot with an RTP of 95%, theoretically, they should receive £95 after playing through a considerable amount of time.
While this is indeed so, it isn't uncommon for slot games to offer games with an RTP that can go below 90% or some that can even reach more than 97%! There are cases where a specific game will have a fixed RTP rate while others will have a dynamic RTP rate, due to the fact that they offer a variety of bonus features and different mechanics, which in turn might affect the overall gameplay, while reflecting on the frequency at which the machine pays out. If you're looking for a slot game based on its RTP rate, always ensure that it is within the 96% to 98% RTP range.
Find a Game with the Right Bonus Features for You
The slots that were introduced in online casinos became quite famous for offering a variety of additional gaming features and bonus mechanics. While the most famous one is the "free spins" (FS), others such as giant symbols, mini-games, and others have also become the norm when it comes to spicing up a particular slot title. A commonly popular slot myth is that if a slot has many bonus features and mini-games within it, it will be considered to be a high-paying one; however, this isn't so.
For example, we have found it that those games that have a re-spin or retriggering function of their free spins will provide a much better chance for the player to score a win. Also, make sure that any FS are activated directly from the base gameplay of the slot. In contrast, some of the least paying slots are the ones that don't have a direct correlation to their own free spin function. What this means, is that simply landing a specific set of symbols will not be enough, and a number of other gameplay conditions will need to be fulfilled before the event that activates any FS, occurs.
An Important Difference between Respins and Retriggers
If you land a specific symbol that grants a respin, it will happen right away! Retriggers, on the other hand, are adding a number of bonus spins on top of the ones you're already playing. In our opinion, the best scenario will come from playing a game that offers both respins and retriggers, and there are no limits to how much free spins you can get on top.
If the slot you're playing has a specific mini-game that is activated via a particular combination of symbols, having as many free spins will provide you with a better chance of enabling a larger bonus feature. The most common mechanic used for the activation of respins or retriggers, usually involves landing a number of scatter or bonus symbols during free spins mode.

Always Calculate Your BPS (Bet Per Spin) Values
The thing we should stress out the most, is how important it is to properly control the size of your BPS. We should mention that some slot games will have incredibly large betting ranges, which can vary from only a few, to hundreds of currency points. Bear in mind that whatever game you are choosing, the most important thing to do is to make sure that the slot you're playing allows the placement of both low and high bets. A very popular slot strategy is to engage the game with a minimum BPS amount in order to have more chances for enabling a bonus feature within the game itself.
Be Mindful about Licensed and Branded Slot Games
Famous brands such as Game of Thrones, Terminator, Peaky Blinders, Jumanji, and many others, exist in slot form. They are usually modelled with the utmost attention to detail to the licensed franchise they are representing, and while fun to play, they are known to have notoriously low RTP rates, and somewhat limited wager ranges. As this is seen as a persistent trend among slot titles that were created after a specific license or popular franchise, seasoned players are known to avoid them.
Explore the Slot's Demo Mode First
Have you found a slot title that answers your personal criteria? If this is so, then all that is left for you is to give it a spin! Not so fast. Make sure that you take a look around the interface of that particular game and engage it in demo mode. This way, you will have a chance to check out and analyse the game's different features without putting any real money at risk. If you seem to like what you've just tried, then you might give it a go for real. Both the demo and money versions of a slot will use the same RNG algorithm, so if you're trying a specific title, it will be the perfect gambling simulation of the game's genuine behaviour.
Your Most Logical Choice Should Be Based on All Separate Elements
As you can imagine having thousands of choices when it comes to slots isn't going to be easy; however, most online casinos have filtering functions that will help you narrow down your choice regarding special features, bonuses, jackpots, number of reels, etc. Also, 99% of slots contain a detailed description of their symbols and features, and even if a jurisdiction doesn't allow a particular slot to be played in demo mode, you will still be able to understand how the game functions. The bottom line is this – regardless of what type of slot you choose, it will all come down to how lucky you are when you play!