Jungle Monkeys Slot Review – A Title with Many Interesting Gameplay Features
When the Jungle Monkeys slot game came out in 2015, it not only made a lasting impression on the iGaming community but also received a positive response from the industry's leading critics. Created by the company AGT (Ainsworth Gaming Technology), Jungle Monkeys appears to be a standard slot game with all the "bells and whistles" native to the genre of that time period. In this Jungle Monkeys slot review, we will provide you with all of the information you would like to know before playing the game itself.

The Jungle Monkeys Slot Machine Has a Fun Overtone
There is no clear-cut storyline behind the Jungle Monkeys slot game, but players can easily discern that the entire point of the slot is to participate alongside jungle animals and their fun activities. This "monkey business" of a slot is playful, colourful, and features beautifully designed visual elements that are native to the natural environment depicted in the game.
The Many Gameplay Features of Jungle Monkeys Slot
As a considered standard for slots that were made from 2015, Jungle Monkeys has a classic 3×5 reel layout. The game functions with thirteen symbols – Monkey, Barrel, Papaya, Parrot, Palm, Coconut, Banana, A, K, Q, J, 10, and 9. Naturally, the majority of the symbols here will be used to form winning combinations; however, some of them will also activate a number of bonus features. We have explained the gaming mechanics in greater detail, and if you would like to get familiar with them, keep on reading.
Monkeys and Barrels Trigger Free Games
As the titular character of this slot, the Monkeys symbol is not only entertaining but also serves as a "wild". Monkey symbol will substitute all others, except for Barrel symbol, which is classified as scatter. During the base gameplay, the wild Monkey symbol can appear on the third, fourth, and fifth reel, while in bonus mode, they can be landed only on the first, third, and fifth reel, respectively.
In addition to being a scatter symbol, the barrels will also engage the Jungle Monkeys slot machine in bonus rounds mode. If you manage to land at least three symbols, the game will immediately grant you 8 free spins. The more barrels you land, the more spins you will get – for four symbols, the Jungle Monkeys will give you 12 FS, and for five barrels – 20! If you don't want to risk any real money just yet, but still try out the game, the majority of casinos that feature it have it in demo mode as well.
Basic Instruction and Technological Specs of the Jungle Monkeys Slot Game
The first thing to mention about the game, is its RTP rate – which is 94.14%. Although by the iGaming industry standards of 2015, this was considered to be somewhat alright, by today's slot RTP trends, it is definitely low. Perhaps one of the most important facts about the Jungle Monkeys slot game is that it has 100 pay lines, which always pay from left to right. If a line win has been formed along with a successful combination of scatter symbols, both wins will be added together and paid out to the player.
Easy Betting with an Opportunity for a Great Payout
The total bet or BPS (bet per spin) will be formed after the player chooses how many pay lines they want to activate per spin, as well as how much money they would like to bet on each line. For example, the smallest number of lines that can be played is 1 and can be increased by a factor of 1 up until 30. After reaching the number 30, any increase of value will be done in increments by 5 points.
With that being said, a 1 line bet with the smallest value (0.01 units of currency) will have a BPS of 0.01; however, if you decide to activate all 100 pay lines and choose the highest value for them (100 units of currency per line) this will form a BPS of 10,000 units of currency! With such bet values, the Jungle Monkeys slot is regarded as one of the most expensive slots to play in the iGaming world!
The best prize in the game that can be won is a product of a simple combination of symbols! In addition to giving you many free spins, a combination of five barrel symbols will provide you with the highest possible win in the game, which is 1,000,000 units of currency! While this prize is indeed quite enticing, in addition to being lucky enough to land it after a spin, players will need to have placed the highest possible bet in the game.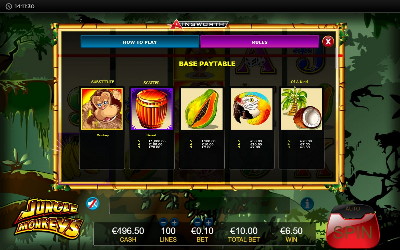 Jungle Monkeys Slot – Built on Modern Development Software
To be honest, the visual style of the game does look like it was developed on the outdated software platform Flash, the Jungle Monkeys slot machine has been made with the help of the most modern version of HTML. This not only allowed Jungle Monkeys to be much more compatible with a wide variety of systems but also allowed AGT to incorporate a number of 3D visual elements that made the slot pop out. While the sound effects here can be considered "somewhat generic", Jungle Monkeys looks and sounds good.
The Game Is Exceptionally Optimised for Mobile Devices
AGT has made Jungle Monkeys to be fully compatible with all relatively modern smartphones and tablets. What this means is that if you have an Android or iOS device, all you have to do is access the game through your preferred browser app. One thing to note, is that the game won't have a different gaming interface when run on either a computer or a mobile device!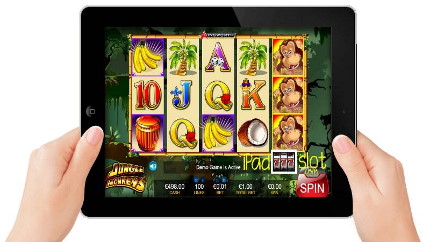 This Title Will Remain a Beloved Classic
The Jungle Monkeys slot machine is far from perfect, but its merits definitely outweigh the drawbacks. Speaking of which, it seems that the only real downside of the slot appears to be the low RTP percentage; however, its somewhat generous volatility factor manages to balance out the gameplay in a way. Both by design and specifications, Jungle Monkeys is a throwback to the slot genre when all titles at the time were made with much more simplicity in mind. Whether you're someone who likes to chase big prizes or a player who wants to explore as many classic slots as possible, Jungle Monkeys will definitely provide you with an interesting experience!
FAQ
What Happens If I Land a Number of Scatter Symbols during Bonus Mode?
Just like in the base game, collecting barrel symbols during the bonus feature might result in the game of retriggering additional free spins. Because there are no mentioned limits to this feature, theoretically, you can retrigger any free spins an unlimited number of times.
I Am a High Roller, but the Slot Doesn't Seem to Offer the Highest Betting Value – Why Is That?
In order to prevent people from overspending, a good majority of online casinos offer the Jungle Monkeys slot with a significantly limited betting range. Removing incredibly high limits in slot games is not only a measure that is implemented by casinos due to their concern about the spending habits of their customers, but also a lawful regulation that is enforced by iGaming administrations.
Where Is the Fast Play Setting in Jungle Monkey?
Players won't be able to find such a setting in the Jungle Monkeys slot. The game is relatively slow, with a single spin processed in approximately 3.3 seconds. The only way to make the reels stop faster after they have been spun is to implement the "slam stop" mechanic, which allows a player to use the same button to stop the reels almost immediately. This way, players can process a single spin from start to finish in approximately 1 second.