Extra Juicy Slot Review — a Casino Game with Big Multipliers
When Extra Juicy was released in 2019, it did cause a bit of a stir among the players and critics in the iGaming world. Created by the renowned company Pragmatic Play, this title seems to put a modern spin on slot nostalgia by featuring classic slot design elements while using contemporary gameplay mechanics. Oddly enough, the game managed to hold out on its own and made an overall positive impression on the broad iGaming community. This Extra Juicy slot review explains everything about the game and more – check it out, and you might find something that can help you when playing it!
The Extra Juicy Slot — a Nostalgic Throwback
The mere fact that this is a fruit-themed slot machine should already tell you that there is no particular storyline here. What we noticed first is that the Extra Juicy slot game manages to visually stand out from similar titles that are offered by practically every software developer out there. By delivering an impeccable visual theme with superbly arranged colour schemes, the Extra Juicy slot machine feels significantly fresher and newer than other fruit-themed games.
Enjoy a Balanced Set of Extra Juicy Slot Game Features
Starting with the reel layout, the Extra Juicy slot machine has a classic five reels and three rows pattern. Due to the fact that all of the eight symbols here increase gradually in payout value, they aren't specifically divided into "low and high-paying" sections. They are cherries, lemon, orange, plum, blueberries, watermelon, and bell. The last symbol is the diamond, and it is the most special one in the game!

The Free Spin-Triggering Diamond Symbol
In addition to activating the bonus round, the Diamond symbol here also acts as a scatter. Diamonds will only appear on the first, third, and fifth reels. If a player manages to land three of them, the progressive multiplier free spins mode will begin. We should also note that the win produced by the initial winning combination of diamonds will be granted an x2 multiplier!
Get Huge Multipliers on the Latter Spins
The bonus mode of this slot will start with an x1 win multiplier. With every following spin, the game will continue to increase its multiplier (up to x12) and apply it to any successful combinations that might have landed during bonus play. The only symbol combination that the multiplier won't affect is the one made from Diamond scatters.
The Bonus Can Be Prolonged
When the bonus feature is activated, it will give you 12 free spins right off the bat; however, over the course of the stage, you can retrigger more spins, which allows for even bigger multipliers. That's right — if the player manages to land three (or more) Diamond symbols, they will get 12 additional free spins on top! You should be aware that there is a limit to how many extra free spins you can reactivate. The game lists that an initial retrigger can reactivate up to 60 free spins, while the feature itself can be reenabled up to four times.
Basic Information about the Extra Juicy Slot Machine
This video slot has only 10 fixed pay lines, which definitely makes it more challenging. This also becomes evident from its volatility factor, which is listed to be "very high". What this means is that the Extra Juicy slot is not expected to form winning combinations often. However, when it does, the payouts will be quite lucrative. The Extra Juicy slot RTP is listed to be 96.52%, which is definitely considered to be "above average". All winning symbol combinations in the Extra Juicy slot game will be counted from left to right. A big advantage for players is that a winning string doesn't need to start from the leftmost reel.
The Betting Process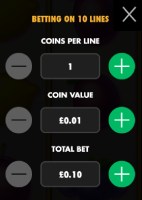 The simplicity of controlling and playing this game can be deceiving, especially when you take a look at the available betting ranges. If you want to go small, adjust your total bet to the lowest setting, which will be a mere £0.10. If you would like to go all out, then you can place £50 a pop. The total bet is formed by adjusting how many coins a player would like to stake per payline and also the value of each coin. If you're not a player who wants to dabble that much, you can simply press the plus and minus buttons on each side of the spin button.
The smallest win you can land will be made up of three Cherry symbols, which will pay x0.2 times your bet. On the other hand, if you become super lucky and land five golden bells in a successful combination, the game will pay you x100 times your wager. Because of the wide betting range and high risk, our iGaming experts always recommend having a cautious betting strategy when playing the game. Of course, these values are capable of a dramatic increase thanks to the free spin multipliers.
A Straightforward Autoplay Mechanic
Let's say you would like to run Extra Juicy in autoplay mode – you can easily set the game to process a minimum of 10 spins and a maximum of 1,000. There are no special disabling conditions here, which means that if you would like to disable the function, all you would need to do is press the "autoplay" button again.
Pick between Three Spin Speed Modes
A regular spin from start to finish will take approximately 3 seconds. If you want to pick up the pace, you can set the game in "quick spin" mode. In this speed setting, every spin will be processed in half a second, but even if that doesn't cut it, you can engage "turbo mode". By holding down the space bar, a single spin will be processed in approximately 0.2 seconds, which means that in 5 seconds, you can go through 10 spins!
Professionally Optimised for Mobile Play
With compatibility for Android and iOS devices, it comes as no surprise why Extra Juicy is heavily marketed as a mobile slot. The mobile version of the game is designed so well that the controlling interface of the Extra Juicy slot machine is the same for both the PC version of the game, as well as the one for smartphones and tablets. Our experts managed to discover that for an optimal playing experience on your mobile device, you need to run the Extra Juicy slot game through a relatively modern smartphone or a tablet while using an updated browser app! Because of the slot's incredible graphics and fluid animations, the hardware resource requirements for it are a bit above average.
A High-Stakes Slot That Requires Patience
On one hand, you have an exceptionally simple-looking slot that has the incredible potential of granting life-changing wins. On the other hand, the Extra Juicy slot has the traits that can easily deplete a player's balance, which is why we advise beginner players to be extra careful when they are adjusting the values of their bets. Although every online slot has its own risks when played for real money, we must say that the Extra Juicy slot machine is meant for players who are more familiar with slot mechanics. If you're a beginner and you would still like to try it, make sure you check out the demo version first!
FAQ
What Is a Good Betting Strategy in the Extra Juicy Slot?
Since the biggest wins here are awarded during the progressive free spins mode, there are two things you can do that might give you a chance to score additional wins. Those are speed control and bet adjustment. You can make more spins if you conserve your balance and bet low. In terms of speed, turbo mode has long been considered to be a mechanic that is utilised by advanced players and high rollers, which is why you should take it slow!
Why Can't I Activate the Free Spins Mode?
Enabling bonus rounds is difficult not only because the Extra Juicy slot machine has high volatility but also because scatters can appear only on certain reels. Entering the bonus mode is meant to be challenging, not only because it can be reactivated but also because it has the potential of granting large wins.
What Is the Maximum Amount of Money That Can Be Won Here?
If players get incredibly lucky and score 15 bell symbols while reactivating every possible retrigger (which reaches a winning multiplier of up to x60), they will be looking at a payout that's x60,000 times their bet. If a player has achieved that with a minimum bet of £0.20, they will get a reward of £12,000; however, if they go all out with the highest possible bet value, the ultimate prize of Extra Juicy will be £3,000,000!