Aristocrat The Upmarket Aussie
Australia you think sun, sand, surfing or barbies, tinnies and utes. Not gaming software. The thing is though if you have ever been in a slots arcade or casino anywhere in the world there is a very good possibility that you either played or walked past an Aristocrat slot machine. They have been in the software development game for sixty years now. Pretty much from the start of electronic slots and video poker Aristocrat have been banging them out at a rate of knots.
Very rapidly they became one of the top suppliers of both software and hardware for casinos. Along with management systems for some of the best casinos around. They took this experience and when the internet boom hit they capitalized on it. Early in the 21st century Aristocrat slots games came online. Using the format they made work so well in land based casinos they just transferred the most popular titles from land to the virtual world. It worked too they have produced some of the best around.
Aristocrat Another Ingratiation Specialist.
If you are a fan of the Aussie pokie then you are in luck because there are more Aristocrat games available than you may think. Not thinking they will corner the market Aristocrat have made all of their games available to be slotted into existing systems. They do have an end to end platform covering all areas of administration. Banking, customer support, backend data base and the day to day running of an online casino. It is a rare casino though that goes for a pure Aristocrat set up.
That's not a put down the games that Aristocrat produce are top notch. It's just that they have over the years concentrated on slots games. There is a big fly in the ointment the networked progressives are poor. Small payouts mean less players. Less players mean smaller payouts. Ad infinitum. Mobile gaming is another let down with the Aussie titans. Australian online gambling laws are one of the strangest. Local companies have an almost impossible task of serving their own country.
Outsiders can take as many Aussies as they want though. Very weird. This is why you will not find any Aristocrat mobile apps for real money. You may find a few free play games but that's about it. Aristocrat make some very good slots and there are lots that appreciate the fact. Run alongside other providers they make a very good addition to a mixed platform. The old land based titles sit very well with players.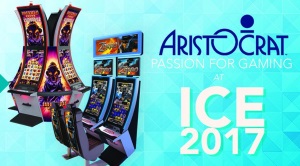 Aristocrat Has A Great Name Don't Trust Everyone Who Uses It
Aristocrat lives up to its name. It is high class it has been around for so long now that it is part of the furniture. Industry groups and watchdogs all consider Aristocrat to be one of the leading players. There is a corporate compliance group that ensures all products meet fairness and security standards. European casinos using the software have all the local regulatory bodies overseeing the products. These are some of the strongest in the world and Aristocrat passes with flying colours.
That can't be said for all casinos that use their products however. It may have something to do with the fact that they have to sell to overseas clients. Whatever the reason just because a casino has Aristocrat games doesn't mean they have blue blood too. Do your checks into the brand. The games will be fair. They have checks and balances in place the software can't be changed to give worse payouts. But the casino may be hiding behind the good reputation of Aristocrat. Forums are your best weapon in the fight against bad payers.
Best Aristocrat Casinos
.
* 18+; T&C's apply; Click on PLAY NOW for details
Aristocrats Are Deeply Layered
Aristocrats keep their finger on the pulse for sure. They know that players want more than just to pull the lever and watch the reels spin. The games they bring onto the market with multi-level bonuses and features. There are games within games. Stories being told , anti-bets and huge numbers of payout lines. They now have their 'cluster' feature with different ways to win. They are constantly innovating a tweak her a tweak there.
Their biggest attractions for players by far is they take trends and expand. The biggest TV show on FX to date is 'Sons of Anarchy'. The show revolving around the motorcycle club had a huge reception. What did Aristocrat do? They made a slots game around it. They will take any idea that is in the public conscious and produce a stunning piece of gaming art. Have no doubt if you like playing slots you have to love Aristocrat.
Not Going Anywhere
Those in the know will tell you that Aristocrat will never be huge as standalone casinos. They will however be making slots that others will slide in seamlessly into platforms created by the myriad of other developers. Sixty plus years in business means a long term plan. Either that or a huge amount of luck. Aussies are known for their luck but Aristocrat have earned their position in the market. They continue to make some of the best live slot games on the market.
They have a huge domestic market for these machines. This allows some great feedback to be gained and they then make the transition to online games and hi the wider audience. Aristocrat now their market. They don't over step the reach. They are not in business to take over they like the fact that casinos cherry pick their best games. They work so well side by side with other developer's games that casinos will always look at their new games. Aristocrat have nothing to prove, they are not some young start up needing to impress. They don't have investors that need to be wowed all of the time. They have a solid business heritage. They know how to make very good slots games both live and online. They are not going anywhere for some time to come.