Habanero Casinos – the iGaming Developer That Offers Everything
In 2012, the iGaming world welcomed Habanero. This online casino solutions company quickly became famous for the gaming software it offered. Additionally, the developer's platform management systems and instruments provide casino operators with full control over their own gambling websites. In this article, we will not only explore what the developer has to offer but also talk about the best examples from the Habanero casinos list. It's an impressive fact that the majority of the top-rated casino sites in the UK feature Habanero software!
The Habanero Casino Games Portfolio Has Everything
Habanero has a gaming portfolio filled with more than 140 titles! When it comes to the genres themselves, Habanero produces mainly slots, but there are also table games and video poker titles as well. Of course, the developer has made all of its games available in demo mode so that they can be tried out by both fans of the company, and any future Habanero casino operators.
The Habanero games are made not only to look amazing regardless of if they are constructed in 2D or in 3D. On the other hand, the most impressive thing about the games of Habanero is that they are made to be highly customisable with the plethora of management tools provided by the developer themselves. By embracing technological innovation, Habanero has also made their products and services to be compatible with existing cryptocurrency mechanisms!
Best Habanero Casinos
.
* 18+; T&C's apply; Click on PLAY NOW for details
Habanero Slots Are Various and Interesting
Although the Habanero casino games list contains various online casino genres, it is the slots that occupy the majority of the developer's portfolio. Not only there are more than 100 of them, but they also come in various shapes and forms. While the company has the resources to lease the rights to a popular franchise and make slots based on pop culture references, they have decided to develop only original titles.
Every Habanero slot is special! While they might vary in terms of graphics design, it is their functionality that impresses both players and casino operators. In fact, the developer has managed to incorporate in its slots a variety of custom bonus features, as well as new and innovative reel designs. You can check out some of the best Habanero slots below.
Orbs of Atlantis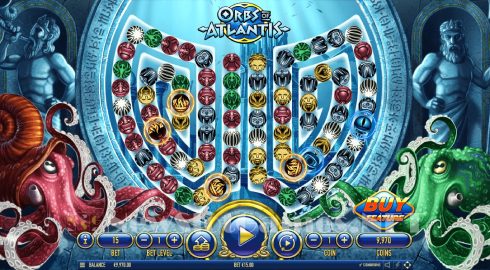 One of the newest slots of Habanero, this game features a revolutionary two-reel layout interface. Each of the two reels is filled with different sphere symbols. If five spheres of the same kind end up next to one another, they will form a winning combination. The game has wilds, scatters, win multipliers, free spins, and two of the best Habanero signature gameplay mechanics, which are the Buy Feature, and the Jackpot Race.
Happy Ape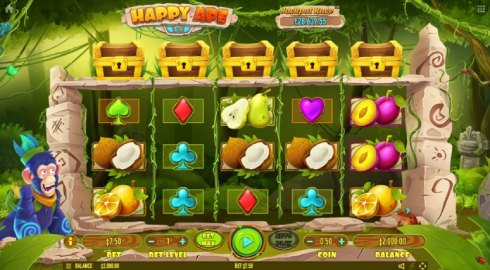 This 3×5, fully 3D designed slot is colourful, fun to play, and full of features. Just like the previously mentioned game, Happy Ape also has a Jackpot Race feature, but that's not all. There are also winning multipliers, free spins (FS), wild and substitute symbols and a whole lot more!
Mount Mazuma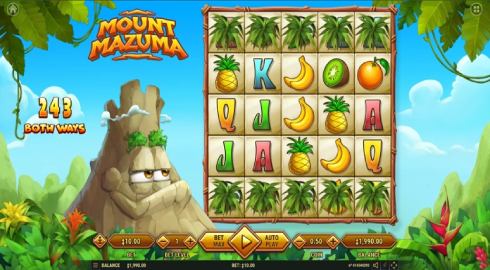 Another Jackpot race slot, this volcano-themed game starts out with a 3×5 reel layout in its base game, which has the potential to become a 5×5 slot! In addition to the unlock feature, there are two types of wilds, free spins, and a colossal win multiplier.
Nuwa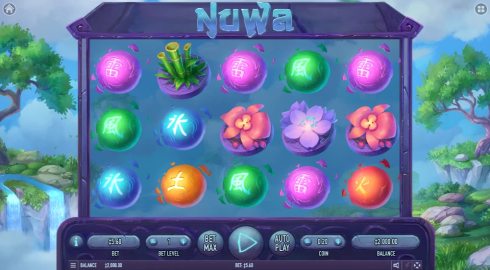 Is a slot clearly modelled after the myth about an ancient Chinese goddess. When it comes to the reel layout, perhaps Nuwa's 3×5 is the one that is the most gentle and beautiful ones made by Habanero, but its bonus features are no less than impressive as well. There are full wild reels, free spins, and win multipliers.
Naughty Santa Milk and Cookies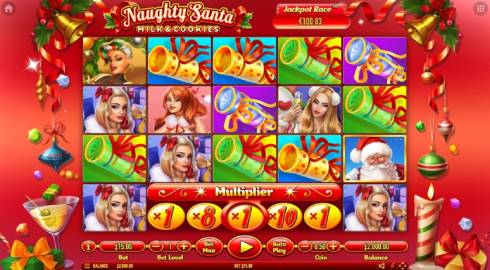 A raunchy and festive game at the same time, this five-reeled game with a 4x3x3x3x4 row layout, features random multipliers, giant symbols, expanding wilds, and multiplied win scatters, free spins, and exploding wilds!
Gangsters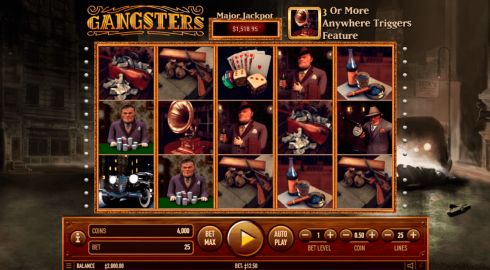 This is a 3×5 layout slot that perfectly represents a gangster's life in the 1920s. Featuring cabaret-style background music and an overall "wise guy" visual theme, this title has free spins, scatters, substitute symbols, and expanding symbols. The game will also triple any wins during FS mode!
The Table Games Are Impressive
At the time of creating this review, we found out that the table games section of Habanero contains 13 titles in total. While the majority of them have only one version, a couple of them will have more than one variation. With that being said, Habanero offers its fans and customers three card poker, dragon tiger, war, baccarat, roulette, and quite a few other titles which complete a classic online casino portfolio. Although every table game has its own unique table layout, they are all similar in the minimalist way they were designed. A unique trait of all Habanero table games, is that they are all highly responsive and function flawlessly. Check out a few examples below.
All Video Poker Titles Have a Classic Feel
Currently, there are 10 video poker games – Tens or Better, Joker Poker, Jacks or Better, Double Double Bonus Poker, Double Bonus Poker, Deuces Wild, Bonus Poker, Bonus Deuces Wild, All American Poker, and Aces & Eights. The unique trait of all video poker titles of Habanero is that they practically look identical; however, this is not what makes them stand out from others offered in the industry. The number one advantage of Habanero's video poker titles is the number of hands that can be played, which are 1, 5, 10, 50 and 100.
Habanero Is Licensed and Certified in More Than 15 Jurisdictions
We should mention that Habanero is licensed by two notable administrations – the Malta Gaming Authority and the Romanian Gaming Authority. Another interesting fact about the casino is that all gaming software has been tested, analysed, and certified for fairness and security. Currently, this certification is valid for a number of countries, some of which include Gibraltar, Isle of Man, Italy, Portugal, Spain, the United Kingdom, Romania, Malta, and quite a few others. The testing and the issuing of the appropriate certificates have been done by two of the most appropriate service providers, namely BMM Testlabs and iTech Labs.
Habanero Mobile Games and Compatibility with Mobile Systems
With mobile platforms slowly becoming the new iGaming standard today, Habanero has made sure that all its developed platform management solutions and games are fully compatible with Android and iOS operating systems. While the software development platform used for the creation of Habanero's games is HTML5, the developer utilises a lot of 3D modelling programs as well, for creating its original visual settings. An interesting fact here, is that Habanero not only creates its new games by using current technology but has also modernised its oldest games as well! This is most certainly impressive, as it is an all-known fact that most developers don't tend to do that.
Featuring Unique Gaming Characteristics and Platform Management Tools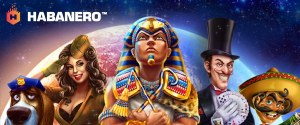 While there are some exceptions especially with the older games produced by the company, the majority of online casino games made by Habanero have their own character and feel to them. This is achieved by blending the design of the game's control interface with the overall theme of the title. An unconfirmed rumour even states that Habanero was one of the first developers in the iGaming industry that started doing that with its slots!
If we were to put the games aside, the other strong point of Habanero as a developer is their provision of back-office solutions, API integration tools, and a whole lot more. With the company's additional services and products, operators will be able to fully configure their gaming products and manage individual casino aspects such as jackpots, bonus programs, view complex reports on their entire systems, and more!
The Buy Feature and Jackpot Race Elevate Habanero's Games
First and foremost, is the Jackpot Race. Essentially, it is a progressive jackpot mechanic that is activated every 24 hours, after which it releases the value of its prize pool to one lucky player. Here is what's special about it – the Jackpot Race is linked across the majority of all Habanero slots, allowing the progressive prize pot to fill in with an incredible amount of winnings in a small period of time.
The Buy Feature is another interesting trait, that allows slot players to make sure that they receive a special feature whenever they need it. Slots that have a Buy Feature, will usually provide three different options for the triggering of the special bonus game, everyone one of which provides better terms than the previous one, and proportionally costing more.
Regarded as One of the Best Developers Today
Although Habanero wasn't around when the iGaming industry was in its infancy, the company managed not only to catch up quickly to industry leaders, but also establish its own set of standard when it came to online casino gaming. With that being said, it comes as no surprise that only a couple of years after the company launched, it became offering software products and services which were on par with other industry leaders such as Playtech, Microgaming, NetEnt, and others. What made Habanero stand out, however, was the exquisite quality and original graphics of its games – which is a factor that is present even to this day.
Habanero Business Origin – Interesting Facts
Habanero has an interesting origin story. Although the company appeared as a business entity in 2012, the truth is that its beginnings are traced back to 2010. It was in that year, when a conglomerate of investors decided to fund several different projects, which involved the creation of sports betting and online casino software solutions. After witnessing the success which had formed from the collective effort of the different endeavours, the group decided to put all solutions under one roof – which is how Habanero Systems B.V. was formed.
The Company Bases Its Business Relations on Legitimised Trust
It is an all-known iGaming industry fact, that Habanero is a company that cares a lot about proper licensing and certification. With that being said, it doesn't come as a surprise that every single one of Habanero's business partners are brands that have rich histories of being licensed, regulated, and legitimised by the top regulatory administrations in the iGaming world. With that being said, some of the most high-profile companies that work together include names such as iSoftBet, Salsa Technology, Playtech, Nektan, BLOX, EGT Digital, and quite a few others.
Furthermore, some of the top-rated casino sites are making use of Habanero's superb gaming software. Some of those include online gambling websites such as LeoVegas, 1xBet, 1xSlots, WinBet, Interwetten and many others. The Habanero casino list is filled with some of the top-rated operators in the UK that continue to benefit from the developer's iGaming solutions.
A Casino Software Developer That Will Continue to Be Popular
While Habanero's beginnings were spread over several individually functioning software developing endeavours, the dedication of its founders evolved it into a single business entity that today continues to create a plethora of high-quality online gambling software solutions. The reason why Habanero will continue to remain as popular as ever, is because they still make games with the same type of passion they had when they started. If you've ever played any Habanero titles, you definitely know what we are talking about!