Koi Gate Slot Review – High RTP and Dual Winning Ways
The Koi Gate slot was released in early 2017 by the renowned iGaming software development company, Habanero. As a slot game that clearly had style, innovative gameplay, and the opportunity for massive wins, Koi Gate had an immediate and lasting impression on the iGaming world. Because this title gained somewhat of a cult following among slot players everywhere, it is regarded as being one of the most played slot games in the iGaming industry to this day. Are you interested in learning how to play it? What are the different amounts of money you can win here? Keep reading our Koi Gate slot review, and you will find out.
The Koi Gate Slot Theme: Love, Bravery, and Wealth
The entire design of the game is based around the Japanese fish of the same name and an ancient legend that surrounds it. The colours chosen for the Koi fish you see in the game will correspond to their meaning (red for power and strength, while gold is for wealth). It would seem that the game itself is true to the source material it represents, as the gameplay features here describes the journey of a brave Koi fish against the current of a river, and for that, the gods transform it into a mighty dragon! As expected, the HD art of the Koi Gate slot game is absolutely stunning, and we are more than certain that every player will be able to appreciate it, regardless of the screen they see it on.
Symbols and Gameplay Features of the Koi Gate Slot Game
It all starts with a standard 3×5 reel layout. The Koi Gate slot online reels will spin with a classic motion and will land numerous combinations of 11 symbols. They are Koi Fish, Dragon, Torii Gate, Pink Lotus, Bamboo, Japanese Maple Leaf, Wave, A, K, Q, and J. As a slot with an incredibly clean and efficient design, only two of all eleven symbols are considered to be "special", and those are the Koi and the Dragon. We have explained what they do, but if you like to experience their features for yourself, you can play the game for real money or in demo mode in the following casinos: PlayAmo, 888casino, 1xSlot, BetVictor Casino , Guts Casino, Playzee, 22Bet, mr.play.
The Special Koi Fish Wilds
The first thing we should say is that every time a Koi fish is landed on the layout, it will substitute all other symbols, as it is classified as a "wild". The Dragon is also a wild symbol that will replace all others; however, there is a significant difference between the two. While the dragon symbol can land everywhere on the reels, Koi Fish wilds can appear only on the second, third, and fourth reel position.
Here is the deal – when a Koi Fish appears on the reels and is a part of a winning combination of symbols, it will expand throughout the entire reel and become a full-reel Dragon symbol. Naturally, the Dragon reel will also be wild and substitute all other symbols. Any prize money will be paid after the expansion of the wild reel. But a mere symbol transformation is not the only thing that is going to happen once you've "caught the fish".
Re-Spins Appear Quite Often
As the main symbol of the game that seems to trigger all bonus features, the Koi isn't expected to land very often during base play, although quite a few players have reported on having the opposite experience. With that being said, in addition to its transformative abilities, a landed fish will also initiate a re-spin, regardless if it is a part of a winning combination or not!
On the other hand, we did notice that once a re-spin is enabled, there is a greater chance for a Koi to appear again and re-initiate another re-spin. Also, during a re-spin, the rules for reel expansion will still be valid. Furthermore, every time you land a successful symbol combination during a re-spin, it will produce a payout that will be subjected to an x2 winnings multiplier!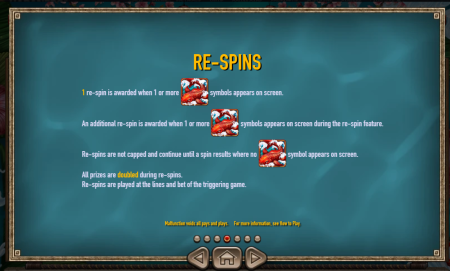 The Life-Changing Jackpot of the Koi Gate Slot
We were pleasantly surprised to discover that the Koi Gate slot machine features a progressive jackpot! What this means is that every time a player makes a real money bet, a small percentage of it will be added to a compounding jackpot prize pool that can amass a huge amount of money. If you're hoping to win the jackpot, the only thing that will be required of you to do is just to play for real money; after all, the jackpot can be activated at random after every spin. If you're lucky enough to score the jackpot, its winnings will be added to any others that might have resulted from a successful combination of symbols.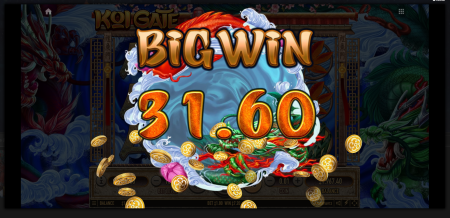 Primary Gameplay Specifications of the Koi Gate Online Slot
All that the Koi Gate slot game requires from the player is for them to set their bet and hit the spin button. In addition to being notoriously easy to play, this slot has 18 pay lines. If that number seems a bit too small for a 3×5 slot, you will be happy to find out that all pay lines work both ways! What this means is that if you manage to land a winning line of 5 symbols, its payout will be added from left to right and from right to left, essentially paying twice.
Another pleasant surprise is that the Koi Gate slot RTP rate is 98%, which is considered to be quite generous by iGaming industry standards. Often described as having a medium volatility rate factor, the Koi Gate slot is expected to produce winning combinations neither too seldom nor too often. The smallest payout that can be expected from the Koi Gate slot game is going to be formed from three J symbols (0.02 units of currency).
With the exclusion of the progressive jackpot, the largest possible win will result from either five Koi symbols or five Dragon symbols. The payout for either of those combos is listed to be 7,500 units of currency; however, due to the "two winning ways" rule, that number will be doubled once it is landed on the reels, resulting in a maximum win of 15,000! Both payout numbers here have been calculated with the use of the smallest and largest possible bet values.
Adjusting Your Bet Requires Two Things
In order to adjust your Koi Gate slot BPS (bet per spin), you will need to adjust the coin value of your bet and its level. The game will require 1 coin for every pay line that it has to produce a spin, which means that the lowest cost per spin will require a bet level one, at a coin value of 0.01 units of currency, which will bring the Koi Gate BPS cost at 0.18 units of currency.
On the other hand, if you are a high roller or someone who likes playing slots with high stakes, then you can set the BPS of your game to be 900 units of currency. This type of "coin level and value" betting system is present in the majority of Habanero's slots, and although it might look a bit confusing at first, it is definitely appreciated, especially among seasoned slot players.
A More Complex Autoplay Feature
The auto spin mechanic of the Koi Gate online slot is designed incredibly well. Allowing players not only to set the game in motion but also to set and modify the feature's conditions, under which the game will disable its autoplay function. The smallest number of spins you can process is 10, while the largest 500. You can have the game disable its auto spin function if a respin feature is triggered. Another "feature disable" condition concerns the amount of money a player loses or wins – players can have the game stop its automatic gameplay mode when a specified value has been reached.
Designed for Use with Mobile Devices
While the gameplay controls of the slot's PC version look pretty standard, Android and iOS users will notice that the Koi Gate slot will have a redesigned gameplay interface when initiated on any smartphone or tablet. The graphics of the game are superb and will look equally good on any mobile device, regardless of its screen size. If you are planning on playing the Koi Gate slot mobile version, we recommend the use of a recently updated browser app for an optimal gameplay experience.
Conclusion
Koi Gate is a slot that has an incredibly beautiful design, simple yet effective bonus features, and a potential for dispensing incredible wins. Considered to be one of the best slots made by Habanero, Koi Gate is an excellent example of a slot that manages to achieve a perfect balance between form and function. The title's wide betting range makes it an ideal choice for players that have a small or a large gameplay balance. We definitely recommend that you try it out!
FAQ
How Many Re-Spins Can I Activate in the Koi Gate Slot?
Being one of the best features in the game, the re-spins mechanic can continue indefinitely! There are no listed limitations to the game – if you're lucky enough to keep landing Koi symbols one after another, you can practically enjoy an unlimited number of re-spins. Given the fact that the progressive jackpot can be released at any time, a player's chances of winning it will definitely increase if they continue to land Koi symbols.
Why Doesn't the Koi Gate Slot Game Have a Demo in My Favourite Online Casino?
Although Habanero has made the Koi Gate slot to be available in demo mode, its availability will be determined by the online casinos that host the game. Some jurisdictions prohibit the offering of demo play as means to deter underage gambling, which is why you won't be able to try out the Koi Gate slot for free.
Why Can't I See the Koi Game Slot Jackpot Amount?
It's because you're probably playing the game in demo mode. When Koi Gate is played for real money, the jackpot amount will be displayed on the top part of the game's interface. If the amount shown there doesn't seem to be quite significant, the reason for this is that the jackpot has been won.