Novomatic Europe's Largest High-Tech Gaming Technology Company
It show's too. The turnover for 2015 was a staggering €3.9 billion. They have 28 000 employees and subsidiaries in 50 countries. The brain child of Professor Johann F. Graf in 1980 they export gaming equipment, system solutions, lottery system solutions and services to 80 countries. Over a quarter of a million gaming terminals and video lottery terminals in 1600 + venues all under their own name. They are huge. Novomatic casino software is a small part of their empire.
The end to end platform they offer covers management systems for banking, backend data base, day to day operations as well as the games themselves. If you don't know who Novomatic are you can be forgiven. Their presence in Eastern Europe is huge. Latin America, Asia and now the US has built their profile but they are best known to the gaming public through slot machines. Their subsidiaries are probably more well-known Astra and Bell-Fruit are two. Admiral casinos and Greentube are another two. The thing is the group as a whole covers a lot of ground.
Novomatic Like To Translate Well
Visit a casino in continental Europe and you will definitely play or walk past a machine made by the all-encompassing group that is Novomatic. The names on the side may not be Novomatic however. Gaminator, Novoline or maybe Admiral. Go anywhere in Central or Eastern Europe and the casinos themselves are Admiral. They are all the same at the end of the day. The thing that Novomatic do so well is translate those well-known slots from these massive arcades of Europe into online versions. Nothing unique about it for sure but the way it is done is sublime.
Over 35 years in the business has meant that Novomatic have seen the way trends develop. They know that the right game can last. Players get attached to a favourite game and with just a few updates and maybe the odd revamp they can become classics.
Slots Are Bread And Butter
Ever since the invention of slot machines back in the mists of time they have been loved by all concerned. Casinos love 'em they bring in 70% of all income. Players love 'em for many reasons they take no real thought to play they are a great unwinding tool. The graphics and audio are exciting and the possibility of winning a large sum of money for a small stake. There are other reasons but you get the gist.
Novomatic know this and have concentrated their effort on making games that just keep people coming back for more. The Book Of Ra is a prime example. It has been running for quite some time now and people still love it. They love it so much that spin-offs from the title get almost as much traffic. The subject matter is one that is much overused in the industry but that has not stopped this title being in the top ten of all. The list of great games that come out of the Novomatic factory is to long for here. Suffice it to say they know how to produce the goods.
Best Novomatic Casinos
.
* 18+; T&C's apply; Click on PLAY NOW for details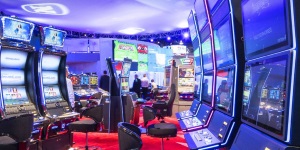 The Progressives May Not Be Title Winners – They Are Not Journeymen Either
Novomatic are not famous for the big jackpots. That's not really fair though yes there are plenty that are bigger. There are networks with far more in them. Novomatic do have some pretty tasty payouts however. Three million quid is nobody's small change Golden Sevens and Jackpot Crown are in the hearts of a lot of people.
They are responsible for making millionaires regularly. How many networks have a progressive video poker game? Hit the royal flush in their Jacks or Better and got the jackpot.
Austrian Trustworthiness Novomatic Have A License For Just About Everything It Seems
Such a large company spanning so many countries has to have compliance issues. Novomatic make it their mission to overcome these issues. In fact there are not many companies in the industry that can match them for the amount of jurisdictions that regulate their systems. The subsidiaries are all regulated by the local jurisdictions relevant to them. These are some of the best in the world. The UK Gambling Commission is probably the toughest. But they have Malta, Alderney, Isle Of Man the list is rather long.
There are operations in 50 countries the group has a management department just to cover corporate responsibility. The casinos that run Novomatic games know that th games have already been given a rigorous testing by the company themselves. They then go on to the respective body to be tested again. Be safe in the knowledge that you will not be getting ripped off by any game made by Novomatic or one of their companies.
Responsibility Is Important To Novomatic
The irony is that most of the game playing public really don't know who Novomatic are. Industry insiders know how big they are and how trustworthy. But the ones that matter don't realise how much Novomatic care about the end user. Every single online casino states somewhere that they are committed to responsible gambling. They will belong to a group or two and will refer you to a help group. Novomatic go one further.
They fund a research group looking into non substance addictions and addictive behavior. Partnered with the Department for Addiction Research and Treatment at the Medical University of Vienna no less. This is above and beyond the normal offering in the industry and is making progress with some weighty problems.
Novomatic are going to be with us another 35 years is almost a given. The industry is just growing larger year by year. The markets in Asia and Latin America are shaping up to be serious indeed. Novomatic have got their foot in the door and are making headway. Europe is almost a saturated market. But new games will keep on coming and old ones will be polished up and reused the online world will keep turning.