20 Super Hot Slot Review – One of the Best Simple Slots in the iGaming Market
Said to have been launched in the iGaming market between 2014 and 2015, the 20 Super Hot slot machine is known to be one of the most interesting creations of the developer EGT (Euro Games Technology). Offering a plethora of betting options, an interesting volatility rate and a bunch of other gameplay features, this title remains as one of the most played classics by slot lovers everywhere. Get the full profile of the game from our 20 Super Hot slot review, and you will understand why this particular game is preferred by most top rated casino sites in the UK.
20 Super Hot Slot Game – No Story, Just Pure Gameplay
Although the most popular slots online today feature numerous themes and storylines, the visuals in the 20 Super Hot slot machine are meant to mimic the style of the first slots that were ever created. While the developer has made the slot to look a bit "retro", the visual graphics are definitely up to par with the latest standards for visual quality, allowing players to experience the game in full HD regardless of what types of screens or monitors are used.
The Basic and Bonus Features of the 20 Super Hot Slot Machine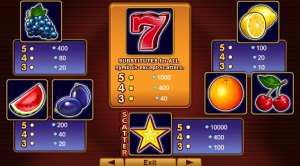 Just like most slot games from that time period, the 20 Super Hot slot online game has a standard 5×3 reel layout, with a classic "rolling reel" functionality. Players will find out that there are eight symbols in total here, which are separated in to high and low paying ones. If you score winning combinations made up of Cherries, Oranges, Lemons, Grapes, Plums, or Watermelons, you can expect a small reward; however, if you manage to land successful combinations made up of either Sevens or Stars, you would be looking at a pretty hefty payout.
The two highest paying symbols not only provide the opportunity for a big reward, but also serve as the special feature symbols of the 20 Super Hot slot online. Any "Sevens" you manage to land after a spin will substitute every other symbol, except for Stars. The reason for this, is that the Star is classified as a scatter symbol which means that it will pay regardless of its position on the reels and will also provide the highest singular payout in the game!
EGT's Very Own Jackpot Cards Mechanic
Every time a player lands a winning spin, they will have a chance of triggering EGT's innovative bonus feature, called "Jackpot Cards". When that happens, a mini-game with 12 face-down cards will initiate, in which players will be required to reveal all of them, one at a time. During the reveal phase, players will need to match three cards of the same suit and once they do, a reward will be issued that will correspond to the type of the matched cards.
The 20 Super Hot Online Slot Supports a Multi-Jackpot
Players will notice that at the top of the gaming interface, there will be four different jackpot types that keep increasing with every passing second. They are designated as the Clubs, Diamonds, Hearts, and Spades. All jackpot amounts are displayed in "coin form", meaning that they can go from a few thousand coins to as much as several million! In order to win any of the four jackpots, a player will need to do well in the Jackpot Cards bonus feature.
We should mention that the 20 Super Hot slot game offers an additional perk to its players, that allows them to view additional statistics about the jackpots themselves. When they hover over any one of them, they will be able to view details on what was the largest amount for that particular jackpot, and when it was won.
The Basic Stuff about the Game You Should Know
The RTP of the 20 Super Hot slot machine is 95.79%. This game is considered to have an "ultra-low" volatility rate, which means that winning combinations will happen a lot more, although they will dispense winnings that are expected to be lower than your base total bet for each spin. Regardless of these facts, the 20 Super Hot slot machine online is incredibly easy to play, which is why it is preferred by beginner players everywhere. Just as the name of the game suggests, there 20 fixed pay lines in total.
When it comes to the lowest and highest possible win combinations, the smallest payout you can expect will be from a combo made up of three Cherries, Oranges, or Lemons, which will produce a prize of merely 10 coins; however, if you're lucky enough to get five Stars, you will be looking at a payout of 200,000 coins.

Betting and the Monetary Value of Each Round
Once you load the game, all of your betting options will be laid out to you. They will be 20, 40, 100, 200, or 400 coins per spin. It is important to mention that whatever bet per spin (BPS) value you will choose, all of the 20 pay lines of the games will be played.
In the majority of the top rated online casinos, a single coin (or credit) within the 20 Super Hot slot game is valued at £0.01. This means that the smallest BPS here will be £0.40, while the largest £8. Although this might not seem as much of a large betting range, the difference is best felt when a jackpot is won.
Auto Spins and Fast Play Are As Simple As They Can Be
One of the major benefits of the auto spin function here, is that there is no predetermined amount that can be set! What this means is that all a player has to do, is press on the orange-coloured button next to the first bet type. If you would like to disable the autoplay function, all that is required, is pressing the same button again.
Here is the deal – autoplay spins just like the regular ones, will play at a slow pace. Once they are initiated, the reels will stop one by one before forming the final combination of symbols. You can increase the speed of that, by starting the spin from a specific "bet button" and pressing it again to halt the spin's roll – this will disable the movement of all reels at the same time. With this slam-stop function, players can go through as many as two spins per 1.5 seconds.
Mobile Compatibility and Additional Versions of This Slot
As a mobile-oriented developer, it doesn't come as a surprise that EGT's gaming software is supported by Android and iOS operating systems – which also applies to the 20 Super Hot online slot. What is interesting to know is that there are quite a few others in the "Super Hot" series of EGT games, every one of which incorporates its own gameplay elements.
This Title Is Good Because It Is Simple
Although the most popular slot games today feature a plethora of different interactive elements and complex visual themes, there is still a large of players that prefer the simplicity provided by 20 Super Hot. In addition to the overall "nostalgia feel" that the slot provides, what makes this game special is its natural simplicity, which makes it ideal for both seasoned players and beginners alike. 20 Super Hot is usually available in demo mode, but its flexible betting limits allow for some real money fun as well. Give it a go, and you might like it!
FAQ
What Is the Biggest Jackpot Won in 20 Super Hot?
If we are to judge by the statistics of the largest jackpot within the game (the Spade jackpot), the largest win was given in 2020, and it was the size of 32,237,909 coins! When translated to real money, that would be approximately £320,000.
Can I Adjust the Auto Spin Function to Disable Once a Specific Loss or Win Limit Has Been Reached?
Although the answer to the question is no, there are both benefits and drawbacks to this. The drawbacks are definitely the lack of additional settings that will allow for more precise control of the spins' automation process. On the other hand, beginner players seem to prefer this type of mechanic due to its natural simplicity.
Do Some Casinos Assign a Larger Monetary Value to the Coins in This Game?
When it comes to online gambling establishments in the UK, highly unlikely. Due to many jurisdictional regulations, the top rated casino sites of the UK are not allowed to go beyond a certain bet limit in order to prevent players from overspending. Although there isn't an example of a 20 Super Hot slot with a higher coin value than the standard ones, it is possible that such a version might exist somewhere.