Ainsworth Casino Platforms and Software – a Game Developer's Profile
Regarded as being one of the first online slot developers, the company Ainsworth was established in 1995. Known also as AGT (Ainsworth Gaming Technology), this developer is renowned for conducting its business in more than 50 countries. In addition to being highly active in the Australian, Asian, and American iGaming markets, AGT is also popular for developing slot software for gaming cabinets meant for use in land-based Ainsworth casinos.
Due to the developer's versatility and universal quality, offline and online gambling establishments are known to make use of Ainsworth's gaming solutions. In this article, you will learn everything about the company, and also find out whether its software can be seen and played in the top-rated casino sites in the UK!
Only One Type of Ainsworth Casino Games
There are approximately 230 Ainsworth casino games, and they are all slots! Throughout our research, we were trying to find clues about whether the company is planning on developing other types of casino games; however, Ainsworth doesn't seem to plan to release any other games that deviate from the slot genre.
Regardless of the company's dedication to only one type of casino games, we discovered an interesting fact – AGT is a company that excels at creating different bonus features for its Ainsworth slot games. These not only provide their different titles with a bit of unique character but also manage to introduce additional mechanics that might resemble the gameplay of different casino games all together.
Best Ainsworth Casinos
.
* 18+; T&C's apply; Click on PLAY NOW for details
Various Ainsworth Slot Games Available
As a developer that serves both the offline and online sector, the slot number mentioned above is divided. When discussing just the online slots, we discovered that there are approximately 90 games in total. While the majority of titles created by this developer are modelled after original themes, Ainsworth has also made a few interesting slots that are designed after licensed franchise brands such as PAC-MAN, Galaga, George Lopez, and quite a few others. You can check out some of the most played Ainsworth slots below, as well as some of their most interesting specs.
"Arabian Fire"
A mystical slot that features a 3×5 reel layout and AGT's signature "Loaded with Loot" bonus mechanic. The game also offers free spins, four types of different jackpots, and 25 paylines.
"Cash Hound"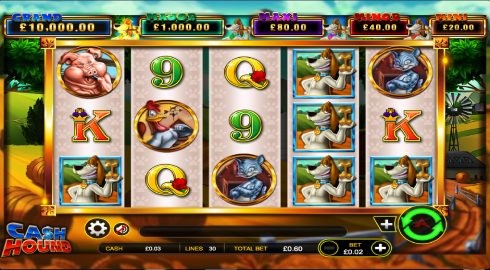 This is considered to be one of the most "player preferred" titles in the entire portfolio of Ainsworth. It offers five jackpots, substitute features, scatters, many free spins, and 30 paylines.
"Enchanted Eyes"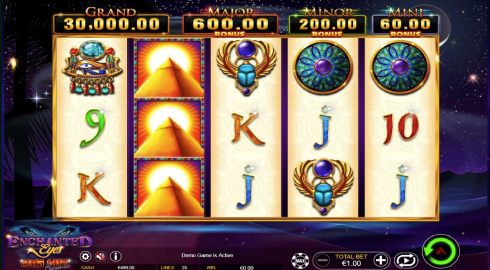 A slot with Egyptian design elements, this 3×5 game has four jackpots and a number of bonus features. Some of them include two substitute symbols, and the signature AGT "Big Hit" feature that grants free spins and additional bonus prizes.
"PAC-MAN Wild" Edition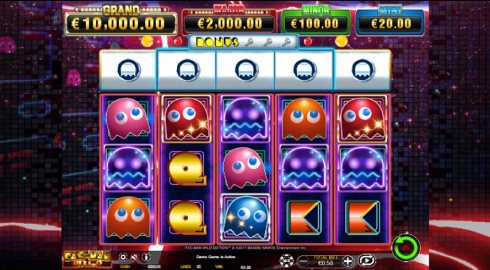 This slot is based on the beloved PAC-MAN franchise, featuring a standard 3×5 layout, with an additional symbol row on top. The game offers four jackpot types, as well as full wild reels, substitutes, scatters, and 75 feature paylines!
"Flying Horse"
This is a vertical-designed 3×5 slot game, that features substitutes, scatters, and 100 pay lines! What makes this particular slot stand out from the others, however, is the fact that it allows players to wager as little as €0.01, or as much as €10,000 per spin!
One of the Most Licensed and Recognised iGaming Companies
It doesn't come as a surprise that as an iGaming software developer with over 25 years of professional experience, AGT is licensed by some of the most notable administrations in the world. With that being said, the first license comes from none other than the esteemed United Kingdom Gambling Commission (UKGC). Another notable jurisdiction that has licensed Ainsworth is the Alderney Gambling Control Commission (AGCC)!
In addition to being highly licensed, the company also is certified to be in full accordance with the ISO9001 quality assurance and management industry standards, which means that any partners and customers of Ainsworth will receive reliable products and services from the developer.
The Software's Compatibility Characteristics with Mobile Systems
Although the company is renowned for its production of land-based casino slot games, Ainsworth has also dedicated a significant portion of resources to make sure that the games they offer to online casinos are fully compatible with Android and iOS systems – and they are. Not only that, but some of the slots here feature a "vertical design" in order to look much better on smartphones and tablets. This coincides with the company's land-based production line, as most physical gaming cabinets are developed with vertical screens!
Ainsworth Has Made Its Own Innovative Gameplay Features
When it comes to additional slot features and bonus games, the slots of Ainsworth shine. The company understands that the best player retention factor comes from the unique gameplay that is provided by every slot, which is why the majority of their titles are divided into special "groups". Every single one of those groups incorporates a specific gameplay mechanic or feature that in turn makes the slot belonging to it truly unique. Some of those unique gameplay mechanics/features created by Ainsworth are "Loaded with Loot", "Quad Shot", "Big Hit", "Electric Cash", and quite a few others.
Industry Critics Analysis of AGT's Games
Although AGT is quite renowned among iGaming news, they have on occasion received comments of minor disdain regarding the overall design of their games. The sound effects utilised by the company are present in the majority of their online and offline slot, while the graphics quality of any symbols or animations remains somewhat unchanged. Although a different group of iGaming critics support AGT for staying "true to its roots", we have noticed that Ainsworth has made some design changes in their most recent slot titles.
Ainsworth Stands Out When Compared to Others in the Industry
Although the company has been active in the global gambling market for more than two decades, it is clear that the majority of their professional efforts are geared towards the land-based casino industry. That would explain why the majority of their games aren't available in online form, although the titles they do offer easily stand on par with the products created by other, more "online-active" developers.
Due to the reasons mentioned above, if we were to compare Ainsworth's online production to that of current iGaming industry leaders, we would say that their games can be compared to the ones produced by Microgaming and NetEnt – in the early 2000s. Perhaps the positive factor that elevates them a bit further than the others is that the games of AGT tend to be a bit more variable, in terms of having additional gameplay features.
Ainsworth Shares Its Story with Another Developer
A little-known fact is that a person called Leonard Ainsworth was the one who founded AGT; however, this renowned businessman was also the one that founded the online casino software developing company Aristocrat Gaming. An interesting fact is that although the same person founded both companies, it was Ainsworth Gaming Technology that became a sort of a leader in game provision for the land-based casino industry, while Aristocrat Gaming became highly renowned within the online aspect of the gambling world.
Online Casinos and Providers Partner with the Developer
Because the slots of Ainsworth aren't that many, they are usually presented as a package deal to online casino operators or are a part of an aggregator platform established by a different developer. With that being said, AGT is in a successful business relationship with the likes of SoftGamings, Salsa Technology, Quickfire, and NYX. Today, they continue to further grow their distribution network, along with their business infrastructure.
When it comes to some of the best Ainsworth casinos in the UK, some of the brands that utilise this developer's software include brands such as Mr Play, CampeonUK, NetBet, PlayAmo, and quite a few others. Although the slots aren't exactly considered "spectacular", they appear to be a huge hit among players who enjoy a classic gameplay experience with a modern twist – which is why every Ainsworth casino in the UK continues to incorporate the developer's newest game releases.
Ainsworth Is a Company That Will Always Exist
Ainsworth's major success as a company came from the fact that they were one of the earliest companies on the market that started offering a plethora of slot gaming possibilities. It took other developers some time to catch up to the tempo of AGT, and although the company's competitors have found their own way in the iGaming world, AGT had managed to establish its own "golden standards" within the industry.
Today, Ainsworth continues to be a preferred partner to many casinos and developers while continuously expanding their portfolio of games and services. Since the company is quite active in the world of social media, we will be looking forward to witnessing exciting news and announcements about their latest achievements!