Funky Monkey Slot Review – Go Bananas for Wins
Funky Monkey is a slot from Playtech that is perfect for fans of truly classic slots. It is a very simple game, but one that is full of charm and, most importantly, offers the chance of significant winnings. In this article, we will take you through everything you need to know about Funky Monkey slot, such as how to bet on it and what you can win so that you can have fun with every spin.

Relax on the Beach with Funky Monkey Slot
Funky Monkey slot's theme is very basic but full of fun. The slot focuses on a monkey who seems to live in a tropical location surrounded by palm trees and who is having the time of his life. The game allows him to enjoy plentiful bananas while he wears his sunglasses and bangs the bongo drums./p>
A Classic Reel Structure and Traditional Symbols
Funky Monkey slot is a 3-reel game with just a single payline that goes across the middle of the reels. It is very much a fruit machine, and the symbols on the reels reflect this. There are five thematic high-value symbols, bongos, palm trees, wooden huts, sunglasses, and bananas, and three lower value symbols 3 Bar, 2 Bar and 1 Bar.
Each player can benefit from the stacked symbols feature of this slot. On every spin, one or more symbols are chosen at random to appear stacked. The chosen symbol can be anything except wilds or scatters.
The game doesn't have any wild, scatter or bonus symbols. Nor does it have any bonus features, so it will appeal to those who enjoy the most basic of classic slots. It is very easy to find a demo version of the Funky Monkey slot machine to play online, and you can also try it at one of our recommended casinos to discover for yourself how much fun it is.
Symbols: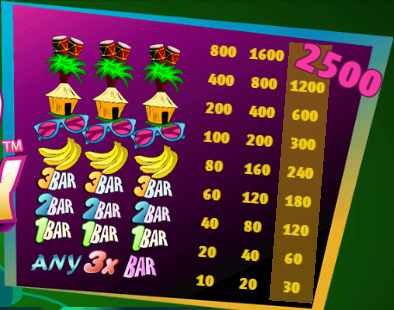 Set Your Bet on Funky Monkey Slot
There is very little to playing the Funky Monkey slot game, and you can get started in no time at all. The first thing to do is set your coin size, which can be anything from £0.01 up to £5. You then need to use the 'Bet One' button to add coins to your bet. You can bet anything from 1 to 3 coins. If you know you want to bet three coins, then you can click on the 'Bet Max' button to do so automatically and start the reels. There is also an Auto Play button that can be used to set up to 99 spins in motion so that you can sit back and watch the action.
If you look at the paytable, you can see that the bongos are the slot's most valuable symbol. If you are betting 1 coin, they pay 800x, bet 2 coins, and they pay 1600x; however, if you bet 3 coins, they pay 2500x (rather than the 2400x that you would expect). This means that it is always worth playing with three coins bet, even if it means using a smaller coin size, as it is the only way that you can hit the slot's top payout.
Funky Monkey has an RTP of between 97.10% and 97.15%, which is extremely high by online slot standards, and for many people, this will more than compensate for the lack of bonus features. Furthermore, it is a medium volatility slot, which means that players can expect to land mid-sized wins quite regularly.
Paylines:
Designed to Look and Sound Like a Fruit Machine
It is fair to say that Funky Monkey slot's graphics are very basic; however, as it is a fruit machine-style classic slot, this is entirely intentional. The paytable flashes in the same way as they tend to on pub fruit machines, and there are some basic animations as the reels spin. Furthermore, each spin of the reels is accompanied by some enjoyable sound effects that help to draw the player in.
Bring the Monkey with You
Funky Monkey slot has been developed using HTML5 technology. This means that it is compatible with all modern platforms and operating systems. It can be enjoyed on desktop computers, smartphones and tablets with ease and loaded within a web browser. This means that you can play Funky Monkey wherever you are as long as you have an internet-connected device.
A True Classic for Slot Lovers
If you are a fan of classic slots, then Funky Monkey is a game you must try. It has bright and clear graphics that are enjoyable without being imposing, and despite the game's simplicity, there is a chance of hitting some really big wins. It is not a game for those who enjoy video slots, but it is not supposed to be. Rather it is a very high-quality fruit machine that fans of the genre are sure to enjoy.
FAQs
What Is Funky Monkey Slot's Top Payout?
Funky Monkey offers a top payout of 2500 times the coin value, which means that if you are betting £5 coins, you could win £12,500. However, it is important to remember that the top payout can only be won when betting three coins.
Is Funky Monkey Slot Mobile Compatible?
Yes. The game was developed using HTML5 technology so it can be played on all modern smartphones, including those running Android, iOS, and Windows.
Does Funky Monkey Slot Offer Any Bonus Features?
No. It is very much a classic slot and offers no bonus features whatsoever. This means that there are no wild symbols, scatters, free spins, payout multipliers, or anything else.