Danger High Voltage Slot Review – a Game Filled with Wilds and Win Multipliers
In 2017, the Danger High Voltage slot zapped the iGaming industry with an interesting collection of gameplay mechanics, which gave this title a good reputation among both players and industry critics. Although this slot was created a while ago, the quality of its gameplay experience still manages to preserve its popularity – which is why the top-rated casino sites in the UK continue to offer it in their gaming collections. Created by the famous software developer Big Time Gaming (BTG), the Danger High Voltage online slot has a lot to offer – which is what we explore in our review.

The Story behind the Danger High Voltage Online Slot
Is this a Mexican-themed slot? Does the game have something to do with night-time dancing clubs? While the majority of slots by BTG that don't have a clear-cut storyline do provide some clues of what the slot is about, the Danger High Voltage slot game almost randomly features visual details from Mexican folklore and elements you would see in dance clubs, all of which are laid out on a disco lights background. It all makes sense when you learn a little piece of trivia! It turns out that the entire slot game was modelled after the song "Danger! High Voltage", which was created by the American rock band "Electric Six".
The Features You Will Encounter When You Play Danger High Voltage Slot
As an iGaming software example of a much newer generation, the Danger High Voltage slot machine has a layout of six reels and four rows. In terms of symbols, there are ten conventional ones – 9, 10, J, Q, K, A, Taco, Disco Ball, Bell, and a Calavera (a Mexican Skull). We should mention that while the lowest paying combination will require a successful landing of at least three symbols, the Calavera will need only two in order to produce a win. The base game also features two wild symbols and a scatter, which exist in different symbiotic forms.

Transforming Wilds According to the Gameplay Stage
In the base game of the Danger High Voltage slot, you will notice that any wild symbols you receive will be in "full reel form". Wilds will substitute any other symbols in the game except for the Crowned Heart scatters, but even that's not all. The base game can land a regular full wild reel and (or) a full wild reel with a win multiplier! What is even more impressive is that the wild function completely transforms into something much more profitable once a free spins (FS) mode is engaged.
Triggering Your Free Spins Unlocks Extra Play
The Crowned Heart, also known as the scatter symbol, is the highest paying one in the game, but it is also used to trigger the free spins features of the title. If you play Danger High Voltage slot in hopes of scoring some free spins, you are in luck because there are not only one but two distinctive types. When you've successfully triggered the scatter symbol feature, the game will display two free spin gameplay modes, and it is up to you to choose which one you would like to engage in.
High Voltage Free Spins with Full Reel Multiplier Wilds
Once you've clicked on the first option after you've collected enough scatters, the game will engage the High Voltage free spins, where the wild reel now lists six different win multipliers that go all the way up to x66! If a successful combination of symbols is lined with a specific multiplier value, then your winnings will be processed in accordance with that number. In the High Voltage Free Spins mode, you can retrigger additional FS by collecting more scatter symbols.

Gates of Hell Free Spins Offer Sticky Wilds
If you decide to go with the second FS bonus game, then the first thing that will happen is the slot will go through all symbols and randomly choose one as a designated wild. In contrast with the previous FS mode and the base gameplay, the wilds here will be the size of a single symbol. Once the randomly chosen symbol appears, it will transform into a wild and lock itself in place for the remainder of all free spins. Although additional transforming sticky wilds may appear, retriggers won't be possible in this FS mode — once a player has exhausted their free spins, the Danger High Voltage online slot will revert to its base gameplay.
No Progressive Jackpots, Yet Massive Wins
When you play Danger High Voltage slot, you shouldn't hope of winning a progressive jackpot. Still, the game's bonus features and symbol values do have a chance of dispensing some life-changing wins. For example, the highest prize a player can obtain here is listed to be a colossal x20,000 times a player's bet – which can be achieved if you manage to land the appropriate symbol combination during the right bonus game.
Explain about the Basic Features of the Danger High Voltage Slot Game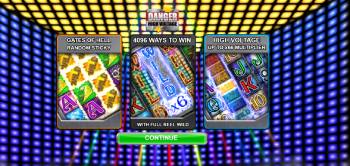 The Danger High Voltage slot machine is one of the BTG titles that operate with winning ways rather than paylines. Speaking of the winning ways, there are 4,096 of them; although this gameplay mechanic shares quite a few similarities with its other BTG "siblings" that operate with the Megaways™ mechanic, the regular symbols here don't change in size.
When it comes to the Danger High Voltage slot RTP rate, the percentage listed by Big Time Gaming shows 95.67%, which is somewhat expected, given the fact that the game is said to have a mid-to-high volatility factor. What this means is that the slot will produce big winning combinations rarely, but when it does, the payouts will be more than satisfactory.
A combination of three "9" symbols is the one that grants the smallest win in the game, while the biggest comes from a successful combination of six scatter symbols. An interesting fact here is that the symbol paytable doesn't display any winnings in sums of money but rather in a multiplier rate. For example, if three successful symbols would grant an x2 reward for a total bet per spin of £1, the player will receive a win of £2.
Adjust Your Bet in the Simplest Manner
BTG are known to implement straightforward betting mechanics without any complications. What this means is that you won't have to adjust several different values in order to form your total bet per spin, but simply choose how many coins you would like to wager. The min-max betting range is from 0.20 to 20 units. The values can be represented in coins or units of currency – this is usually determined by the online casino that offers the game.
A Better Auto Play Mechanic
Players that want to leave the slot to operate on its own can engage Danger High Voltage in an autoplay mode that comes with a few additional perks. While not one of the most complex auto-spin mechanics out there, this one does allow players to set a loss or win limit as a feature-disabling condition. The smallest number of auto spins that players can select is 5, while the largest – 100. Once enabled, the mechanic can be manually disabled as well with the press of the spin button.
Fully Playable on Mobile and Desktop Platforms
You can play Danger High Voltage slot on any modern computer or mobile device. Big Time Gaming is a company that is also renowned for designing some of the most useful control interfaces in the iGaming industry, which is what the Danger High Voltage slot benefits from. Whether you open it on an Android, iOS, or Windows device, you can be sure that the quality of gameplay comfort will be equally good. If you're someone who likes to game on mobile devices such as smartphones and tablets, just make sure that you are using a recently updated browser that supports HTML5 technology!
Continuing Unprecedented Success for the Danger High Voltage Slot
Danger High Voltage is a slot that is indeed full of beneficial features, although we would have liked to see the implementation of a storyline or even a better theme design. While the somewhat chaotic visuals might put you off for a moment, this is an online slot game with highly entertaining features, which are meant to properly enhance your overall gaming session. An interesting fact is that although the top-rated casino sites in the UK offer it for real money, Big Time Gaming has also made the game available in demo mode, so you can "try before you buy".
FAQ
How Many Free Spins Can I Retrigger during the High Voltage Mode?
The number of retriggers you can receive during that specific gaming mode is unlimited! While this is indeed good news, overzealous players are known to make hasty mistakes and select the other FS mode in the game (Gates of Hell FS), which doesn't have any retriggers.
Can I Influence the Choice of the Wild Symbol in the Gates of Hell Bonus Mode?
No. The game goes through the entire list of symbols and chooses one, by utilising the same RNG algorithm, which is responsible for the generation of random results during base play and in any of the FS bonus modes. The only choice players can make is to determine what type of free spins they would like to play when the feature is triggered.
How Fast Are the Reel Spins?
When measured from start to stop, a single reel spin takes approximately three seconds. If a spin lands a winning combination or a feature, it will take another 1.5 seconds to display the animation before the game is ready to initiate another spin. The Danger High Voltage slot is a "single-speed" one, meaning that there are no settings you can change to increase the speed of the spins.