Only Famous iSoftBet Casinos Feature This Company's Products – a Developer's Review
2010 was a year that saw the appearance of another software developer in the world of iGaming – iSoftBet. What made this company stand out straight from the moment it entered the market was its incredibly large and various portfolio of games, but that wasn't all. It was the visual quality combined with original artistry that gave the iGaming industry "a breath of fresh air".
In an online casino development world where most games kept recycling the same "cherry and seven" visual theme, it was this company that made a name for itself. Today, iSoftBet casinos everywhere eagerly await every new product that is about to release – learn from this review what the developer is, what it currently has, and what else does it have in the works for operators worldwide.
The iSoftBet Games Are Both Many and Wonderful
With approximately 120 games in its portfolio, this developer is surely one of the few ones in the industry that can power an entire online casino platform by itself. Every iGaming critic agrees that iSoftBet's remarkable gaming solutions are made with incredible passion and attention to detail, which is why its many slots and few table games are held in high regard by both players and developers. As a constantly passionate company in using innovative technology, iSoftBet's games are developed to be incorporable into instant gaming, mobile, and downloadable platforms!
Best iSoftBet Casinos
.
* 18+; T&C's apply; Click on PLAY NOW for details
These Slots Dominate Many Others
Although iSoftBet is a company that is highly valued for the original design of their games, they do have a few slots that are based on some of the most popular licensed brands in pop culture. Some of these include Jackpot Rango, Paranormal Activity, Basic Instinct, and even Love Guru! While those titles are still good, the best iSoftBet casino games are those with originally designed brands. We have presented some of the currently most popular titles of the developer below:
Book of Cai Shen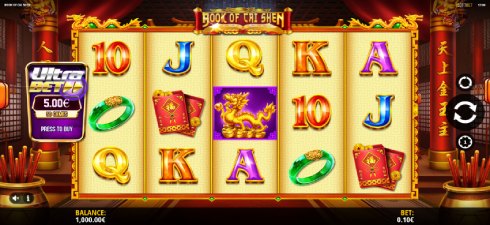 Modelled after the Chinese "god of wealth", this 3×5 slot promises colourful gameplay and interesting features. Explore mechanics such as free spins (FS), expanding symbols, book symbols that trigger free spins, transforming golden reels, an iSoftBet signature bonus feature (Ultra Bet), a special winnings star multiplier and much more. This title is easily considered one of the best iSoftBet slots due to its incredible bonus features!
Euphoria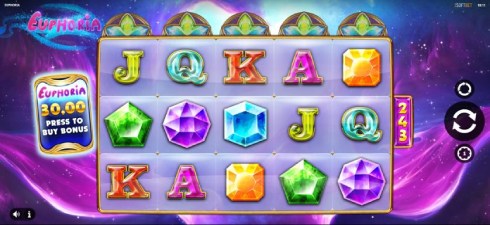 A game that looks like a "dream within a dream", Euphoria is a 3×5 cosmic slot marvel that provides its players with free spins, FS with retriggers, up to a x27 winnings multiplier, a buyable bonus feature, and a whole lot more!
Majestic Megaways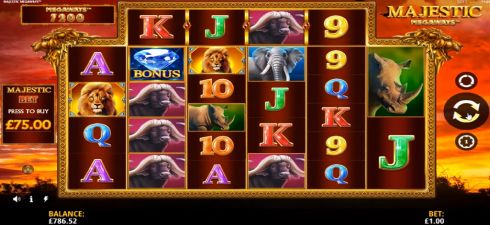 In a collaboration between iSoftBet and Big Time Gaming, Majestic Megaways is a 6-reel slot with an exceptional array of features. In addition to the available 117,649 winning ways, this game has buyable free spins, win multipliers, transforming symbols, and a whole lot more.
Fishin' for Gold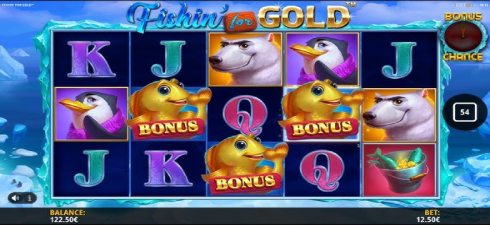 Considered to be one of the most popular iSoftBet games, this chilly slot has a standard reel pattern of 3×5. On the other hand, the slot also has mini-games, free spins, multipliers, extra spins, and a triggerable bonus!
Absolute Super Reels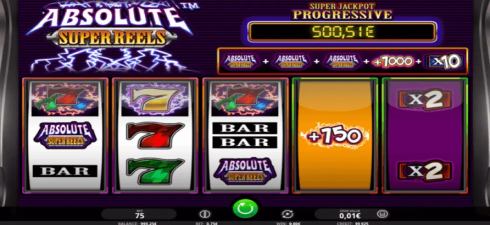 While this is considered to be one of the more "classic" looking titles of iSoftBet, there is much to benefit from this 3×5 game. There are free spins, winning multiplier symbols, and also special additive win symbol that provide an instant amount of money if you land the right combination. Let's not also forget the progressive jackpot!
A Few Table Games That Bring Variety
The developer might have only 10 titles in its table games collection, but they are all entertaining – iSoftBet has focused its efforts on creating several roulette, baccarat, blackjack, and punto banco titles. One interesting fact here, is that all of the roulette titles are modelled after the European version of the game, which is known to have a lower house edge when compared to its American counterpart. Check out a few of the most popular table game titles of iSoftBet right here.
"Blackjack Multihand" – In this version of the game, people can play up to three hands at the same time. The min-max betting limits are 0.10 – 10 units of currency (UC), while the highest amount that can be put on an initial deal will also be 10 UC. The game features a "double" and a "split" mechanic, which will allow the players to up their initial bet a bit more during the course of each round.
"European Roulette" – This standard roulette type incorporates slick design, full mobile device capabilities and a couple of interesting gameplay features. Above the regular betting field, there is also a "racetrack layout", allowing players to make strategic bets a lot faster. The game has a "turbo play" function, which considerably speeds up the gaming process.
"Big Win Baccarat" – While the Chinese characters present in the design of the game does give this baccarat version a more exotic look, it is the different betting opportunities and additional features that make this title truly special. In addition to the regular player, banker, and tie bets, the game also allows pair side bets (player pair, banker pair, any pair).
One of the Most Licensed and Accredited iGaming Developers Ever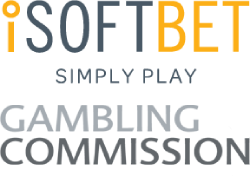 As a high-profile company that is highly renowned in the industry, it doesn't come as a surprise that iSoftBet possesses an incredible number of iGaming licenses and certificates. With that being said, some of the governmental organizations that have issued those licenses and serve as regulatory bodies for anything that relates to gambling software, include the Italian Customs and Monopoly Agency, the Belgium LGA, the Malta Gaming Authority, the NGO of Romania, the RIS of Portugal, and the United Kingdom Gambling Commission.
The majority of these licenses can be issued only if the developer complies with quite a long list of requirements and specifications to ensure that the gaming software they are providing to online casinos everywhere is fair and safe to play. This is why iSoftBet's software products are regularly tested and successfully certified by renowned, third-party organizations such as GLI (Gaming Laboratories International), QUINEL, and iTechLabs. The many accolades of iSoftBet showcase that the developer produces proper gaming software, but that's not all. Every online casino that has iSoftBet games is known to be liked by the public.
A Company That Creates Mobile-Oriented Products and Services
When it comes to compatibility, iSoftBet takes its mission very seriously – which is why all of the company's portfolio of products is fully compatible with mobile technologies that operate on either iOS or Android. It is a known fact that at some point in the past, the developer used the Flash software platform to create a good portion of its games; however, due to the technology's obsolete nature, today, all of the gaming titles offered by the company have been created on the newest version of HTML5, allowing for further optimization of any gaming titles.
Interesting Facts about iSoftBet and Further Business Plans
Ever since iSoftBet was launched, the company didn't just focus its efforts on creating a bunch of online casino games. The brand follows a very interesting economic strategy that allows it to develop additional innovative gameplay features, as well as create long-lasting relations with its partners and customers. It is because the company has managed to excel in several iGaming aspects over the course of its development, iSoftBet has also been awarded multiple times for its excellent conduct in the business.
The Original iGaming Features and Solutions of the Developer Are Innovative
The original themes and vivid colours aren't the only elements that make the gaming portfolio of iSoftBet special. There are many interesting gameplay features as well as additional iGaming platform solutions that have established themselves as a new quality standard in the industry and have become somewhat of a necessity for the top-rated casino sites in the UK and the rest of the world. To explain further, we have summarised some of the most notable ones.
The Ultra Bet – This feature created by iSoftBet is meant for slot games, and it essentially allows players to purchase a number of spins that will be enhanced with special modifier features – including win multipliers and compounding bonuses.
Xpanding Ways – When it comes to interesting slot mechanics, Xpanding Ways most certainly allows for more interesting gameplay. It is essentially a feature that expands a specific reel every time a special bonus symbol lands on it. Once it reaches its maximum expansion, a different bonus feature will be triggered. The number of expansions and the type of bonus feature will depend on the game.
GAP – The "Game Aggregation Platform" is one of iSoftBet's most important developments. Essentially, it's a hosting platform for online casino games, where iSoftBet are able to offer their own gaming titles, along with the ones of its business partners. This is how GAP currently offers more than 2,000 casino games made by approximately 50 different developers!
iSoftBet Is Often Compared to the Best in the Business
One of the company's major strengths is the ability to create visually stunning gaming software that doesn't look like anything else that has been witnessed on the iGaming market. In that regard, this company easily ranks above quite a few other developers that exist today – even those that were established even before iSoftBet themselves.
The Developer Shows Exceptional Dedication for Social Responsibility
As a provider of online casino games, iSoftBet is a company that understands the dangers of gambling addiction, which is why they do everything in their powers to inform participants in the iGaming world. With that being said, the developer always incorporates tools and mechanisms within their gaming software in order to make sure that players will be able to exercise self-limitation in a variety of ways.
The Best Online Casinos and iGaming Companies Working with This Provider
When it comes to its clients and business partners, iSoftBet does work with some of the best ones around. Among the many other companies that are a part of the GAP platform of iSoftBet are developers such as Pragmatic Play, SG Games, Pariplay, SA Gaming, Ezugi, and many others. When it comes to the iSoftBet online casinos themselves, brands like Betsson, Paddy Power, LeoVegas, and quite a few others benefit from utilizing the games made by the developer.
The Presence of iSoftBet Games Continues to Be a Proof for Quality
In addition to offering a number of high-quality iGaming software, iSoftBet is a company that provides full "turnkey" services and products to their clients. The developer has an expanded business infrastructure, which is why the company continues to amass more partners and satisfied customers. If you have a chance to play some of the titles made by iSoftBet, you will definitely enjoy them!