Jungle Jim El Dorado Slot Review – a Surprise Hit from an Industry Veteran
The year was 2016 when Microgaming released one of its most popular titles up to date – the Jungle Jim El Dorado slot. Featuring exceptional stylistic design, a balanced number of gameplay features and a decent payout factor, this game quickly became favoured by players in both offline and online casinos. Although many iGaming industry critics state that this Microgaming title does share some similarities to another popular slot called "Gonzo's Quest", Jungle Jim El Dorado has not only become a slot in its own right but has also become a part of its own series. In this Jungle Jim El Dorado slot review, you will find out everything about the game, and more!
The Theme of the Jungle Jim El Dorado Slot Brings Back Memories
The first "vibe" people get from opening Jungle Jim for the first time, is definitely "nostalgia". The adventurous use of vibrant colours and familiar fonts remind us of two things – Jumanji and Indiana Jones. On the other hand, Jungle Jim is a franchise in its own right – its bright HD graphics and crisp visual design most certainly provide us with a unique feeling of familiarity. Considered to be one of the best titles of Microgaming, it doesn't come as a surprise that Jungle Jim is made to look incredible on any type of gaming platform.
Layout: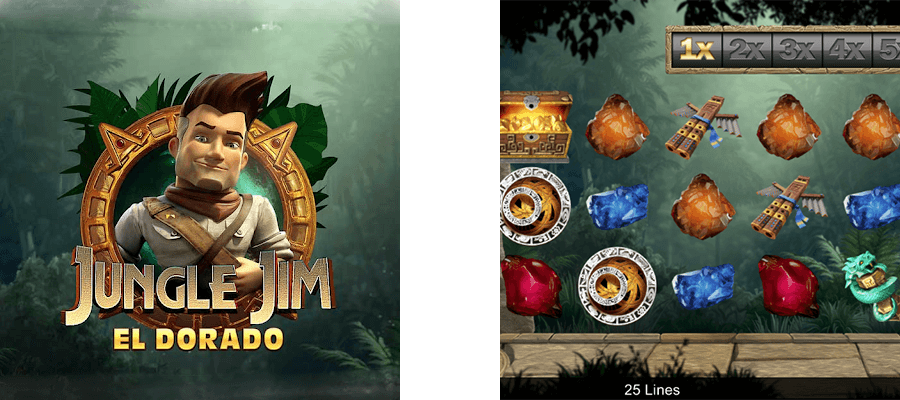 There Are Many Additional Extras Offered by the Jungle Jim El Dorado Slot Machine
This popular slot title sports a 5×3 pattern with a "cascading reel" mechanic with destructible symbols. What this means, is that every time a player hits the "spin" button, symbol boxes will fall from above and if they form a successful combo, that particular combo will destroy itself. Any remaining symbols on the top will fall down to the bottom, while new symbols fall from the sky, which is where our first game feature comes in – cascading winnings multiplier. For every successful "symbol destruction", the slot will grant additional value to the overall multiplied wins, giving a chance to players to score up to x5 in multiplied profit.
Jungle Jim has 10 symbols in total – five low paying ones, three high paying ones, and two which provide the game's special functions. The first one is the "Jungle Jim Wild" symbol, which will substitute all others (except for the scatters). The second one is the "compass medallion" scatter, that gives players the chance to win 10 free spins (FS) if they manage to land three scatters in a successful reel combination. One of the best things about the FS is that they can be retriggered! If you would like to try out all of the game's features without spending a pound, you can play the Jungle Jim El Dorado slot for free!
Symbols:
Playing the Jungle Jim El Dorado Slot Is Easy
As mentioned before, Jungle Jim's charm lies in the simplicity of its gameplay – all you would have to do before spinning any reels, is adjust the bet amount. The smallest a person can wager, is 0.25 credits, while the highest – 50 credits. Usually, land-based and online casino sites assign their own denomination in regard to how much money a single credit is going to be worth, but the most common rate is 1 unit of currency per 1 slot credit. Although an official RTP rate is yet to be released by the developer, the game's popularity among players and casino operators signifies that it is neither too high nor too low. The Jungle Jim El Dorado slot has 25 fixed pay lines, and if we are to judge by the gameplay, the game's volatility factor is "mid to high".
Paylines:

The Game Has Exceptional Graphics and Sound Effects
As expected from a recently created game, the visual effects here are beyond impressive. The entire slot seems to be constructed with both 3D and high-quality 2D visual elements, making the entire slot "pop-out". Although there is no background soundtrack in "idle mode", everything from the rolling of the reels to the behaviour of Jim himself, has been accompanied by the appropriate sound effects. While the slot doesn't bombard the player with an abundance of elements, it still feels clean and "high end".
There Are Other Titles in the Jungle Jim Saga of Slots
There are three game variants in total – Jungle Jim, J.J. and the Lost Sphinx and J.J. El Dorado. The first game was created quite a while ago, and there is no way to tell if it is still being played at all – its outdated graphics and mechanics are nothing like the "evolved" design of its successors. Perhaps the most notable difference between Jungle Jim El Dorado and any other game versions is the number of reels and rows – in the latest instalment of the J.J. series (The Lost Sphinx), there are even extra features.
All Jungle Jim slots are available for instant, "no download" online play only – despite the game's incredible reputation, there isn't any evidence that suggests that El Dorado has actually been made for gaming on a VLT machine for the floors of land-based casinos. Although rumours circulate online, saying that the game has been experienced in some brick and mortar casinos, the reality is that the Jungle Jim series is currently (and solely) represented in online gambling environments.
The Slot Is Still Played to This Day
Jungle Jim is everything a beginner or a seasoned slot player would want, but it also shows a side of Microgaming as a developer that was never seen before. In fact, this title allowed Microgaming to showcase their incredible "publishing range", through their partnership with Stormcraft Studio! For quite a while, the developer has been defined by their relatively "less complex" visual themes and animations, but when they released the Jungle Jim El Dorado slot game, everything seems to have changed. Feel free to try out the game yourself, and you will see what our experts mean!
Frequently Asked Questions
Which Combination Will Provide Me with the Highest Pay Out?
The "treasure chest" symbol is the highest paying one in the entire game, and if a player lands five of them in a successful combination, they will be looking at a reward that will be 6,000 credits. Depending on the "last reel roll" the win may or may not be affected by a win multiplier, which can reach up to x15 if successful combos are landed during free spins mode.
Does the Game Have Any Drawbacks?
As a "triple-A" game title, the Jungle Jim El Dorado slot is considered by some to be "overly simple". Granted, the game does give off the impression that it has a lot more going on for it due to its incredible visual design; however, there is more to be desired from it. Putting the "feature" peeves aside, perhaps the only real drawback is the lack of an "autoplay" (autospin) function.
Is There a Way to Track My Gameplay's Bet History?
Indeed, there is! The majority of Microgaming slots feature the "Playcheck™" option, which tracks every single spin that has been made during a play session. Everyone will be able to open the records of every individual spin ever made, and see the symbols that had landed at that specific time, their starting and end credit balance after the spin was resolved, and also the amount of money that was wagered for it.