Gladiator Slot Review — This Casino Game Is the Stuff of Legends
Some Hollywood movies are relevant for a few months. Others, like Ridley Scott's "Gladiator," linger in our collective consciousness for decades. More than 20 years after its release, this epic film starring Russell Crowe still serves as one of the most vivid depictions of Ancient Rome.
If you're yearning to relive its action-packed scenes, Playtech's "Gladiator" slot could scratch your itch. This branded casino game includes exclusive thematic features and an appealing progressive jackpot. Our review will show you how everything works and recommend excellent gaming sites where you can play this classic.

The Gladiator Slot – True Representation of the Movie
This release is the result of an official licensing agreement between Playtech and DreamWorks/Universal Pictures. Thus, the game uses the film's intellectual property for its features and visual elements.
Maximus and the Coliseum will be in the background as you spin the reels. Commodus, the movie's antagonist, and other noteworthy support characters are represented as pay symbols, which we'll discuss with the various entertainment mechanics below.
Gladiator Slot Online – Features and Layout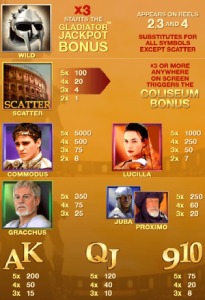 If you took a moment to review the above image, you've probably noticed that the Gladiator slot game is based on a typical layout of 5 columns and 3 rows. This configuration has been the standard for years, so it should feel familiar if you're not new to gaming. Spins yield a payout whenever strings of identical symbols land on one of the pay lines. As usual, the sequence needs to begin from the first (leftmost) reel to be considered valid.
A total of 13 different symbols will appear on the 15 available positions on the reels. One can divide these tokens into three groups:
High-payers — Commodus, Lucila
Low-payers — Gracchus, Proximo, Juba, and six playing card ranks (9 to Ace)
Special symbols — Gladiator helmet (Wild) and the Coliseum (Scatter)
In the casino slot Gladiator, the first two groups are standard and don't have any unusual abilities. However, it's worth noting that high-value tokens can pay for a 2-of-a-kind, while the low-payers require a 3-of-a-kind.
The 2-in-1 Scatter and Its Coliseum Bonus
Now, let's turn our attention to one of the special symbols — the Scatter. This token doesn't need to be on a pay line or adjacent reels to pay you out. Its multipliers apply to your entire stake rather than the line bet.
When you see a spin containing 3+ Scatters, get ready to enter the highly volatile "Coliseum" bonus stage. You'll be presented with a grid of stones. There are four different rows, each containing 5 stones that hide various features that affect the following bonus round.
The Gladiator slot machine will have you start at the bottom row and work your way up. The first row determines how many free spins you'll get, the second one contains x1, x2, and x3 multipliers, while the top two decide which regular symbols will act as extra Wilds and Scatters during the bonanza. Once all selections are made, a free spins stage packing all of the above will begin, and you might be in for some solid payouts.
Here's How the Progressive Jackpot System Works
So how can you win the jackpot in this casino slot? Gladiator's Wild symbols are the key. They can appear solely on the middle three reels. As usual, these symbols can replace all normal ones, which translates to more winning combinations for you. When all three land on a single spin, a new screen will pop up, signalling the beginning of the "Gladiator bonus."
Nine masks will appear one by one before you. They can be bronze, silver, or gold. Each type of helmet has a certain prize attached to it, and when all nine of them show up, their rewards will be accumulated and paid out to you in full. If the Gladiator slot machine produces nine golden masks, you'll win the jackpot.
It's worth mentioning that there are two versions of the game. The original was created in 2008 and has a fixed top prize. The "Jackpot" version broke cover in 2012 and introduced a progressive reward system in which a part of all wagers is contributed to expanding a jackpot pool. Our review recommends the latter release because it's more exciting. Still, if progressive prizes don't mean much to you, the fixed jackpot variant would be a better fit.
Payout Details of the Gladiator Slot Game
While contemporary video slots tend to offer a fixed number of pay lines, older ones like "Gladiator" allow you to adjust them. The Gladiator slot machine comes with 25 winning ways by default, and you can reduce them all the way down to one. Doing so will allow you to decrease your overall wager; it's even possible to wager £0.01 per spin. However, the trade-off is a higher house edge, so we recommend staying at 25.
You can spin with £0.25 at a time with all pay lines active, which isn't that expensive. Meanwhile, high rollers are able to stake up to £25 per round. If all the winning ways are enabled, the theoretical RTP will stand at 91.5%. The value is acceptable for progressive jackpot slots, as a proportion of your bets will go toward the jackpot.
On average, the progressive prize goes up to around £1 million before a lucky winner emerges. So far, the largest pooled win awarded by the Gladiator slot measures in at £2.3 million. The game has a high level of volatility due to its infrequent but large winnings.
Graphics, Audio and Mobile Compatibility
Our Gladiator slot review team agrees that the game has aged like fine wine. Its graphics can't quite match those of the latest high-end reel machines, but they aren't unpleasant or low-res, either. The background is static, yet it still manages to immerse you in the action. The symbols that depict the main cast are photo-realistic and will remind you of the epic motion picture.
Regrettably, you won't hear any sounds in the background until a successful spin pops up or a bonus feature is triggered. On certain occasions, you'll also see scenes from the movie play, which is a trademark Playtech feature.
Before we recommend some casinos and conclude our Gladiator slot review, we'd like to mention that mobile users can enjoy this title with no hassle. The development team regularly updates this release to ensure compatibility with phones and tablets on Android and iOS. You'll even benefit from a touchscreen-friendly interface with a few big, easily clickable buttons.
Play the Gladiator Slot Machine at Trusted Casino Sites
Entering the virtual arena and fighting for a big prize is best done through registration at a reputable casinos. Playtech works with some of the biggest names in the iGaming industry, so safety, fairness, and prompt payouts are guaranteed when playing this game. If you need a few recommendations, check out any of the brands: bet365, 777casino, Mr Green, Casumo, Mansion Casino, Casino.com
Once you create a profile and fund it, try looking for the Gladiator slot in the venue's "Jackpot" section, or directly type in its name into the search bar.
It's best to take a moment to decide how much you're planning to wager before you start spinning. Our advice is to keep your wagers low, but not to the point where wins feel insignificant. Ideally, you'll bet small, even amounts that will be enough for 150-200+ spins.
Once you've determined how much to stake, use the plus/minus buttons under "line bet" and "lines" to set your bets. On mobile, this is done through the three-dot/line menu.
Start playing through the "spin/auto-spin" buttons. No further input is needed, except when you end up in the "Coliseum" bonus. Still, everything is luck-based, so fate will decide whether you win or lose.
To Conclude
Just like Ridley Scott's masterpiece, Playtech's Gladiator slot machine is a classic. The game is no longer new, but its visuals and features have stood the test of time. Furthermore, it offers an exciting progressive jackpot that will keep you coming back for more. Still, we'd like to warn you that its big winning potential is balanced out with a substantial house edge and high volatility.
In other words, you'll have to approach it patiently, set limits, and smartly manage the inevitable losing sessions to come up on top. The last useful tip we can give you is to pick a respected operator like the ones we listed above. That way, any spoils that you get in the arena will surely be paid out. Some of these sites also have bonuses that are compatible with the Gladiator slot game.
Frequently Asked Questions
How Many Gladiator Slots Are Out There?
While hundreds of reel machines are themed after Ancient Rome and its prize-fighters, there are only two slots that can use intellectual property from Ridley Scott's movie. Both are made by Playtech and are quite similar to one another. The difference between them is that the first has a fixed jackpot, while the second has a progressive one.
What's the Betting Range of the Gladiator Slot?
It's possible to bet as low as £0.01 or as high as £25 per spin. However, the lower range is only reachable if you decrease your pay lines down to one, which isn't recommendable. Playing with all 25 win ways is available from £0.25 per spin.
What's the Gladiator Slot RTP?
It depends on which version you're playing and how many pay lines you've chosen to have. With all 25 winning ways activated, the progressive jackpot variant has a 91.5% RTP rate while its counterpart is slightly higher at 94%.
How to Win Gladiator Slot's Jackpot?
The mini-game that gives you a chance to win the top prize begins once you land 3 Wilds (gladiator helmets) on the second, third, and fourth reels. When this happens, a new screen appears, and the game will generate nine helmets of three different kinds (bronze, silver, metal). If each of the nine helmets is golden, you'll win the jackpot.
Can I Play the Gladiator Slot Machine on Mobile?
Yes, both on iOS and Android smartphones and tablets. The game has been modernised to work with all applications and popular web browsers.