Miss Kitty Slot Review – An Interesting Game with a Few Perks
Originally released in 2011 by the Australian developer Aristocrat, the Miss Kitty slot made a surprising impression on players and critics when it came out. Because there weren't many online slots back in the day, Miss Kitty did enjoy significant attention from the iGaming industry as a whole; however, trends are constantly changing. Has the time come for this feline slot game to finally be taken into iGaming heaven? Actually no! This Miss Kitty slot review elaborates on that topic, while explaining the game's full features, and the reasons why it is still offered by many top-rated casino sites to this day.

The Miss Kitty Slot Game – The Adventures of a Feline in the City
The random symbols, elements, and artwork here suggest that players shouldn't be looking for any deeper meaning in this title. Basically, what you see is what you get, which is a magenta-coloured cat, that seems to be in the centre of this slot's supposed plotline. If we had to piece together a story, we would say that "Kitty" was a house cat, that somehow lost her cosy home, and ended up on the streets of the night city. The art style of the visuals seems quite outdated, and you will definitely need to be a player who enjoys ultra-retro themes in order to find this theme somewhat appealing.
Some of the Miss Kitty Slot Game Features Have Their Merits
Looks can be deceiving, which becomes evident from the slot's modern 4×5 reel layout. The Miss Kitty slot machine operates with 13 symbols in total. They are Kitty, Fish, Moon, Pigeon, Mouse, Milk Carton, Yarn, A, K, Q, J, 10, and 9. Kitty and Moon are the special symbols here, which will perform unique functions in addition to providing monetary wins. Some of the online gambling establishments where you can play the game for real money or in demo mode, are: Betsafe casino, WildTornado casino, GSlot casino, Mega Casino.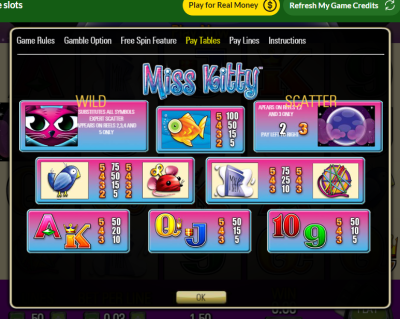 Kitty Will Substitute Other Symbols
Every time you land the iconic cat after a spin, it will serve as a wild substitute to any other symbol, with the exception of the Moon. Landing a Kitty symbol will significantly increase your chance of scoring a win; however, there is a small drawback – as a wild symbol, it can appear on all reels, except on the first one.
Scatters Give Free Spins and Additional Wins
Landing three Moon scatter symbols is not an easy task, because this can happen only on the first three reels. If you're lucky enough to do it, the game will give you 10 free spins. During those free spins, Kitty symbols that are landed, will lock in place and persist until the free spins are over! If a moon symbol is landed beneath a sticky wild Kitty symbol, it might grant an additional prize. If the FS feature of the game is retriggered, the game will give only five extra spins. Sadly, you won't be able to retrigger the FS mechanic more than once.
All Basic Specifications of the Miss Kitty Slot Game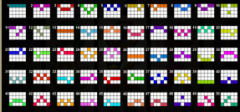 The first thing to mention, is that this slot isn't particularly easy to play. There are multiple settings and mechanics that players need to familiarize themselves with first, so they are able to navigate throughout the game without feeling confused. Miss Kitty has 50 adjustable paylines, and an RTP rate of 94.76%, which is considered to be quite low by iGaming industry standards. The Miss Kitty slot machine is listed to have a medium volatility factor – this means that the game is going to form winning combinations neither too rare nor too often.
Selecting Your Bet Might Be Confusing at First
The first thing you should start before spinning the reels for the first time, is to adjust the number of pay lines you would like to activate. When you're done with that, select the value you want to assign for each activated payline. This, will form your bet per spin (BPS). To give you an example, if you start only 1 payline with a value of £0.02 per line, your total bet will be £0.02. On the other hand, you can activate all 50 paylines while choosing a value of £2 per line, which will result in a BPS of £100!
The Gamble Feature Provides a Strong Advantage
The gamble mechanic of the Miss Kitty slot game is perhaps one of the main reasons why casinos offer this title, and people continue to play it. After landing a winning combination, a player can press the gamble button, and engage the card-guessing mini-game! If you make a correct prediction of a card's colour, your winnings will be doubled! If you feel even riskier, you can choose one of the card suits there – if you're successful, your winnings will be multiplied by four times!
An Autospin Mechanic That Requires Some Getting Used To
The game does allow autoplay, and players can use the small "plus and minus" buttons to adjust the number of the spins they want to play. You can have the game process as little as 10 spins or as much as 100 spins. If you're someone who uses this type of feature while playing slots, you should be aware of the inherent flaw that is here – the only way to disable the autoplay mode is by doing it manually.
The responsiveness of the spin button when it comes to stopping any spins dead in their tracks doesn't seem to be all that good – in fact, you will need to "double click", in order to make sure that the feature has been disabled. A good tip for that is to watch the number of spins left on the counter – if they return to 1, then the mechanic has been disabled. If the number remains the same, the game will stop for a moment and then initiate another spin. We don't particularly recommend using this feature, if you're deciding to bet big on the Miss Kitty slot machine.
The Miss Kitty Slot Machine Is a Much Better Title on Mobile
There is a different version of the Miss Kitty slot, that is fully compatible with all iOS and Android devices. We say "separate", because the mobile version of the game looks and plays vastly superior to its PC counterpart. Aristocrat had made sure that the mobile version of the game has all the necessary features such as custom control interface and responsive operation; however, they missed out on doing the same for PC, where they tried to emulate the old Flash version of the game, downright to its semi-responsive controls. If you do want to play the Miss Kitty slot machine, then you better do so on a smartphone or a tablet!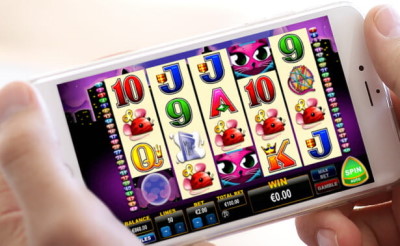 Existing for Devoted Fans Only
Although the slot doesn't look good, it does have some redeeming qualities. The balance of the gameplay environment isn't so bad, and the fact that it allows a player to fully customize their bets, is an advantage. If you manage to bring yourself to ignore the somewhat annoying design and colour choices, you might actually enjoy this one.
FAQ
The Game Is Way Too Slow – Can I Somehow Speed It Up?
Unfortunately, the Miss Kitty slot doesn't have a speed setting that will let you do that. The only way to process any spins faster, is if you utilize a slam stop mechanic. By manually starting and stopping every spin, you can significantly increase the pace of your gameplay.
How Many Times Can I Use the Gamble Feature?
If you keep winning, the gamble feature can be used up to five times! Unfortunately, if you fail to make a correct prediction even once, all of your winnings (including your original one) will be lost. The gamble feature is best utilized when the slot has granted you small wins – if you can afford to lose it, you might want to gamble it!
Why Can't I Bet the Full Amount Mentioned Here?
Although the Miss Kitty slot game does allow large bets, the same can't be said for some of the online casinos that offer the game. Because of jurisdictional regulations, casinos are forced to offer not only this one, but all of their slots with a severely decreased maximum betting limit.