Mega Moolah Slot Review — Consider the Pros & Cons before Betting
There's no online reel machine quite like Mega Moolah. The slot is famous for its colossal progressive jackpots that can instantly turn lucky players into multi-millionaires. This reputation attracts more and more bettors, which causes the pooled prizes to grow ever larger, producing a positive feedback loop that has kept Mega Moolah on top for more than 15 years.
Still, it's not all roses with such games. Our review will give you an accurate assessment of the title's pros and cons, so you can decide if playing it is right for you.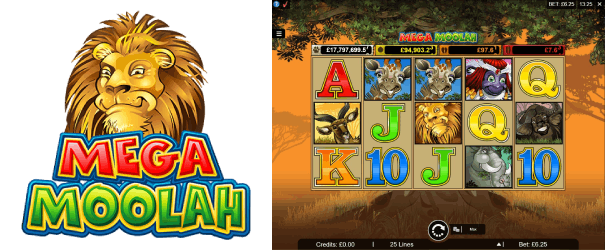 The Mega Moolah Slot Takes You on a Virtual Safari
We'll begin our Mega Moolah slot review with a few words about the game's theme. All the visual elements revolve around wildlife from the African savannah. There's no plot or introduction to what's going on, but we feel like such omissions are intentional. Microgaming, the software's creator, has decided to avoid unnecessary distractions, so players can keep their eyes on the progressive prize counters above the reels. Now, we'll move on to discussing the game's composition, symbols, and features.
Features of the Mega Moolah Online Slot
At its core, the Mega Moolah slot game is quite straightforward. Its 5×3 layout is one of the most common for this gaming genre. There's nothing to write home about the paylines, either. It packs 25 winning ways that are always functional and can't be adjusted. Payouts are granted every time a sequence of three, four, or five identical symbols lands on one of these paylines. The string needs to begin from the first column on the left.
A total of 12 different symbols can appear on the reels of this machine. The two most valuable ones are the lion and the monkey. The former is a Wild, so it can replace all other tokens except the monkey to help you win more often. If a combination contains a lion, it pays double the normal amount.
Meanwhile, the Mega Moolah slot game will grant you 15 free spins every time 3, 4, or 5 monkeys show up at once. These scatter symbols don't need to be aligned on a pay line for you to enter the bonus. An x3 multiplier will apply to all free spin winnings, which can lead to some solid payouts. Also, you can extend the bonanza if additional scatters appear throughout its duration. The rest of the symbols don't have any special properties. In order of importance, they include the elephant, the buffalo, the giraffe, the zebra, the antelope, and playing card ranks from Ace to 10.
Symbols: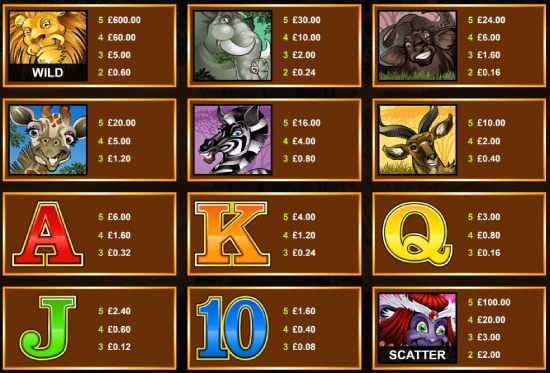 *The above payout values are valid for £1 bets.
How to Play for the Mega Moolah Slot Jackpot
We're finally getting to the good part. The Mega Moolah slot jackpot is progressive, meaning that it grows as players bet more and more. A percentage of each wager placed by everyone playing this game is contributed. This causes the prize pool to expand before a lucky winner eventually downs a life-changing payout.
It's worth mentioning that there are four progressive rewards in total — "Mini," "Minor," "Major," and "Mega." Naturally, the "Mega" reward is the one everyone's after. However, the "Major" prize is also quite appealing and often reaches £50,000+.
But how can one play for these jackpots? The answer is through a mini-game that has a random chance of appearing on every spin. When this Mega Moolah slot jackpot stage occurs, you'll see a wheel of fortune appear with four different symbols on its many segments. These symbols represent the different rewards you can win. You click to spin the wheel, and when the flipper stops in one of the zones, you win the corresponding prize. There's no minimum stake requirement to trigger the game, but according to the info page, bigger bettors have a better chance at it.
Mega Moolah Slot Machine: RTP, Volatility and Jackpot Sizes
In case you're wondering, the largest of the four progressive prizes you can win starts with a £1 million seed and expands to around £4 million on average before it's downed. However, every now and then, the Mega Moolah slot also goes into the 10+ million range. At the time of writing, the jackpot is close to £18 million, which is a record-breaking sum for online casino games.
On the flip side, these jackpots only get so big because 5% of your wagers are contributed towards them. This slot has a massive house edge of 11.88%, which is substantial compared to the 4% genre average. Unless you're one of the very few lucky winners, your average returns are expected to be much lower compared to standard slots. If we exclude the progressive system, the Mega Moolah slot game's volatility level measures in at "medium."
Paylines:

Graphics and Functionality
The graphics of this game are not its strong suit. Its symbols and background are drawn in a cartoony style that's not particularly easy on the eye. However, we can't be too critical because Microgaming released the title all the way back in 2006. Besides, the vast majority of its fans are mainly interested in chasing the jackpot, so dated visuals are hardly a deal-breaker.
On a more positive note, the reel animations are smooth, and some of the pay symbols move about when you end up winning. You can also play Mega Moolah slot online through any smartphone or tablet. Microgaming is frequently updating its biggest hit, ensuring perfect compatibility with iOS and Android devices. The latest version has an interface that's optimized for touch interactions, so you can easily spin and manage your wagers.
Where and How to Play the Mega Moolah Slot Online
Regrettably, testing this release for free is not an option for UK players. You'll have to decide whether you can put up with the steep house edge and wager real cash before chasing the colossal jackpots. On the bright side, you can find the Mega Moolah slot in some of the best gaming sites, including: MansionCasino, Casino.com, bgo, Grosvenor, William Hill.
After you create an account and make a deposit, you can look for this title in the "Jackpot" section. If you're having trouble locating it, type its name into the search bar.
When everything loads, look for the coin-shaped icon, tap on it, and use the slider to select your bet. If you're wondering how much to wager per spin, our advice is to go for the "quantity is quality" approach. Every spin has a chance to start the Mega Moolah slot jackpot game, so you might as well get in as much of them as possible.
Use the black circular button to start spinning. If you want to manage the sounds or review the features, check out the three-line menu on the top-left side.
So, Should You Chase These Jackpots?
Mega Moolah doesn't have scintillating features, great return rates, or appealing visuals. However, that doesn't really matter to its countless admirers because no other online casino game can compete with this slot's progressive jackpots. The potential of landing that unlikely but life-changing spin is perhaps the most powerful drawing factor of this release, and as long as it exists, there will be players willing to take their shot.
Now you know the good, the bad, and the ugly sides of the Mega Moolah online slot. The choice of whether to go on a virtual safari for the ages is yours to make. If you decide to try your luck, remember to pick UKGC-licensed, safe, and responsible gambling sites like the ones we listed above. Good luck, and play responsibly!
Frequently Asked Questions
How Do You Win Mega Moolah's Jackpot?
Every real-money spin in Mega Moolah has a random chance of starting a bonus mini-game. This feature looks like a fortune wheel. Its different segments represent the four available jackpots. Click to spin the wheel and pay attention to the zone in which the flipper rests. That's the prize you'll win.
Is Mega Moolah Legitimate?
Yes. The Mega Moolah online slot was created by Microgaming, one of the largest casino software suppliers. The company's games are tested and approved by multiple independent auditing facilities and offered at countless licensed gaming sites globally.
Where Can I Play Mega Moolah?
This slot is available in hundreds of UKGC-licensed casinos, including Mansion Casino, Casino.com, 32Red, bgo, Grosvenor, William Hill and others.
Has Anyone Won Mega Moolah?
Yes, multiple times. Since 2007, Mega Moolah has made around 70 people millionaires, and the number continues to rise. The game's highest "Mega" progressive jackpot is won an average of 5 times per year. The Mega Moolah slot is a world record holder for the largest jackpots awarded by an online casino game, with its top prizes capable of reaching £16-£18+ million.