Sinbad Slot Review – A Reborn Classic Game with Modern Innovative Gameplay
In 2021, the Sinbad slot game re-entered the iGaming industry. Powered by its signature gameplay features, exceptional visual quality, and entertaining mechanics, this game experienced a "second wind" in its popularity. Developed and distributed by the company Quickspin, this slot is often described as being a "classic favourite" of both players and iGaming critics. How many free spins can you score here? What is the RTP rate of this game? Read our Sinbad slot review, and you will be pleasantly surprised!

An Arabian Nights Story Told through the Sinbad Slot
While playing the Sinbad slot game, people won't find a particular plotline; in fact, the game feels like many things are happening at once, and in some sense, that aspect actually stays true to the source material. Sinbad is a fictional character, the stories of which were created somewhere in the 13th century. This mythical sailor is supposed to have sailed through many seas, witnessing numerous adventures of epic and supernatural proportions. Through its gameplay, the slot provides the player with clues about which adventures Sinbad managed to go through!
The Sinbad Slot Game and Its Number of Exciting Features
When the game was released, the first thing that it impressed the iGaming crowd with was its remarkable gaming layout, which has five reels, and a row pattern of 3x4x4x4x3! In the Sinbad slot game, you will see 12 symbols. The game defines five of them as "low wins" (Orange Gem, Blue Gem, Green Gem, Purple Gem, White Gem). Another five are considered to be "medium wins" (Green Wizard, Blue Captain, Purple Sultan, Mystical Woman, and Sinbad). The two remaining symbols are the "Golden Swords Wilds", and the "Free Spins Ship Scatters".
Whenever wilds have been landed, they will substitute any other symbol on the reel, except for the Ship scatters. Another thing to mention here is that wilds are also the highest-paying symbol in the game! They can land in both regular and bonus play.
Each player can benefit from the stacked symbols feature of this slot. On every spin, one or more symbols are chosen at random to appear stacked. The chosen symbol can be anything except wilds or scatters.
On the other hand, the Ship scatter symbols are the ones that will activate your free spins features so, if you've successfully collected three of them, the feature will activate. Three ships also pay winnings which are multiplied by x2 of a player's most recent bet! Once the free spins activate, the player can choose which type of free spins they would like to enable. The number of spins, as well as their unique features, will vary.
Ape Free Spins Lock In Wilds
If you've decided to go with the first FS option, right after every spin, a mighty gorilla will run out from the bushes and then hit one of the reels. When that happens, one of the symbol positions will instantly become a golden gorilla wild, which will persist throughout the entire duration of all free spins. This bonus game mode will start with 7 free spins. Depending on your luck, the gorilla can turn either one or two symbols into wilds at the same time!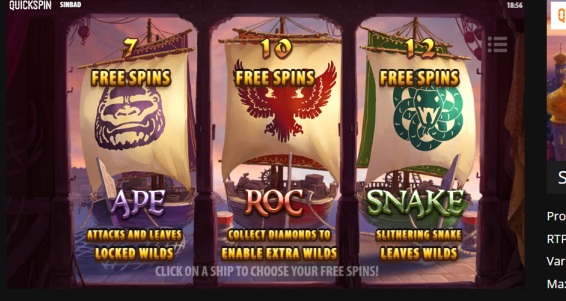 Roc Diamond Spins Give a Lot More
In this special gaming mode, one special symbol will be added to the reels – the Roc diamond. This feature will start with 10 free spins; however, there is a chance to get a few more on top, by collecting the special diamond symbols. On the left side of the screen, there will be a gauge that will fill in every time the Roc bird collects a diamond, but even that's not all. Once a player has collected enough gems, they will reach a specific milestone that will turn a specific symbol wild.
The first milestone will turn the Sinbad symbol into a wild, if you collect four more diamonds, the game will turn the Mystical Woman symbol into a wild and grant two additional free spins! If you manage to collect five more, then the Sultan symbol will also become a wild and grant two additional FS. If the player is lucky enough to fill the gauge completely, they will play through 14 spins in total.

Slithering Snake FS Create Additional Winning Opportunities
The "Slithering Snake" FS feature might be the last from the selectable bonus round modes, but it also provides the largest number of free spins. In this free spins mode, while you will have regular wild symbols, there is a chance that a wild snake head symbol will appear in the first and last reels. If that happens, the snake symbols will then open their mouths, and a snake will slither from one symbol to the other – transforming any symbols that the snake has slithered over, into additional snake wilds! Bear in mind that the slithering snake feature is not guaranteed to activate on every spin!
Some of the Basic Traits of the Sinbad Slot
The Sinbad slot game is a visually stunning piece of gaming software, which can be experienced with ease. While all that is required of players is to adjust their bet value and hit the spin button, there are a couple of other mechanics that players might find useful. The Sinbad slot is a game that has 40 fixed pay lines, and an RTP of 97.07% which is considered to be on the generous side, according to iGaming industry standards. The maximum possible win in this game is listed to be x748 times a player's bet.
When it comes to the volatility factor, Sinbad is listed to be low-to-medium, which means that players will experience wins quite often, although they won't be as substantial. With that being said, the smallest payout is going to be produced by a combination of three orange gems, which will yield a mere 0.02 units of currency; on the other hand, if you're lucky enough to score five wild symbols in a successful line, you will be looking at a payout of 1,000 units of currency! These statistics have been calculated by using the minimum and maximum possible bet amounts.
Adjusting Your Bet Is Easy
The smallest bet per spin (BPS) you can set is 0.40 units of currency, while the biggest – 80. Simply use the minus and plus buttons next to the "total bet" indicator in order to decide how much you would like to spend. Because of this wide betting range, the Sinbad slot machine is defined to be ideal for both beginners and advanced slot players alike.
More Time on Your Hands with the Auto Spin Feature
If you want to run the Sinbad slot in automation, you can choose between 10 and 1,000 spins to be processed without manual intervention. While you can stop the autoplay mechanic manually, you can also adjust a number of conditions that can do that for you. Once you've navigated to the "advanced" settings, you can set the game to stop when a specific loss limit has been reached (either by selecting a bet-preset or setting your own) or when a single win limit has been achieved.

A Game Exceptionally Optimised for Mobile Play
Considered to be one of the first slot games created by Quickspin, the Sinbad slot game was first made in Flash. When every software developer started to migrate to HTML5, Sinbad was one of the first games to be completely reworked with new and improved graphics and superb mobile device compatibility. Today, you can enjoy this slot on your preferred Android or iOS device – even in portrait mode!
This Slot Will Never Lose Its Popularity
The re-release of the Sinbad slot game represents not only the re-innovation of a great title by Quickspin, but also a reminder of where the software developer started from. Furthermore, this particular slot is universally liked by beginners and advanced players, which automatically has solidified its reputation in iGaming history. The potential wins have great values, there aren't any noteworthy drawbacks, and the numerous free spin features offer a certain degree of control to the players. The Sinbad slot machine is developed to be available in demo mode as well as for real money, and we think that you will enjoy both types of gameplay – just give it a go!
FAQ
Can I Retrigger Free Spins in All Bonus Games?
This depends on which bonus rounds the player has activated. With that being said, you will have a chance to retrigger some free spins; however, only if you select the second FS mode – the roc bird bonus rounds. Bear in mind that the other two gameplay modes do not feature any retriggers. Although Roc bonus games are limited in terms of how many FS they can grant, there is a limit.
How Fast Can I Process Spins in the Sinbad Slot?
It all depends on the way a person likes to experience the game. For example, a single spin in regular mode will be processed in approximately five seconds. By enabling the "turbo" button, players can shorten that time by additional three seconds, which will roll a spin every two seconds. Last but not least is the fact that the autoplay feature can be enabled in normal and turbo mode as well!
Can I Influence the Rate at Which Free Spins Are Activated – What Happens If I Land More than Three Scatter Symbols?
There is no possible way for a player to influence the slot in order to make it land bonus scatter symbols more often. Even if there was, no more than three of them could be landed for the activation of a feature, as they only seem to appear in the three middle reels. Although there is no empirical evidence to explain how many spins you need to process before triggering the bonus game, our experts managed to enable the feature once in approximately every 200 spins!