100 Cats Slot Review – A Purring Casino Game with Mystery Jackpots
In 2016, the iGaming world saw another addition to the portfolio of the software developing company EGT – the 100 Cats slot. With its distinctive retro feel and a balanced number of features, this title received lukewarm reviews by the industry, but oddly enough, it remained as one of the most played titles of EGT to this day. Our 100 Cats slot review entails everything that is offered by the game – check it out below.
100 Cats Slot: Many Felines, but No Discernible Plot
The bright visuals of this game showcase glitz and glamour that is more akin to the Broadway musical scene, rather than anything else. If we were to try and deduct what the story here is about, it's probably about a rich lady who owns a lot of cats, every one of which is a different breed. Although the art style of the slot looks to be a bit outdated, players will clearly be able to distinguish the various cat breeds here.
Features of the 100 Cats Slot Machine
Although the slot does seem like it has been made at the beginning of the 90s, EGT has still developed it with a 4×5 reel layout, which is native to modern slots. There are 12 symbols found here – Blond Lady, Cats Family, Tabby Cat, British Shorthair Cat, Siamese Cat, Maine Coon Cat, Black Persian Cat, White Persian Cat, A, K, Q, and J. There are only two symbols here that will serve a special function in addition to providing wins – the Blond Lady and the Cats Family. While we have described what they do in this 100 Cats slot review, you can also experience their functions in the demo version of the game, which is available in casinos such as:
bet365, WildTornado Casino, NetBet, Mega Casino, PlayOJO.
The Blonde Is a Substituting Wild
When a player lands a Blonde Lady on the reels, this symbol will universally become a substitute or any other symbol that exists in the game with the exception of the Cats Family Scatter. An additional bonus function of the Blond Lady symbol is that there is a chance for it to land fully or partially stacked on the reels!
Get Your Free Spins in This Cat Game
The Cats Family logo is not only a mere symbol, but a Scatter that will deliver a payout, regardless of its positioning on the reels. One thing to mention here though is that this Scatter will only land on the second, third, and fourth reel! If you're lucky enough to land three scatters, not only will they provide you with a hefty payout in coins, but they will also initiate 10 free spins (FS). During FS mode, if a player manages to land three more scatters, the 100 Cats slot machine online will give another 10 FS and add them to the counter. Since there are no limits mentioned regarding this feature, a player can theoretically re-activate free spins an unlimited number of times!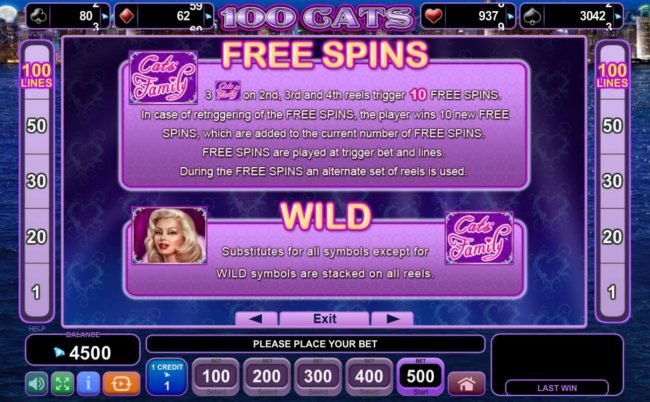 More Progressive Jackpots with the Jackpot Cards Features
Probably one of the reasons that the 100 Cats slot is still popular is due to the fact that it has not one but four progressive jackpots. They are designated as the suits of regular playing cards and rank from smallest to largest in levels. Level one is Clubs, level two is Diamonds, level three is Hearts, and the fourth level that provides the biggest jackpot amount is designated as Spades.
In order to get your hands on any jackpot, you will need to activate a feature called the Jackpot Cards. This happens completely at random, and when it does, the 100 Cats slot game will initiate a mini-game that will display 12 playing cards with their faces down. The player will then start to pick one by one, and the first three suits he manages to match will result in the winning of the jackpot that corresponds to that particular suit! It should be noted that the chances of you winning either the biggest or smallest progressive jackpot will remain the same, regardless of the size of your bet at the initiation of the feature.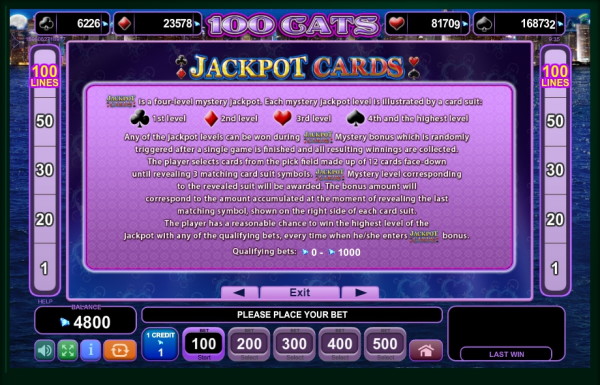 Essential Information about This Game
This title is all about luck and no skill, meaning that if you've played a slot at least once in your life, you will manage to navigate throughout it easily. The 100 Cats slot machine has 100 paylines, which are adjustable – players can choose whether to activate 1, 20, 30, 50, or 100 of them.
When it comes to the 100 Cats slot RTP rate, it is a resounding 96.03%. With its relatively high RTP and low-to-mid volatility, this game is expected to form successful winning combinations rather often than not. The lowest paying combinations will be formed by either three Js or Qs, while the highest regular winnings can be achieved by landing five Blond Lady Wild symbols.
Adjusting the Size of Your Bet Is Elementary
The game uses currency units instead of coins, which are valued at a rate of 1:1. One of the unique traits of adjusting your bet is that you won't have to move any sliders or type in a particular value. The bet per spin (BPS) coin values will be distributed among five separate buttons. When you decide on a specific amount, simply press the designated button.
We should note that the size of the five different bets will be determined by the number of active paylines. For example, if you play 100 Cats slot only on 1 pay line, the min-max bet range will be from 1 to 5 coins; however, if you play all 100 paylines, then that range will be from 100 to 500 coins per spin.
Auto Spins Are Activated Easily
The orange autoplay button on the left side of the gaming interface will immediately enable 100 Cats to start spinning automatically. There is no way to pre-program the number of spins you want to process or adjust particular settings that will disable the feature. Simply press the autoplay button again if you wish to disable the mechanic entirely.
The Gamble Feature
If you're looking for a way to increase your latest win, simply engage the gamble feature. Every time the 100 Cats slot machine produces a winning combination, the word "gamble" will appear on the bottom right corner of the game. By activating it, a window will appear that will show a card-guessing game, where the mission of the player is to predict correctly whether the next drawn card will be red or black.
Upon a successful prediction, the 100 Cats slot machine will double your last wins! This feature is repeatable up to five times; however, if you don't make a correct prediction even once, all of the winnings you've accumulated will be forfeited, including the ones that were used to enable the gamble feature in the beginning.
A Superior Mobile Version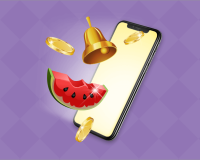 Although the PC version of the 100 Cats slot game still appears to be an "upgrade" from its previous Flash-based alliteration, its mobile version seems to be superior in a variety of ways. With that being said, you can expect 100 Cats to function superbly on Android and iOS-based devices.
The most notable differences between the mobile and PC version of 100 Cats are distinguished in both the design of the game controls, as well as the expanded functions of some features. For example, the autoplay mechanic here will allow the player to adjust the number of auto spins they want to process (from 10 to infinity), and also change specific settings that can disable the autoplay feature once they are met. Visually, the 100 Cats slot mobile game has a much simpler control interface, which appears to do a lot more than its PC counterpart.
Conclusion
Beneath the average-looking graphics and less-than-fluid animations, the 100 Cats slot machine online has a stable gameplay framework and a balanced amount of bonus features. The opportunity for scoring one of four jackpots is also quite enticing to both beginners and veteran slot players, as it doesn't require anyone to have a big budget in order to qualify for it. Feel free to try the game out, and you might enjoy it.
FAQ
Does the 100 Cats Slot Have Multipliers?
Unfortunately, no. The game was developed with the idea of providing more paylines and symbols in order to increase the chances of winning for players; however, this is something that remains subjective. The best thing to hope for, is to land as many scatter symbols as possible, before and during the free spins mode.
Does the PC Version of the 100 Cats Slot Machine Have an Advanced Autospin Feature?
Unfortunately no. In their journey to creating a mobile slot that looks simple yet feature-filled, EGT has made the mobile version to be a little bit more appealing than its PC counterpart. If you want to be capable of fully customizing the conditions under which your game will disable its autospin mechanic, load the 100 Cats slot on your smartphone or tablet!
Why Can't I Activate the 100 Cats Slot Jackpot?
As a mechanic that has the potential of releasing an insane amount of money, it is understandable why it doesn't activate easily. Furthermore, there will be details regarding the qualifying bets for the feature to trigger in the slot's information section. If you're over-betting that amount, perhaps this is why the Jackpot Cards feature doesn't activate.