Betsoft Are Way Out In Front
If you are a fan of all things animated and you love the way modern films have pushed the genre, then take a look at what Betsoft offers the online casino world. Gambling and animation have been long term partners in the digital slots world. Betsoft have taken it to new levels. The 3D games made by Betsoft have no rivals. We are talking a level of animation that has been the preserve of console gamers and cinema goers only.
The only company that is producing games of this quality is Betsoft. There are others making 3D games but they are not even close. The industry as a whole is being a bit slow in catching up. The graphics are just stunning there is nothing that is anywhere near them. The audio will tell a story and the gameplay sucks you in. 3D games will be everywhere soon but not yet. Betsoft have stolen a march on the competition.
Hollywood Quality Not Quantity
150 games is not the biggest portfolio out there. It is without doubt the best looking. The Slots3™ series is what has the industry talking. These games are just head and shoulders above the rest for visually stunning artwork. Let's not understate this galleries could hang the advertising shots they are that good. The latest slot to come out the Slotfather Part II the marketing shot is brilliant. The character is actually scary in a cartoon fashion.
There are some that have been going for a while now Alkemor's Tower has been with us for over a year and it is still just as good. It has lost none of its shine at all. If you are more into the pure cartoony side of things how about Fa Fa Twins another new release.
Mini games seem to be another fad at the moment and Betsoft are nothing if not consistent with keeping up with fads. If table games are your thing then there is the old tried and tested Blackjack, roulette, video poker, keno and then there's the poker. The 3D Poker3™ could possibly be the best poker software there is as far as gameplay is concerned.
Best Betsoft Casinos
.
* 18+; T&C's apply; Click on PLAY NOW for details
When It's Time ToGo™
Well anytime is time ToGo™ with Betsoft. 2012 saw a bit of a revolution at Betsoft mobile iGaming was shoved to the front. All of the best games from the Slot3™ stable had to be optimized for Android, Windows Phone and of course iOS. We the gaming public are a demanding bunch and Betsoft have delivered.
The games on the ToGo™ platform are deserving of the title best in class they are cool as! It was time for the likes of Greedy Goblins, Mr.Vegas and Rooks Revenge to hit the tablets and smartphones. The number of games being added is growing at a steady pace.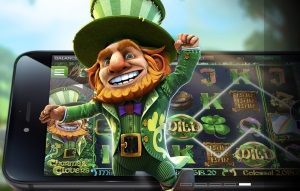 Mix And Match
Betsoft casinos are not really standalone affairs. For one thing there are not enough games to have just Betsoft. Betsoft do have a rather good backend management platform. They can run the banking, the customer support and the day to day business. All of the games can be slotted in alongside any other manufacturers. The service offered by Betsoft can help create a truly unique casino. I mean wouldn't you want those artists help you on your site?
The new Shift™ platform using just HTML5 in its latest incarnation is another bit of proof that Betsoft knows how things are shaping. The format means no third party plugins are required to run the software which in turn makes it safer as well as running smoother. Betsoft don't have a live casino which is one area they are not pushing at all.
There Had To Be A Bad Bit
Well here it comes. Read all the other reviews out there and Betsoft is regulated by Alderney Gambling Control. Wrong, it was. It isn't any more. License suspended. Hmm. Licensed by Curacao now. Bigger hmmmm. Have a closer look into the issue and there is some kind of suitability issues? Nothing else can be found out about it. What happened? And why oh why would you trust a company that goes from Alderney to Curacao?
Let's get brutally honest here we all know the government of Curacao issue business licenses to any and all. Some of the biggest crooks in the business were licensed by that jurisdiction. There is nothing to do to get an e-Gaming license from Curacoa except pay the fee.
There is no public contact there's not even an email address. Please the licenses are even given as sub-licenses! The weirdest bit is Betsoft go to one of the best and most respected independent accredited lab to get their games tested then get a license from the Dutch Antilles!
The dodgiest there is. The thing is there has been no repercussions and it hasn't tarnished the brand at all. It's a mystery and it all seems to have been successfully forgotten about. A great bit of image retention work going on there. There have been some very busy marketing and tech meetings going on!
Trust The Casinos That Have Legit Licenses
The games that Betsoft deliver are without doubt some of the most visually stunning pieces of artwork in the industry. Play them by all means. Look for casinos that have good reputations though. The UK Gambling Commission doesn't let rouges stay afloat long. Neither do Gibraltar and Malta. Do your due diligence check the casino. Don't think that having Betsoft games is a signal for security. The irony is that Betsoft has some of the strongest security in the industry.
The whole license thing is just a bit suspect. The industry hasn't batted an eyelid. Betsoft still win awards they still get lauded by trade associations. It's up to you whether you think the licensing issue is important or not. The games are so good many don't care.