The Cash Cave Slot Review — A Casino Game with Incredible Features
If you're interested in a slot game that can provide you with a whole lot of treasures and then some, then the Cash Cave slot might be just what you're looking for. Released in 2017 by the Australian iGaming software developer Ainsworth (also known as AGT), this game made a lasting impression on its peers for its interesting graphics and even more intriguing features. In today's Cash Cave slot review, we will discuss why this game continues to be a point of interest for many players, as well as what makes it tick.
The Cash Cave Slot Theme — All about Bears and Moolah
Although there is no explanation of a plot or a story in this game, two things about it are quite clear. First, there is a cave full of cash, and second — it is guarded by a mighty strong bear! If the player is brave enough to spin the reels, they just might get away with the bear's treasure. It's more than clear that the visual overtone of the slot is meant to be cartoonish and humorous rather than realistic, which is quite evident from the art direction of the game itself.
Features of the Cash Cave Slot Game
Starting with a standard 3×5 reel layout, the Cash Cave slot seems to employ a classic-style reel grid, with a regular "rolling" mechanic of its reels. The game has 13 symbols — Bear, Cash Cave, Red Dollar Sign, Gold Bars, Money Stacks, Red Dice, Precious Gems, A, K, Q, J, 10, and 9. Out of all of them, the Bear and the Cash Cave symbols are considered to be special ones, as they serve a particular function. Although we have described what they do, you can see them for yourself by playing the game in our top rated casino sites.
The Bear Substitutes Other Symbols
Every time you land a Bear symbol on the reels, it will help form a winning combination or enhance an already present one. As a wild symbol, the Bear will substitute all others except for the scatter symbol (Cash Cave), which has another purpose. In addition to its substituting functions, however, the bear will also trigger a winnings multiplier under a special set of conditions.
Collect Cash Cave Symbols for Free Spins
Defined as the highest paying symbol in the game, Cash Cave symbols are also classified as scatters, which means that they will form a winning combination regardless of their position on the Cash Cave slot reels. If three or more symbols have been landed, the game will produce a payable win, and also grant the player 10 free spins.
Here is the kicker — if during FS mode a player manages to land three or more Cash Cave symbols, the slot will enable a different bonus mode (the "Cash Cave feature") while granting 5 additional free spins. Any remaining spins will be played off in Cash Cave feature mode. During the new bonus mode, free spins cannot be retriggered, and the Cash Cave symbol will be removed.
The Multiplier Table of the Bear Symbol
If during the free spins mode or the Cash Cave feature mode a Bear becomes a part of a winning combination, it will apply a multiplier value to the win. The smallest one will be x2, while the largest x8 — this will be determined by the type of symbol combination a Bear is a part of, as well as the number of free spins a player has left when that event has occurred.
For example, if a player has from 11 to 15 free spins remaining, and the last spin has produced a winning combination of three Cash Stacks along with a Bear, the multiplier value will be x8. On the other hand, if you have only three remaining free spins, then the multiplier of that same symbol combination will be only x2. Although this might sound a little bit confusing, it's not; in fact, you can try it out for yourself either for real money or in demo mode.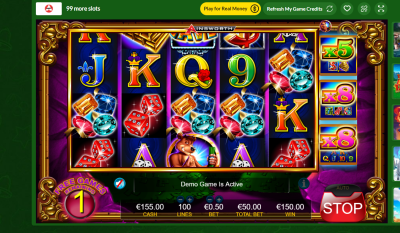 Basic Specifications of the Cash Cave Slot Machine
Given the fact that the information about the game is laid out in a simple manner, this makes the Cash Cave slot quite easy to play. Essentially, the only thing that is required of the player is to adjust their bet and hit that spin button. When it comes to the Cash Cave slot RTP rate, we wouldn't say that it's one of the most favourable ones, which is 94.04%. Considered to have a medium volatility factor and 100 adjustable pay lines, this slot is expected to form winning combinations rather often than not.
A Few Words about Bet Adjustment
The total bet in the Cash Cave slot machine is formed by adjusting the number of pay lines as well as the value for each one. The lowest BPS (bet per spin, total bet) that can be set will sit at a 1 payline, with a value of 0.01 units of currency. If you're quite the high roller that wants to go "all-out", you can set the game at 100 pay lines, with an individual cost of 100 units of currency per line, which will bring your total bet to 10,000 units of currency per pop.
Potential for Life-Changing Wins
Although the Cash Cave slot lacks a jackpot, the maximum win it produces can be classified as one. If you're lucky enough to land five Cash Cave symbols, then you will be looking at a reward of 1,000,000 units of currency! While this is indeed impressive, the "only" thing that is required for this opportunity is for a person to play at the highest possible bet settings.
A Rudimentary Auto Spin Function
Featuring perhaps one of the simplest auto play mechanics in the iGaming world, the Cash Cave slot machine allows players to process anywhere from 10 to 100 spins. Depending on your play style, you might find this as a benefit or a drawback. Once you've adjusted the desired number of free spins you would like to process, all you have to do is hit the spin button. If you want to disable the function, simply press the same button again. To be honest, we would have liked to see a few disabling conditions incorporated into the mechanic, in order to give players more freedom when it comes to engaging the game in auto spin mode.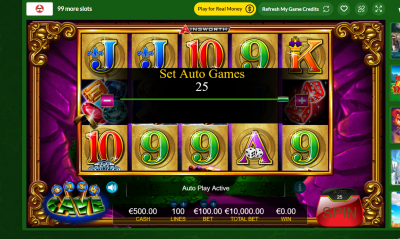 Compatible with Mobile Technologies
Because the Cash Cave slot was developed on the HTML software platform, it comes as no surprise that it is fully compatible with any mobile devices that run on Android and iOS. Onlookers that have already experienced the PC version of the game will notice that the variant meant for smartphones and tablets, will have a modified gameplay control interface, in order to be more comfortable to players.
Conclusion
Ainsworth is a gambling software developer that wasn't renowned for the visual excellence of its products, but when it came to functionality, they definitely did more than a few things right. The Cash Cave slot game is a clear example of that, with its interesting double bonus round mechanics, as well as innovative ways for multiplying wins. In spite of a few small drawbacks, this game offers a balanced gameplay environment that will appeal to both beginners and seasoned slot players. If you're someone who enjoys a slot with an "adjustable risk", then Cash Cave might just be the title you're looking for.
FAQ
Can I Go Back from the Cash Cave Bonus Feature to the Initial Free Spins Mode?
No. One of the main reasons for this is so that the slot won't grant unlimited free spins — which, when coupled with the win multiplier function, can cause disbalance to the game. On the other hand, you don't need to worry — we've noticed that the Cash Cave slot tends to enable its free spins mode quite frequently, so you won't feel like you're missing on some bonus FS.
Why Does the Cash Cave Slot Have Low Betting Limits?
Because of rules set forth by governmental administrations tasked with regulating the iGaming industry, the majority of slots that are featured in online casinos have a significantly limited betting range. Given the fact that there are many cases where people have spent too much money on accident, many online gambling establishments feature the slot with a much lower value for their highest bet setting.
Are There Additional Interface Settings in the Cash Cave Slot Game?
There are none – which is considered to be a positive! Just like the majority of other Ainsworth games, the Cash Cave slot features a clean and simple design, that has all of the game's functions laid out on the screen. You won't have to try and figure out where everything is!