Play'n GO Casinos – One of the Best Innovators in the iGaming Industry
Play'n GO's initial beginnings were listed to have started in 2005; however, this famous software development company has an even deeper business history. Considered to be one of the best innovators in the online casino software industry, the "Play'n GO casino list" continues to expand to this day. In this expert review, you will find why more and more online gambling venues prefer to work with Play'n GO, and why this software developer's games are considered to be some of the best nowadays.
The Play'n GO Games Are Many, and Various
This iGaming software developer is one that does it all: Video Poker, Bingo, Scratch Cards, Table Games and Slots. Clients and players will discover a decent variety of titles among the 180 games made available by Play'n GO. As expected, the quality of the gaming software matches its variety, but there is much more – although the company has a number of exceptionally original titles, they are also known to model a good portion of their gaming software after licensed franchises!
Best Play'n GO Casinos
.
* 18+; T&C's apply; Click on PLAY NOW for details
Some of the Best Play'n GO Slots
All Play'n GO slots are revered for the way they look. The graphics and visual effects are done with exceptional attention to detail, which has allowed Play'n GO to achieve truly original visual themes for all of its titles, but that's not all. Due to Play'n GO's popularity with the player base, they have also released quite a good number of slots which are modelled after real people, music bands, and franchise brands! We have taken out some of the most well-known slot examples of this developer and have presented them to you.
Nyjah Huston – Skate for Gold
Based on the currently "most famous skateboarder in the world", the Nyjah Huston slot features a standard 5×3 reel layout a number of interesting features. The game offers bonus functions such as wild multipliers, free spins, re-spins, expanding wild symbols and much more! This skateboard-themed slot has an RTP rate of 96.20%, medium volatility, and 10 fixed pay lines.
Diamond Vortex
When it comes to innovative slot titles, this one definitely makes the cut, with its "one pay line", and high volatility. The "rotate" feature helps symbols move around, while the "consume" feature can grant a win multiplier that can go up to x20. This "three rings" slot also has a symbol transformation feature and quite a few free spins. Although the layout looks a bit "odd", it is actually a 7 reels x4x5x6x7x6x5x4!
Riddle Reels – A Case of Riches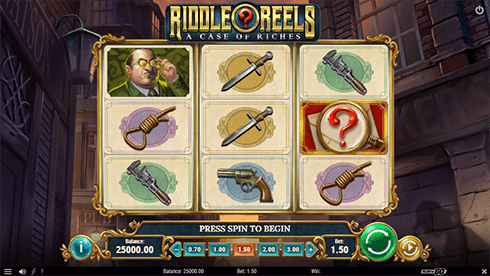 This slot appears to be quite simple, but you might just find yourself entranced into its mysterious 3×3 pattern. Judging by the characters that appear there, we have another story to solve by Sherlock Holmes and Doctor Watson, who will not only provide a wild symbol with an x2 multiplier but also a number of free spins should the player manages to land two scatters. Offering medium volatility and an RTP of 96.20%, Riddle Reels is a slot mystery you would want to solve.
Twisted Sister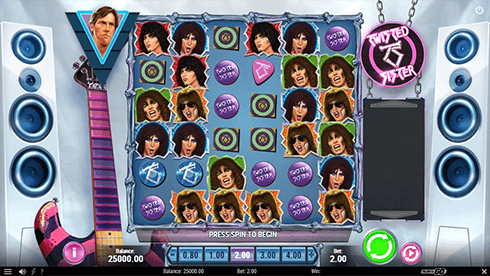 If you're "not gonna take it" and "you want to rock", then this twisted slot is going to be what you're looking for. This 6×6 game with cascading reels looks as flamboyant and colourful as the rock band it was based on, but it's not all looks. The game has transforming symbols, winning multipliers, 4×4 giant symbols, disappearing symbols, and the chance to win 4,500 times a player's current bet.
Perfect Gems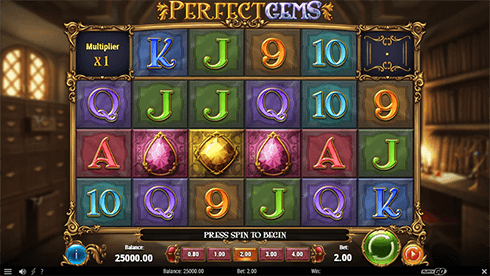 Offering an interesting 6×6 reel layout, this precious gem-studded slot has an additional row of four symbols on top of the gaming interface. The "splitting symbols" of this slot is what makes this game provide players with up to 21,609 winning ways, while the additional features give a chance for unlimited win multipliers, and also unlimited free spins.
Table Games Are Present in the Play'n GO Casino List
Although there are only 11 table games so far, Play'n GO is making an all-around extra effort to increase those numbers. On the other hand, it is the quality and not the quantity of the table games that makes all the difference. The available table games Play'n GO has made available for both online casino operators and players, are five versions of blackjack, a couple of "Casino Hold'em" poker versions, one roulette game (European Roulette), and a single baccarat game (Mini Baccarat).

Show Games, Fixed Odds, and Video Bingo
Play'n GO has created two "money wheel titles", a single Keno title and eight Video Bingo titles. Just like all other Play'n GO games, the "other titles" are also highly popular among players and uk casino sites. They not only offer the diversity that is sought after by the iGaming industry as a whole, but also gives a chance to the developer's business partners the opportunity to "spice up" their rosters.
This Company Possesses Some of the Best Licenses in the iGaming World
Play'n GO possesses licenses issued by the Belgian Gaming Commission, the Malta Gaming Authority (MGA/B2B/225/2012), the National Gambling Office of Romania and the United Kingdom Gambling Commission. As everyone can imagine, a company with that many high-profile licenses makes sure that its software products are properly audited and certified for safety and fairness.
This is why, Play'n GO has also been approved by BMM Testlabs, and the Independent Betting Adjudication Service (IBAS). With the company expanding into different countries and markets, it comes as no surprise that among the latest licenses, comes from PACGOR (Philippine Amusement and Gaming Corporation). To this day, the developer continues to pursue additional licensing opportunities.
Use of Software Developing Technology and Mobile Platform Support
Like most online casino software makers, Play'n GO began by using the developing platform Flash for their initial work. With the introduction of HTML5 into the iGaming mainstream, the company quickly adapted and reworked their existing products on the more "mobile-friendly" platform. Today, Play'n GO continues developing new casino games with the use of HTML5, and a combination of professional 3D and 2D graphics design software.
Because the company evolved its work methods, they achieved full support for smartphones and tablet devices that use iOS and Android operating systems. Full mobile platform support wasn't the only thing that made Play'n GO famous; it was the fact that they started to design their games with mobile use in mind. This meant the creation of a brand-new gaming interface for all of its games, that was meant to accommodate the natural hand position when holding a mobile device.
News and Information Outlets of Play'n GO
All of the company's business partners and fans can follow up on the latest information about Play'n GO on their official news page. As a "mobile-centric" developer, Play'n GO constantly updates its social media profiles in platforms such as LinkedIn, Facebook, YouTube, and Instagram. Play'n GO is more than happy to share information about its latest game releases, business events, and future award ceremony attendances!
Brief History and Interesting Facts about Play'n GO
The true history of Play'n GO starts in 1996, with a company called Digital Fish AB (DFAB), that decided to separate a substantial part of itself and form an independent developer of online gambling software, with specialisation on mobile technology. Through DFAB's initial business connections, the newly found Play'n GO company got a "running start" in the iGaming race, which is why it managed to become quite popular among casino operators and other developers over a short period. Today, Play'n GO's marketing influence is spanned across the world, with offices positioned in the United Kingdom, Sweden, Hungary, Malta and the Philippines.
How Does Play'n GO Compare to Other Developers in the Industry?
Not only known for its games, Play'n GO is a developer that is respected for its front end and back end services. This is exactly why they are preferred as a business partner by a variety of companies, and not just online casinos. Play'n GO isn't considered to be an "industry giant" but it is highly respected by those businesses that are considered to be "captains of industry". Play'n GO's biggest positive, is the fact that it produces the best-looking and functioning casino software for mobile devices – and this is a factor that puts the developer into a league of their own.
A Developer That Cares about the Players
Play'n GO is an exemplary company when it comes to adhering to the latest social standards, which is why they feature BGA's seal on their website. BeGambleAware is a UK-based charity that is tasked with spreading awareness regarding the challenges of gambling addiction and helping players in need. In addition to BGA, Play'n GO is known to be connected to gambling addiction charities in more than 20 countries.
Some of the Best Play'n GO Casinos and Business Partners
When you have a high-profile developer, it doesn't come as a surprise that some of Play'n GO's partners and clients are also of very high stature; this includes names like Unibet, bet365, CampeonUK, GentingBet, and more than 300 other online casinos. The company has also created a number of successful business partnerships with other developers and aggregators such as EveryMatrix, in order to maximise the distribution of their software. Here are a few facts about the most famous online casino clients of Play'n GO:
Bet365 – offering more than a 1,000 casino games, this venue is renowned as being "the most trustworthy online gambling establishment in the world". The online casino alone is known to have a revenue of approximately $1.5 billion a year!
Unibet – this platform is known to have more than 10 million customers spread across one hundred countries worldwide! As part of the renowned Kindred Group, Unibet makes it a priority to offer only the highest quality online casino content, which is why you can find Play'n GO slots in the venue's roster.
CampeonUK – considered to be one of the most famous online casinos in the United Kingdom, this online gambling venue is renowned for offering 3,000+ gaming titles. This is only one of the reasons why CampeonUK is one of the topmost preferred online casinos in Europe!
Play'n GO Continues to Expand Its Positive Reputation
While the only thing missing from Play'n GO's roster is an actual live casino section, this isn't considered as a drawback, as the developer's main goal is, and always has been to produce exceptional online casino content, especially for mobile platforms. Casinos with Play'n GO slots are already enjoying a significant amount of attention from their fan base, which is why new online operators are always looking at a chance to work with the company. We can't wait to see what else Play'n GO is going to surprise us with!