Ecuador Gold Slot – Expanding Your Gameplay
When the Ecuador Gold slot was released in 2019, it quickly became a favourite among iGaming critics and players alike. Produced and distributed by the company Elk Studios, this game became a hit almost instantly among slot players everywhere, as it showcased amazing visuals, an actual storyline, and a number of innovative gameplay features. The Ecuador Gold slot review you read right now will explain everything you would like to find out about this Elk Studios title, as well as some tips and tricks that might prove useful to you.

Follow the Quest for Ancient Treasure in the Ecuador Gold Slot
The game's beautiful Inca-themed details and immersive art style put the player in the shoes of a treasure hunter called Kane. It would appear that after some time, he has finally found the lost Temple of Luck, and now it is up to you, the player, to help Kane explore the treasures that are kept in the sacred Incan Pyramid. You can witness the incredible art of the game in HD quality!
The Ecuador Gold Slot Game Has Ever-Changing Features
The basic reel layout of the Ecuador Gold slot game is 6×4; however, during gameplay, players will have the chance to expand the grid into a 6×8! Another thing to mention here is that the game features cascading reels with an avalanche function! Every time a winning combination is formed, the symbols will destroy themselves, allowing others to drop from above, filling in all of the empty spaces. Here is the interesting part – every time that happens, an additional row of symbols is added after every single win until the slot has reached its complete 6×8 form. If a spin has not produced a win during the expansion of the row grid, the game will return to its base 6×4 layout.
A cascading mechanic like this begets the utilisation of quite a few symbols, and the Ecuador Gold slot most certainly has them. In fact, there are 12 regular symbols – Green Circle, Purple Cross, Gecko Head, Eagle Head, Teal Cross, Red Sun, Teal Snake, Red Jaguar, Green Mask, Teal Mask, Purple Mask, and Kane the Adventurer. If that's not enough, the game also has two special symbols – the Bonus Scatter Pyramid and the Ghosting Wild!

Creating Additional Wild Symbols
The Ghosting Wild (GW) is a special symbol that may activate when it is landed on the third, fourth, fifth, and sixth reel. A GW symbol will then start to "jump" randomly in any direction on the layout (horizontally, vertically, and diagonally). Everywhere the GW symbol has resided before jumping in will create a wild symbol that increases the slot's chances to produce a win. Ghosting Wilds will jump a random number of times before deactivating. Wild symbols can also drop in an "un-activated" form, in which case they will still substitute all other symbols except for scatter pyramids.
Free Drops with the Pyramid Symbol Game
If you manage to score three or more bonus symbols in the Ecuador Gold slot game, you will enter the free spin mode, also known as "free drops". One incredible benefit of the bonus round is that you will continue to retrigger the free drops feature as long as you keep landing Pyramid scatter symbols. The numbers of free drops you will receive here will depend on how many Pyramid scatters you've managed to land:
3 Pyramids – 10 free drops
4 Pyramids – 15 free drops
5 Pyramids – 20 free drops
6 Pyramids – 25 free drops
The main mechanic of the free drops feature is the so-called "safety level". What this means is that when a spin lands a winning combination, it will increase the symbol layout by one row just like in the base game; however, if the following spin isn't a winning one, the game won't revert to its 6×4 layout, but back to the current "safety level" the feature is in. During free drops mode, players will have the chance of landing Ghost Wilds, as well as regular wild symbols that will persist at the bottom row of the slot's layout and will remain there until all free drops have been exhausted.

The Avalanche Feature May Create Giant Symbols
There is a chance that every time a winning combination has been destroyed, a giant 4×4 symbol may drop down from above and destroy any smaller symbols below. This will create more opportunities for scoring new winning combinations. On the other hand, this isn't the only occasion where giant symbols can spawn on the playing field. In fact, they are differently classified, depending on how much space they take. They are:
Super Symbol – takes 2×2 space
Mega Symbol – takes 3×3 space
Epic Symbol – takes 4×4 space
Quite a Few Basic Features
The Ecuador Gold slot RTP rate is 96.1%, which by industry standards is defined to be moderately generous. With a volatility factor rated "8 of 10", players can expect to land winning combinations rarer than usual; however, the payout is said to be worth the wait. Given the fact that there are no standard pay lines here, winning combinations will be formed by matching symbols of the same type in adjacent proximity.
As a high paying game, the maximum possible win for this slot is 250,000 units of currency (or coins). At its base mode, the game has 4,096 winning ways. With each added row, the winning ways increase. To put things in perspective, we have listed the number of winning ways below:
4 rows – 4,096
5 rows – 15,625
6 rows – 46,656
7 rows – 117,649
8 rows – 262,144
An Integrated Promotions Activation Section
Elk Studios is one of the few iGaming developers that have managed to integrate a promotion code-claiming section within their game. What this means is that while in-game, a player can navigate to the "promotions" category of the slot. If they have a bonus code provided by the online casino they are playing in, they can easily input that special code and claim whatever offer is available to them – all of this can be done without leaving your gameplay! The integrated promotions-claiming mechanic is considered to be one of the most convenient additions to the slot genre in the entire iGaming industry.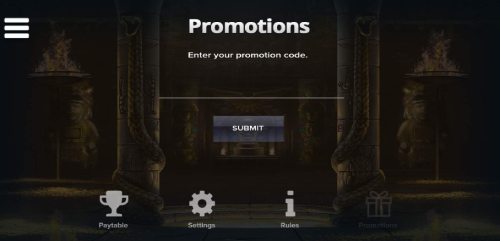 Selecting Your Total Bet per Spin Is Easy
To adjust the value of your bet, simply select one of the 12 fixed "bet per spin" (BPS) values in the game. The betting range of the Ecuador Gold slot game is 0.20 – 100 units of currency. There is an option in the game's settings that allows players to have their winnings displayed in coins as well.
Betting Strategies and Ease of Play
Ecuador Gold is easy to operate and play by default, but an advanced slot player can add a degree of complexity to their gameplay if they choose to do so. This is done by utilising the "bet strategies" mechanic integrated within Ecuador Gold. There are four of them (Optimizer, Leveller, Booster, and Jumper), and each of them will automatically modify the size of a player's bet throughout the course of the gameplay. Here is what every separate strategy does.
Optimiser – bets a percentage of a player's overall balance
Leveller – raises bet level by two steps, after five consecutive losses
Booster – raises bet by one step, after every single loss, up to four times
Jumper – raises bet after each win, up to four times
You can disengage any bet strategy at any time you want. On the other hand, the strategies are developed in such a way so they can revert to the initial bet settings once the conditions of that particular strategy are completed. When you choose a specific strategy, you can adjust the bets' values and percentages.
One of the Simplest Auto Play Features Ever
Players can enable Ecuador Gold in auto mode and process either 10, 25, 50, or 100 spins. The simplicity of the mechanic is considered to be a positive factor for many fans of the game. Regardless of this benefit, the lack of additional conditions that can be set to disable the autoplay function may be considered by experienced slot players to be somewhat of a minor drawback. If you wish to stop the slot from its automated mode, simply press the spin button.
Designed Primarily for Mobile Use
The development philosophy of Elk Studios is "mobile-first", which is why Ecuador Gold runs superbly on Android and iOS devices. Gameplay is optimised for both landscape and portrait orientation, while the controls of the interface are simplified as much as possible in order to utilise as much of a device's "screen real estate" for a player's viewing pleasure. Although the game is heavily marketed as a mobile slot, it is also one of the most played titles on PC as well.
Players Continue to Search for Ecuador's Gold Even Today
As a game that is considered to be one of the latest ones in the portfolio of Elk Studios, Ecuador Gold continues to be one of the most played slots in the top-rated casino sites in the UK. The fact that its gameplay is ideal for both beginners and advanced players makes this slot universally liked by iGaming industry critics. Ecuador Gold is available in demo mode as well, but the real excitement comes from playing it for real money!
FAQ
How Do I Engage a Betting Strategy in Autoplay Mode?
After selecting your preferred strategy, you can do one of two things. You can either hold down the spin button that is overlayed on top of the strategy selection window or exit it and click at the "auto" arrow located at the top right corner. In both cases, a drop-down menu will appear, allowing you to select the number of spins you would like to process.
I've Played Many Spins, but I Haven't Triggered the Pyramid Bonus Game – Why?
The free drops mode in Ecuador Gold is considered to be difficult to trigger due to the game's high volatility rate. Just like all other features and symbol combinations of the game, the appearance of bonus symbols is a rare occurrence, although all functions are adhering to the RNG algorithm used by the slot for generating every gameplay result.
Is There a Limit on How Many Times I Can Retrigger Free Drops?
Fortunately, no! This is another reason why free drops are challenging to trigger, as the row-expanding mechanic provides even more chances to with. With that being said, making unlimited retriggers appear more frequently would negatively impact the gameplay's balance.