Yggdrasil Casinos – Unparalleled Online Casino Games and Software Products
Yggdrasil is a software developing company that appeared in the iGaming industry in 2013, and since then it has been regarded as a superior provider of online casino software and services. Delivering solutions for both casino operators and other game developing studios, Yggdrasil made a name for itself of being an omnidirectional software solutions creator, that currently offers some of the best products on the market. In today's review, we will learn not only why Yggdrasil casinos enjoy an unparalleled amount of attention from their members, but also explore the full list of the developer's games and software products.
Every Yggdrasil Casino List Includes the Full Amount of Games
The developer is a versatile one, offering a complete variety of online casino games. With approximately 100 available titles, the company's major software export comes in the form of video slots; however, they do offer a number of interesting table games to the mix. Regardless of the fact that the developer does not model any of its games based on licensed franchises, the visual quality and originality of Yggdrasil's art, makes every single title a brand on its own.
Best Yggdrasil Casinos
.
* 18+; T&C's apply; Click on PLAY NOW for details
The Yggdrasil Slots Are Remarkable
The developer's slots are known not only for their originality but for the innovative bonus features they offer. From player-selected extras to "chance-increasing" game bonuses, all Yggdrasil slots are known to be highly versatile when it comes to adjusting their different gameplay elements. Yggdrasil's slots manage to achieve perfect gameplay immersiveness that continues to impress players to this day. Most Yggdrasil slot games use coins as a payment medium, allowing both low and high rollers to play. You can check out some of the best Yggdrasil slots below.
Beauty & the Beast
Although this fairytale-based slot has a standard 5×3 reel layout, it also boasts 20 pay lines and a number of extras. Beauty & the Beast has standard bonus symbols (such as free spins and wilds) but also offers features such as reel nudge, reel synchronisation, and random appearing wilds. Due to the presence of the "feature enabling" function, the game's RTP rate fluctuates between 96.3% and 97.1%. The maximum amount that can be won from this slot is listed to be €100,000.
Super Heroes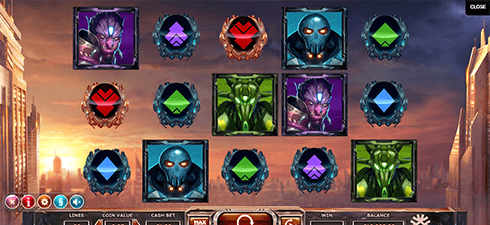 This 5×3 pattern slot might give off an "Avengers-vibe", but it is completely originally designed. Not only does it provide players with an opportunity to win up to €320,000, but it also has features such as free spins, winning multipliers, and random appearing symbols. In total, there are six free spin modifiers – appearing special symbols, wild reels, symbol transformation, symbol upgrades, additional free spins boost, and total win multipliers. Super Heroes has an RTP rate of 96.1%.
Nicola Tesla's Incredible Machine
Yggdrasil made this incredible slot by collaborating with another game studio – Rabcat Gambling. Among the many gameplay extras, there are free spins with a level-up system, reel cloning, wild substitutions, and exploding wilds. A true visual masterpiece, Nicola Tesla's Incredible Machine, has an RTP of 96.2%, and medium volatility.
Easter Island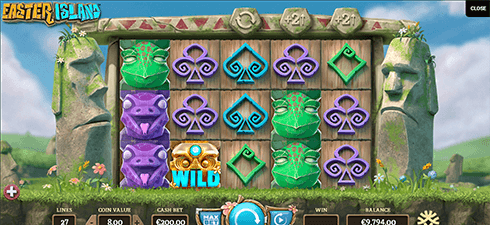 Although this slot starts off as a 5×3 game, players will have the opportunity to expand the slot's pattern, into a 5×7 layout! Another unique feature about Easter Island is the fact that the game will grant a re-spin to players, every time they land a winning combination! This can be achieved only during the base game. Also, the slot's pay lines will depend on the extension of the reel layout; the base game has 27 paylines, a 5×5 pattern will have 65 paylines, and a 5×7 layout – 103 paylines. Easter Island's RTP rate is 96.1%.
Dark Vortex
A 5×3 pattern slot, this game brings a fantasy theme with a lot of gameplay features. The first and perhaps the most impressive of all is the free spins purchase mechanic that allows players to buy a random number of free spins with a number of wild stacks. The RTP range of this game is 96.5% – 97%. Dark Vortex has 3,125 winning ways, stacked wilds, and winning multipliers. Once a player has engaged the free spins mode, the reel layout of the slot will grow to a 5×5 pattern!
Power Plant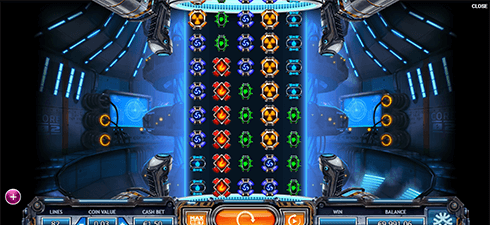 With an innovative 5×8 reel layout, this futuristic techno-slot, has 82 winning lines. Among the many gameplay features, this slot offers full wild stacks, feature re-spins, symbol replacement, reel nudges, and random symbol wilds. Power Plant's RTP rate is 96.1%, and although it isn't as high as some of the other examples in our list, it is still considered to be a golden average by the iGaming industry.
The Table Games Are Few, but Fantastic
When it comes to table games, Yggdrasil banks on quality over quantity, which is why players will find only one roulette game title and three different versions of blackjack. Although the table games aren't that many, they are considered to be quite innovative, as they try to emulate a live dealer environment through the use of 3D technology, and RNG mechanics.
"Sonya Blackjack", "Dr Fortuno Blackjack", and "Lucky Blackjack" are three separate titles, that vary not only by the presence of a different "3D dealer", but also by the number of seats they host, the type and number of betting opportunities, and quite a few other distinctive features. Regardless of their differences, the blackjack titles all have a dynamic perspective, meaning that a player can zoom in and out of the table, or even arc-pan the viewpoint of the player from side to side of the virtual interface!

The Golden Chip Roulette is a game that shows Yggdrasil's real design and development abilities. Adhering to the "European Roulette" set of rules, this game has an interesting feature addition, which is the Golden Chip. Essentially, this little roulette extra is an additional win multiplier on a random straight bet made by the player. Once a spin is initiated, a multiplier randomiser will determine what would be the golden chip bonus, which can reach a multiplier of x500 a player's bet!
The Developer Is Exceptionally Licensed and Awarded
With iGaming licenses issued by industry leaders such as the United Kingdom Gambling Commission (044137-R-322934-012) and the Malta Gaming Authority, Yggdrasil is already presented to the market of online casino software, as a trustworthy and famous game maker. On the other hand, the company has also been granted an iGaming license by the Isle of Man Supervision Commission, and the Romanian National Gambling Office. In addition to adhering to a number of industry standards for business and quality, Yggdrasil undergoes regular testing of its software products and development systems, to ensure that all games it releases are fair and safe to experience by online casino players.
For its dedication to the integrity of the iGaming world and the quality of its work, Yggdrasil manages to achieve first place in a number of iGaming Award ceremonies for every consecutive year since 2015! Some of those awards include "Best Rising Star", "Best Slot Provider", "Innovator of the Year", "Best Casino Software Provider" and "Best Innovator and RNG Provider of the Year". Yggdrasil is regularly invited (and nominated) by the International Gaming Awards and also by the EGR Awards annually, which further spreads the company's popularity.
The Best Yggdrasil Games Are Supported by All Mobile Platforms
As a company that is creating their own "development and publishing framework", you can be sure that all games created by Yggdrasil will have the best support for mobile devices in the entire iGaming industry. Whether players use an Android, iOS, or Windows-based mobile device, you can be sure that any of the games produced by the developer will run as smoothly as possible. Yggdrasil supports a variety of popular browsers which include Google Chrome, Opera, Microsoft Edge, and Safari.
A Superior Array of Development Tools and Technology
Yggdrasil created the iSENSE 2.0 framework, which proved to be one of the company's most significant milestones in its iGaming history. If we are to describe this software technology as simple as possible, we would say that it is an upgraded version of the software development platform HTML5. It not only allows Yggdrasil to implement the use of better graphics and audio, but it also makes it possible for specific game elements and resources to be loaded in the background. This not only allows for all Yggdrasil slot games to load faster but also optimises them even better for use with various platforms.
REDUX™ is a Yggdrasil-made development technology that allows the company to incorporate motion-captured 3D characters in the design of their games, making them even more immersive and fun to play. The RNG multiplayer mode is another feature of Yggdrasil that is considered to be quite innovative (available only in "table games"). From 2017, the company has significantly increased the video resolution quality of its games, which allows them to look even better and sharper on smartphones and tablets that have a higher "pixel per inch density" ratio, creating a truly unique viewing experience. This particular visual feature was achieved through Yggdrasil's iSENSE 2.0 framework.
YG Franchise – the White Label Service Platform of Yggdrasil

YG Franchise is a program created by Yggdrasil to help customers who wish to start their own iGaming operation as swiftly and efficiently as possible. Not only does YG Franchise allows the launching and operation of a complete system, but also for the control and management of the development and distribution of content created by other developers.
YG Masters – Made for Other Developers

The YG Masters (YGM) is the native aggregation platform of Yggdrasil which allows other casino software developers to distribute and promote their own content, through YGM. The platform is made to be as streamlined as possible, granting many freedoms to other developers, while Yggdrasil manages all needed regulation and compliance functions.
GATI – a Complete Work Tool Kit for Developers

The Game Adaptation Tools & Interface (GATI) is a pre-configured toolkit made for casino software creators to develop their own games as easy as possible. Synchronised and connected to the YG Masters aggregation network, GATI allows other companies to save time, money, and efforts when developing and publishing their own gaming content.
The Gaming Features of Yggdrasil Are Always Original
One of Yggdrasil's gaming innovations is considered to be the selectable chance feature. It allows players to increase their bet per spin, in order to have a better chance of scoring free spins and the appearance of additional special symbols. Another interesting mechanic is the "spin modifier upgrades" which allow players to enhance any present bonus features and increase the value of their usefulness. Double reel patterns, special nudge mechanics, and many other interesting slot innovations have been attributed to Yggdrasil's virtual craftsmanship.
How Does Yggdrasil Compares to Other Developers in the Industry?
Yggdrasil manages to stand out among the rest, by not only offering online casino games of exceptional quality but a slew of other services that accommodate not only the needs of operators but of other developers as well. Yggdrasil is a company that managed to exponentially grow only over the course of a few years, which has definitely earned them a place among the leading developers in the iGaming industry.
Some of the Best Online Casinos and Developers Powered by Yggdrasil
888casino, bet365, PlayOJO, LeoVegas, Dunder, Mr Green, BetVictor – these independent casino sites are known to feature the full gaming portfolio of Yggdrasil, but so do many other gambling venues! In addition to online casino operators, Yggdrasil has many other business partners that include SoftSwiss, SoftGamings, Gamevy, Bang Bang Games, Microgame, Skyrocket Entertainment, Reflex Gaming, True Lab, Avatar UX, and many others. Even today, this software developer continues to create new and successful business partnerships – it comes as no surprise that the best Yggdrasil casinos are some of the biggest names of the industry.
Yggdrasil Is Growing Bigger and More Popular
Yggdrasil is a company that doesn't rest on old laurels, which is why to this day the games it releases still manage to introduce even more innovative features that haven't been shown in previous games. The developer has become a favourite among iGaming critics and fans for the quality of its games, which is why the demand for new Yggdrasil content is always up. We gladly recommend that you try some of the best Yggdrasil games, and you will definitely be impressed as we are!