Yak Yeti and Roll Slot Review – Original Features and Rewarding Gameplay
Yak Yeti and Roll is a slot released by the popular developer Betsoft. The game was launched on the 8th of December in 2018 – since then, it has gained somewhat of a "cult following" among iGaming enthusiasts. Offering a number of interesting gameplay features, an original bonus mechanic and a ton of other additions, Yak Yeti and Roll has become one of the most preferred Betsoft titles by players and the top-rated casino sites in the UK. In this Yak Yeti and Roll slot review, you will not only learn everything about the game itself, but also get the answers to the most popular questions people have about the slot!

The Story of the Yak Yeti and Roll Slot Entails a Snowy Adventure
The game tells us a story about an Eskimo inventor called Yak, and his trusty sidekick Yeti who drags a very interesting snowmobile, through a snowy tundra. Throughout their journey, they will come across many obstacles; however, by overcoming them, they will discover many rewards. If you're prepared to join this unlikely couple on their snowy adventure, you just might claim some of those prizes for yourself!
The Features of the Yak Yeti and Roll Slot Machine Will Impress You
This snowy slot operates with five reels that are divided into three rows each. The Yak Yeti and Roll slot uses 12 symbols in total, which are separated into low paying (10, J, Q, K, A), high paying (Gloves, Snowmobile, Igloo, Reindeer, Husky), and special ones (Yeti and Yak). The game uses a "cascading reels" mechanic, which means that symbols will drop down from above, rather than "roll". This means that after a winning combination produces a payout, the winning symbols will be destroyed, and new ones will drop from above, which provides the opportunity for consecutive wins!
You can see how the different gaming mechanics function in demo mode or for real money in the following iGaming websites: Casinoin, 888casino, Guts Casino, Mr Green Casino, Royal Panda.
The Yak Yeti and Roll slot machine does offer a number of bonus gameplay features; however, they are all enabled by different means. Some will require the player to land a particular symbol combination, make a direct purchase, or just be lucky enough to stumble upon them randomly! We have explained them in further detail below.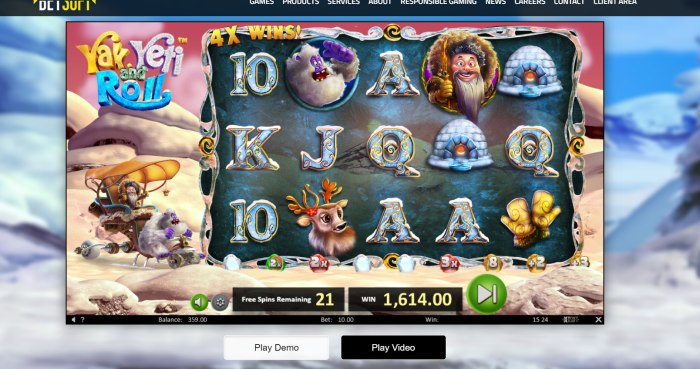 The Wild and Scatter Symbols and Their Functions
If you land a Yeti symbol on the reels, you will be in luck; after all, the Yeti is classified as a "wild", meaning that it will substitute all others, except for the Eskimo Scatters. While the Yeti Wild is a useful symbol, you need to remember that it will only appear on the second, third, and fourth reels.
The other significant special symbol is the Eskimo Scatter. Its unique trait is to produce payouts, regardless of its location on the reels! To receive the minimum rewards, all you have to hope for is to land at least three scatters. On the other hand, if you're lucky enough to land 5 of them, you will definitely receive a satisfying prize; after all, the Eskimo Scatter is also defined as the highest paying one in the entire game!
The Trail System – An Innovative Gameplay Mechanic
The cascading feature allows new symbols to drop down and form additional combinations, while advancing a player's gameplay within the innovative "Trail System". Essentially, every time the reels cascade, the Yeti's snowmobile will advance further, hitting special snowballs. While some of them will be regular ones that don't do anything, other snowball types will contain a variety of winning multipliers, cascade multipliers, instant prizes, and many free spins! Remember that after a spin is concluded (after no additional cascading wins are produced), the trail will reset, returning to its initial state.
Buy Free Spins Now or Wait for Them to Occur Naturally
The only way to naturally attain any free spins here, is to wait patiently for Yak and Yeti to reach a feature snowball that contains a number of FS. In total, the trail system has four snowballs, every single one of which will contain a unique quantity of free spins. The first one will grant 8 FS, the second will give 2 FS, the third – 3 FS, and the fourth snowball will give 5 FS. Bear in mind that in order to reach even the first FS snowball, the reels will have to cascade six times after a spin!
If you don't want to wait for FS to kick in, navigate to the "Buy Feature" located on the bottom right corner of the interface. Once the window pops up, a message will show you how many free spins you will receive, and how much they will cost. If you decide to benefit from the feature, you will get 9 free spins, the price of which will range from 14 to 1,400 credits. The cost of the buyable free spins will depend on the value of your current bet.
If you do wish to pay for the FS, you need to be aware of how much more expensive the feature spins will be when compared to the regular ones. For example, 9 normal spins valued at 0.20 credits each, will cost you a total of 1.9 credits. The smallest batch of 9 FS will costs you 14 credits (spins valued at 0.20), which theoretically means that although the spins are valued at 0.20 credits, their real cost will be approximately 1.5 credits per spin – which is a value increase of nearly 750%! The Yak Yeti and Roll slot game does justify this; after all, during FS mode, there is a constant x4 winnings multiplier that can rake you some serious rewards!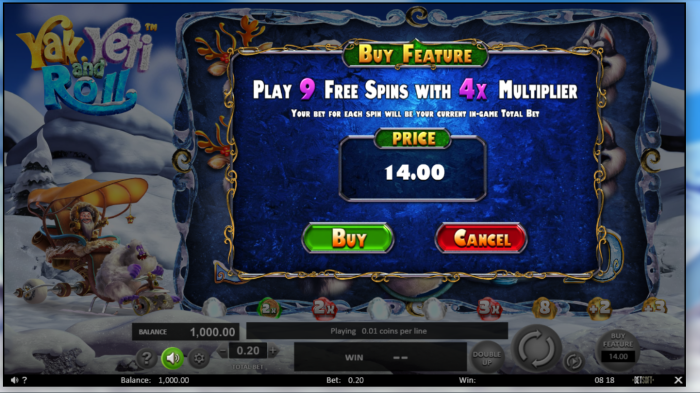 A Fixed Jackpot with a Hefty Reward
Although you won't see an advertisement about the game featuring a jackpot of any kind, there is one, and it awaits every player at the end of the trail! The jackpot itself is not a specific monetary prize, but rather a massive multiplier, listed to be x200 of a player's current bet. If you're lucky enough to hit it, you might be looking at a payout of up to 4,000 credits! How do you get the jackpot, you ask? Well, you need to be lucky enough to pass through 17 cascades of the reels, and it is only then when the game will grant you what you're looking for.
All Technical Specifications and Playing Difficulty
The first thing we should mention is the game's gameplay difficulty – which is practically non-existent! All you would need to do is choose how much you want to spend on the snowy cascading reels, and start the next spin! There are 20 fixed paylines, and winning combinations will always be formed from left to right. When it comes to the Yak Yeti and Roll slot RTP rate, you will be interested to learn that there are two percentages. The first one is for the base play of the game (95.93%), while the second one is for the buy feature 96.54%.
The volatility factor of the Yak Yeti and Roll slot machine is defined as being low-to-mid, which means that you can definitely expect to score winning symbol combinations much more often than expected. When you put in the constantly cascading symbols, you can expect a sort of a "winning consistency" from this slot. With all that out of the way, we've decided to see which are the smallest and largest payouts that can result from single combos; spoiler alert, we have used the allowed minimum and maximum bets.
If you land three 10's on a payline, you can expect your payout to be 0.01 credits; on the other hand, five Eskimo Scatter symbols will provide a reward of 250 credits! Are you wondering how much you can totally win from the game? While there is no info on what the ultimate symbol combination is, the developer reveals that the biggest reward that can be dispensed by the Yak Yeti and Roll slot machine, is approximately £79,500!
Control Your Bets Easily
Simply use the arrows to choose your preferred bet per spin! With a min-max range between 0.20 and 20 credits, both low and high rollers will find the action they are looking for. Bear in mind that the value of any potential rewards will depend majorly on how much you're willing to spend per spin.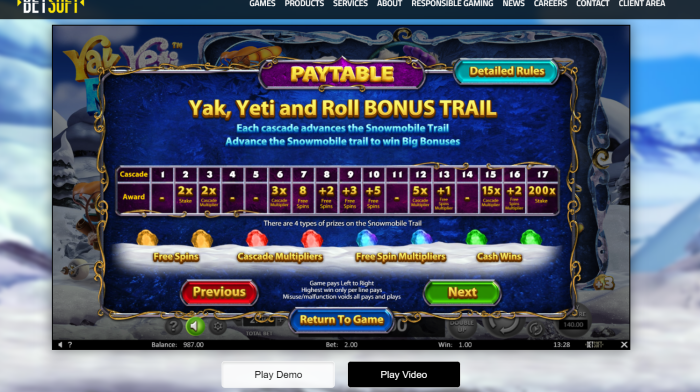 Double-Up Might Give You Even More
If the Yak Yeti and Roll slot game produces a winning spin, the player can choose whether or not to utilise the "double-up" feature. Essentially, this mechanic allows the player to risk their most recent win for the chance of doubling it – all done in a classic game of "heads or tails". This gamble mechanic is one of the most favoured ones in the iGaming industry for one simple reason – it allows players to wager only 50% of their most recent win; this way, if they happen to lose a coin toss, they can still have something left.
A Customisable Autospin Feature
Yak Yeti and Roll can be enabled in autoplay mode! Once you've opened the autoplay settings window, you will notice that you can set the number of spins you would like to engage in auto mode as well as the price "per spin". At the bottom of the window, the game will show you the total cost of the auto spins, as well as a few other settings you can modify. Under the "stop autoplay" banner, you can adjust the slot's automated mechanic to disable itself when a specific amount of money is lost or won! You can also stop the feature manually, without having to wait for the counter to run out.
An Even Better Experience on Mobile Platforms
While analysing the technical specifications, we've successfully confirmed that the Yak Yeti and Roll slot game is superbly optimised to run on iOS and Android operating systems. If you enable the game via your preferred smartphone or tablet, you will notice that the slot's interface is optimised for mobile use. If we had to point out some kind of a disadvantage, it would concern the positioning of the gameplay controls. If you're someone who enjoys playing slots on their mobile and you want to give Yak Yeti and Roll a try, we recommend that you do so with a recently updated browser app.
The main buttons are situated on the right side of the interface, and there is no function or option that will allow players to switch the positioning of the different buttons. Although this isn't something that would throw off people from experiencing the game, left-handed players might feel somewhat awkward for a short period of time, before properly acclimating themselves to a non-ambidextrous interface. Regardless of this small design flaw, you will be happy to know that the game will appear visually sharp and responsive.
The Snowy Adventure Is Experienced Even Today
The Yak Yeti and Roll slot machine proves to be much more than your regular slot – its dynamic gameplay and a bundle of interesting mechanics provide players with an interesting "progression system" that manages to keep things interesting, while conjuring up new prizes. Beginner slot players as well as iGaming veterans keep coming back to this title, as it offers them a bundle of achievable rewards.
Betsoft's philosophy for creating feature-filed slots is clearly reflected here, allowing players to fully customise their gameplay experience – which is another main reason why the top-rated casino sites in the UK and the rest of the world offer this game. If your favourite online gambling establishment, has it, we recommend that you try it!
FAQ
Is There a Way to Save My Trail Progress in the Yak Yeti and Roll Slot Game?
Unfortunately, no. Due to the system's many prizes, a reset is necessary, because the game will become extremely imbalanced if it didn't restart its function. On the other hand, Yak Yeti and Roll is already considered to be a very generous game, so you don't need to worry about the trail system that much!
Can the Yak Yeti and Roll Online Slot Grant the Jackpot More than Once?
Although receiving a jackpot more than once might look like a charming idea, sadly it is not possible. In fact, if a player is lucky enough to win the jackpot at the end of the trail system, the trail will disappear! What this means, is that even if the game continues to produce cascading wins, no additional extras will be granted by the game, until the trail is reset (after the conclusion of a spin).
Any Additional Info on the Gamble Mechanic in the Yak Yeti and Roll Slot?
Of course! You can keep dividing your heads and tails bet until the number becomes indivisible by two. The value of that number will be less than the minimum needed to produce a low-cost spin. If you've reached this point, you can either collect the minuscule amount you have left or gamble it one last time. If you win and double the amount, you can continue playing and dividing your bet!