Gold Slot Review – Shining Bright with Features and Win Potential
Before the launch of the Megaways™ slot mechanic in 2015, Big Time Gaming released a number of slots that were banking a lot more on their design as well as the quality of their additional gameplay features. Enter the Gold slot game! Released in 2014, this particular title was one of the first in the BTG list of slots that were excelling in their ability to provide flashy visuals and features with good prize-winning value. In today's Gold slot review, we will take an in-depth look at one of the earliest games of BTG and decide if it has managed to retain its charms through the ages.

The Gold Slot Game – All Glitter and No Plot
This BTG slot doesn't have a story or plot, and it doesn't do anything to sell you something that isn't there. Its main purpose is to be as flashy as possible by implementing a golden colour scheme on every viable element of the interface without fearing that it will appear too tacky. If we have to sum up some kind of a plot for the Gold slot, we would say that it is a celebration of hedonism and luxury!
The Simple, Yet Exceptional Features of the Gold Slot Machine
Just like most of the slot games from that time period, the Gold slot machine features a standard 5×3 reel layout with classic rolling reels. There are 13 symbols in total, eleven of which are regular ones (9, 10, J, Q, K, A, Ring, Card, Wrist Watch, Car, Fold Bars) and the remaining two (Golden Case, Golden Record) are defined as the special symbols that are used to enable the additional gameplay features in the slot.
The Wild Golden Case and Extra Winnings
The Golden Case serves as a wild symbol, meaning that it will substitute all others, except for the Golden Record, that serves as a scatter. In addition to its substitute function, the wild will also add an x2 multiplier to any standard icon win. If that wasn't enough, the wild also gives players the chance to score a win of up to x10,000 times of their most recent bet.
Land the Record for Free Spins
Once three Golden Records have been landed after a spin, the game will grant the player 15 free spins. Another special trait of the scatter symbols is that they will provide a win regardless of their position. Any wins that have been produced by winning combinations will be tripled during free spins mode. This will apply to all symbol combinations, except for one that is made of five wild symbols. An interesting trivia fact here is that when the free spins are enabled, a song will start to play called "Gold", which was created by the band Spandau Ballet – a UK band that was quite famous in the 1980s.
The Basic Traits Every Player Should Know About
The first thing to mention about the Gold slot game is that it has 20 fixed pay lines. Win amounts are granted to the player for matching consecutive symbols from left to right. When it comes to the RTP of the game, it is listed by the developer to be 95.025%. At the time of the game's launch, such RTP rates were considered to be the "Gold standard", but today anything below 96% is considered to be on the low side.
The mid-to-high volatility factor explains why this game releases wins rather rarely, but when it does, the amounts are quite substantial. The smallest winning combination that can be produced by the slot is made up of only two 9 symbols, while the largest is made up of five wild symbols that grant the largest win in the game.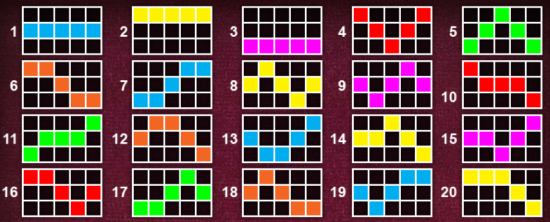 Bets Are Adjusted Easily
There are no complicated rules or functions you have to remember in order to place a bet per spin (BPS). Although the Gold slot machine displays the amount of money that is required per bet line, the player will adjust their total stake by using the arrows on the right. After that is done, all that is left is to hit the spin button!
Control Your Auto Spin Mode
Big Time Gaming has incorporated an autoplay function in the Gold slot. Gaming critics and players testify that it is a well-made one, as it allows players to set the number of spins they would like to process automatically (from 5 to 100) but also determine conditions in which the function can be disabled. Players will be able to set a loss limit, as well as a win limit – when those conditions are met at any time, the auto spins feature will be disabled. When enabled, however, the spin button will also become a stop button, which can be used to disable the function manually at any given moment.
BTG Has Optimised the Gold Slot Game for All Platforms
The Gold slot game might be considered to be from a past generation of titles, but it is still superbly optimised for Android and iOS devices. Not only that, but the interface controls are made in such a way that they appear to be equally comfortable to use on PC and on smartphones and tablets alike.
Remaining in the Hall of Fame of Slots
Although the Gold slot game is overly simplified by today's iGaming standards, it is still played by both highly experienced players, as well as total beginners. The straightforward gameplay and general lack of additional mechanics have proven to be positive traits rather than negative drawbacks, which is why the game continues to be offered by the top rated casino sites in the UK. Whether you would like to try it out in demo mode or for real money, you should check it out – you might even score some "golden" winnings!
FAQ
How Do I Process Spins Faster in the Gold Slot Game?
Being one of the earliest slot games of Big Time Gaming, there is no turbo mode that can be engaged here. There is only one default spin setting, which processes three spins in approximately 12 seconds. Although by today's standards, this does appear to be classified as "slow pace", many players prefer it as means of preventing them from over-betting on accident.
Why Is the Five Wild Combination Not Multiplied in Free Spins Mode?
The short answer is that a winnings amount produced by it would be far too great for any online casino to payout. In order to retain a balanced gameplay experience, BTG has rightfully limited this particular symbol combination to be affected by a triple win multiplier.
Is There Some Kind of a Gamble Feature Where I Can Double My Most Recent Win?
In the Gold slot game, BTG has not implemented any sort of risk feature. The reason for this is that this particular mechanic wasn't very popular at the time the slot was created, which is why it wasn't introduced by the developer.
Is There a Limit to How Many Free Spins I Can Retrigger?
Actually, there is. The game caps any retriggers at 180, which means that if you continue to get triple scatters after that many free spins, the game won't add them to the FS counter but will still pay out the winnings provided by the scatter symbols.