Hitman Slot Review: Three Lethally Exciting Bonus Features
Hitman began life as a series of video games before being made into a film starring Timothy Olyphant in 2007. Not long after, Microgaming cemented the franchise's place in history by making it into a thrilling slot. In this review, we will guide you through everything you need to know about this top game, its features, its potential payouts, and so on, so that you can get make the absolute most of your time spinning its reels.

Transforming the Video Game into Hitman Slot
If you have played the games or seen the films, then you will know that Hitman tells the story of a hired assassin who travels the world targeting his victims. This slot transports players into that world where they will come face to face with his vicious weapons and deadly methodologies as they go in search of their next big payout.
Bonuses and Important Features of Hitman Slot
Hitman plays out across 5 reels, each with 3 rows, and there is a total of 15 fixed paylines. A particularly nice touch is that all of the slot's symbols are thematic. There are three views of Hitman himself, holding various different weapons, as well as an envelope of cash, pistols, a sniper rifle, a syringe, a garrote, and a knife.
Hitman holding a pair of crossed pistols is the wild symbol, and he will substitute for all the symbols except the bonus and scatter symbols. The wild can land on reels two, three and four, and when it does, it will expand to fill the reel to complete any possible wins. There are three scatter symbols, each of which triggers a different bonus.
Landing the laptop scatter on reels three, four and five simultaneously triggers the Contract Bonus. This is where the killing happens. You are shown a line-up of suspicious-looking characters and need to pick which one to kill. Each offers a range of bonus values, and when you select one, it will reveal your reward. You then need to pick a weapon to reveal a multiplier.
Landing at least three of the '18' symbols on the reels simultaneously rewards you with 18 free spins, during which all of your payouts are doubled. Better yet, not only can the free spins be retriggered, but you can also trigger the other bonus features from the round.
Finally, landing the gold insignia symbol on the first three reels simultaneously triggers the Insignia Bonus. Simply pick a symbol to reveal a random cash prize.
You can most likely experience all of these features for yourself by playing the game in demo mode at one of our recommended casinos or even directly on the Microgaming website.
Symbols: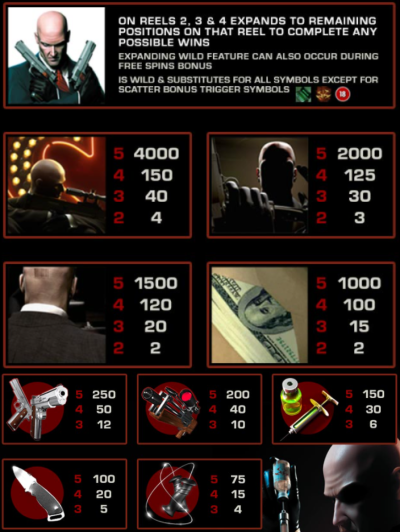 An Impressive Top Payout
While Hitman doesn't give players the chance of hitting a progressive jackpot, there are plenty of huge payouts up for grabs. In the Contract Bonus, the prizes can be worth up to a staggering 270,000 coins, while the Insignia Bonus offers prizes of up to 6000 coins, which can still be a vast amount of money. There are also a number of sizeable payouts available from the regular symbols, which will be explained below.
Betting and Winning on Hitman Slot Game
Before you start spinning the reels, you need to make sure that you understand exactly how betting works. You will always be betting on 15 paylines. The first thing you need to do is set how many coins you are betting on each of these paylines, from 1 to 20, and then you need to set your coin size from 0.01 to 0.25. This means you can bet anything from 0.15 up to 75 per spin.
Once you have understood this, grasping the slot's paytable becomes very straightforward. You simply multiply the number in the paytable by the number of coins bet per line and then multiply that by your coin value. For example, Hitman with a sniper rifle is the slot's most valuable symbol and landing five of them along a payline pays 4000x. If you are betting 10 coins per payline, each worth 0.01, that would pay £400.
In terms of RTP, Hitman is just slightly below average at 95.72% (the average is 96%). However, it is a medium volatility game, which means that you should hit reasonably sized wins fairly regularly, which will help to keep your bankroll topped up.
Paylines:

Animations and Sound Effects Bring Hitman to Life
While this is quite an old slot, Microgaming have given it a thorough makeover, ensuring that it looks and feels completely modern. There are some fantastic animations, which look as if they have been taken directly from the video game, that are played when one of the high value symbols forms a win, the wild symbol expands, or a bonus feature is triggered. At the same time, the atmosphere is set with effective sound effects and music.
Keep an Assassin in Your Pocket
Microgaming has not just updated the graphics and animations. They reworked the game to use HTML5, ensuring it stayed compatible with all modern platforms. Thanks to this, you can play the game on computers, smartphones, and tablets, directly in a web browser without having to install any special software or apps.
A Hit of a Slot with Men and Women
Regardless of whether you have ever played or even heard of the video games and films, you are sure to enjoy playing Hitman. There are enough bonus features to keep the gameplay engaging at all times, and any player lucky enough to hit the top payout is sure to be delighted. At the same time, the medium volatility ensures that everyone will enjoy regular wins, making it a game worth returning to time and time again.
FAQs
Is There Anything I Can Do to Improve My Chances of Triggering a Bonus Feature of the Hitman Slot Machine?
Unfortunately, not. As with most slots, the best strategy is to manage your bankroll carefully so that you can play as many spins as possible, and hopefully, one of them will trigger a feature.
What Is the Most I Can Win Playing Hitman Slot?
The slot offers a top payout of 270,000 coins through the Contract Bonus. At many casinos, the maximum coin size appears to be £0.25, which would mean a top payout of £67,500. If you find a casino that offers even larger coin sizes, then the top prize could be even more.
What Are the Disadvantages of Playing Hitman Slot?
There are two very slight disadvantages to this slot. The first is that the wild symbol cannot land on all five reels, just the middle three. The second is that the RTP of 95.72% is just below the industry average of 96%.