Viking Voyage Slot Review – A Fresh Slot with Many Gameplay Benefits
On the 22nd of April in 2019, the iGaming industry welcomed the arrival of one of the newest slots in the market – Viking Voyage! Developed and distributed to online casinos worldwide by the company Betsoft, this slot game seems to combine both classic gameplay design and some of the most sought-after features that are known to be among the most desired ones in slots online. Are there any free spins that can be triggered here? How big is the largest reward you can attain if you're lucky enough? This Viking Voyage slot review entails the full profile of the game, and explains why it is regularly featured in the top-rated casino sites in the UK.

The Viking Voyage Slot Game Tells a Story about Adventure
The central figure in this slot is the Golden King – a Viking leader who orders his people to prepare for a sea voyage to other lands filled with riches and plunder! Judging by the design of the elements, the band of Vikings appears to be a mix of different tribes. And so, the cartoonishly merry band of Vikings set sail to find distant lands that are ripe for the taking! Are you prepared to join the Vikings on a quest for discovering incredible fortune? Play the game and you will find out!
You Can Expect Bountiful Features in the Viking Voyage Slot Machine
The Vikings slot features a classic 3×5 reel layout, and operates with 14 symbols. Those are classified as high-paying (Green Viking, Purple Viking, Red Viking, Cup, Helmet, Axe), low-paying (A, K, Q, J, 10), and special symbols (Long Boat, Raven Scatter, and Wild Viking Warrior King). The slot's bonus gameplay features will depend on which special symbols you've managed to land. You can check the different symbols and their functions by trying the game for real money or in demo mode in some of the following casinos: Guts Casino, Mr Green Casino, Leo Vegas, 1xBet Casino, Vera & John Casino.

Viking Wilds and Raven Scatters Do a Lot More
If you manage to land a Viking Warrior King, it will substitute all other symbols in a combination, because it is classified as a wild. An interesting fact, is that this symbol will also work with Raven Scatters! When a player lands three wild symbols on one reel, the entire reel will become as one. When it does, it will lock itself in place, and initiate a respin! If another full reel wild is produced after the respin of the first, it will still remain in place for the effect of the second one.
The Raven Scatters are the only type of symbols that will produce a winning combination regardless of the positions they land on. To receive any kind of payout, a player will have to land at least three scatters. If you manage to land five scatter symbols on the highest bet setting, you will be looking at a prize of 400 credits!
Land Bonus Ships for Free Spins
If you want to get some free spins, you must be lucky enough to land two Long Boat symbols! If you do, the game will provide you with 10 FS to play through, which will be fixed to the BPS (total bet per spin) value of your last bet. One of the best things about the FS feature of the Viking Voyage slot machine is that the feature can be retriggered – as long as you keep Bonus Longboat symbols, you can play as many free spins as possible. Perhaps, the only drawback to this feature is that Longboat symbols can land only on the first and fifth reels. On a high note, another significant advantage of the FS feature, is that any win you receive will be multiplied x3 times!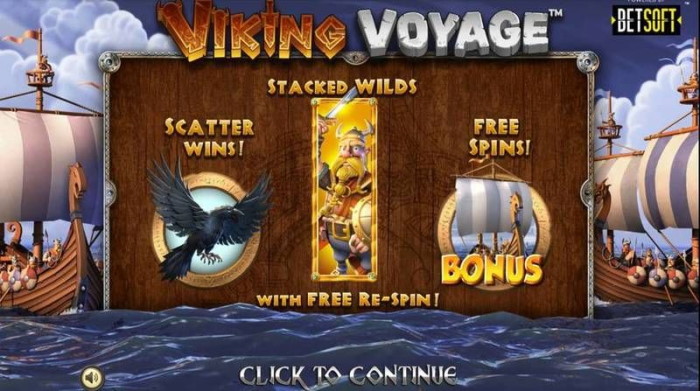 Buy Free Spins Instantly
Waiting for the two bonus symbols to land on the first and last reels can be a bit of a hassle; however, it doesn't have to be with the "Buy Feature". Once you click on the button on the bottom right corner of the screen, a window will pop up where you can adjust the value of the free spins you want to purchase. The smallest amount you can spend is merely 7 credits, while the biggest – 700 credits.
Naturally, the payout amount of any winning combinations produced during the free spins will depend on the amount you've decided to spend on the buy feature. If you receive your free spins in the normal way (by landing Bonus Longships), you will receive 10 of them; however, if you use the buy feature, the game will give you 12 FS!
There Is a Difference in the Cost of Different Spins
If you decide to go with the most budget-friendly price when purchasing your free spins, you will still pay 7 credits; however, each of these spins will be valued at 0.10 credits. Although you still get two FS on top, the default cost of 12 regular spins will be 1.2 credits. What this means, is that using the buy feature will cost approximately 583% more per spin (with a real value of roughly 0.58 credits per spin) when using the buy feature.
Special Coins Will Reduce the Price of the Buy Feature
If you're lucky enough to score a Golden Coin symbol after a spin, the price of the buy feature will be reduced by a specific value! The game also explains that there is a possibility where the coins can reduce the cost of the buy feature to zero – if this happens, the free spins will be activated automatically! Another interesting benefit of collecting coins, is that the reduced amount will retain its new value, even if the player decides to change their BPS in the middle of their gaming session.
Switching to a different BPS, will result in any following coin symbols that land to reduce the new price. If you decide to go back to a lower or higher BPS, all of your previous feature cost settings will be saved! Just make sure to remember that if you reload the game, your play session will be restarted and any progress you've made with reducing the amount of your buy feature, will be lost.
Another interesting thing about the coin symbol is that it will not only reduce the buy price of the feature, but it will also disappear! This will cause any symbols that were above the Coin to drop down, potentially forming new winning combinations. Coins symbols will not be landed during free spins mode.
The Basic Specifications and Mechanics You Need to Know
The first thing that must be noted is the Viking Voyage slot RTP rate, which is 96.12%! This is considered to be more than the industry-standard 95%, which is another main reason why players worldwide prefer this Betsoft title. The other thing that makes this slot special, is the way successful symbol combinations are formed – through 243 winning ways!
Betsoft have decided to ditch the "pay lines" concept, and instead introduce a "winning ways" mechanic, which dictates that successful combinations will be formed by symbols of the same type, when adjacent to each other from left to right (except for the scatter symbols). When it comes to ease of play, all that is required of you to start your Viking journey is to choose a bet amount and hit that spin button!
Although the Viking Voyage slot machine is listed to have medium volatility (meaning that it is expected to form winning combinations averagely often), you will notice that winning symbol combos will appear to be quite frequent. By using the lowest and highest bet values, we've managed to calculate what are the smallest and largest (single win) payout prizes you can expect here. For example, the smallest reward that can be granted by the Viking Voyage slot game is 0.02 credits, and it will be formed by the combination of three J symbols. Landing five Green Vikings, on the other hand, will provide you with an incredible payout of 1,000 credits!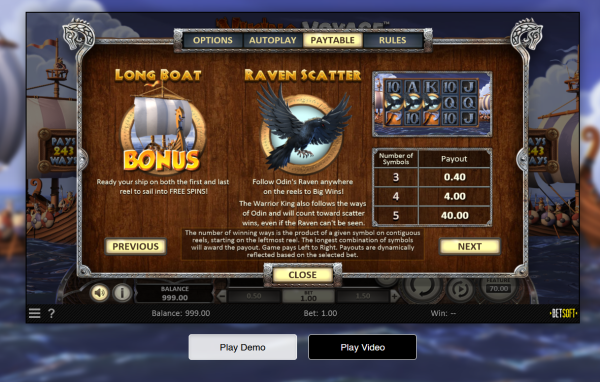 Here Is How You Choose Your Bet Amount
You see the displayed amounts in the lower canter part of the game's interface? Simply click on a number or navigate through the betting range via the provided arrows. The smallest BPS you can set, is going to be valued at 0.10, while the largest – 10 credits. You will be happy to learn that there aren't any additional complicated settings you need to adjust, in order to fine-tune your stake. Simply select a preferred value, and you're good to go!
Set Your Spins to Auto Mode
If you want to have the Viking reels "roam on their own", all you would have to do is click on the autoplay button on the right side of the spin trigger, and a window will display several options before you engage the feature. You can choose between 5 and 100 spins. Although at first, the feature might seem a bit complicated, it is not – in addition to the number of spins themselves, you can adjust their value as well. At the very bottom, the game will show the total cost of the spins you've decided to run on automation. There are two ways to disable the mechanic – by waiting for the spin counter to run out or by manually stopping the function by pressing the autospin button again.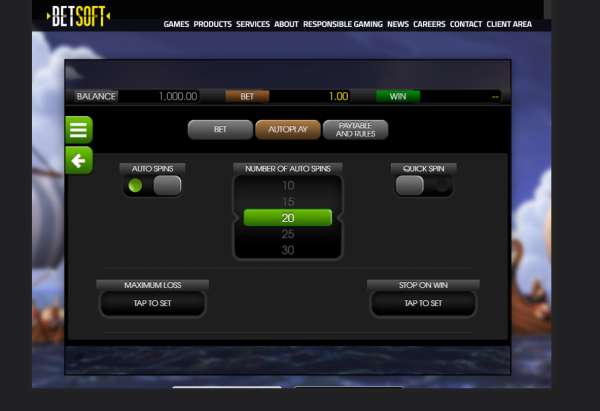 Double-up Your Last Win for a Greater Viking Voyage Reward
Betsoft's titles are famous for featuring a gamble function which is what the "double-up" feature is. If you decide to risk your last win on a game of heads and tails, you might be able to grow your money even more. The double-up button will light up on your interface only after the game has produced a win, and all you have to do is choose between heads and tails.
One of the most significant traits of the double-up feature, is that it allows players to choose whether or not to gamble the entire amount of their most recent win, or only 50%! Depending on what you bet, you might be able to continue playing the heads and tails game or lose it all – in any case, you can simply collect any winnings that you have in your bank, and resume regular slot play. We should mention that during free spins mode, the double-up feature will be disabled.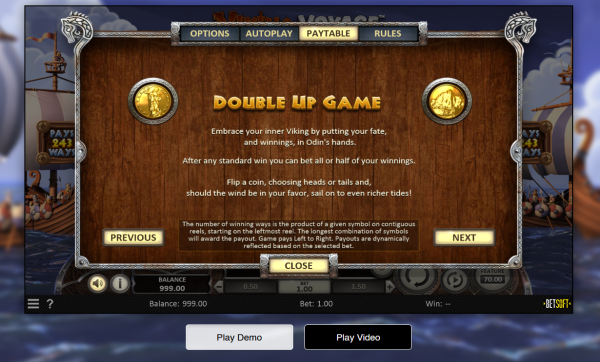 An Outstandingly Optimized Mobile Viking Voyage Experience
Rarely is there an example of an online slot that manages to translate its PC experience successfully on a mobile platform, but this is exactly what Betsoft did with the Viking Voyage slot machine! Not only is the game fully optimized for the Android and iOS mobile operating systems, but its visuals are made to provide a perfect response to smartphones and tablets of any size.
A lot of players prefer the Viking Voyage slot mobile version of the game, as it features an optimized controls interface, that helps players who want to play the game with one finger. In addition to the modified interface, mobile players will also be able to take advantage of a much more detailed auto spin feature, allowing players to program the slot to disable its automatic gameplay if a specific amount of money is won or lost.
Players Plunder This Title to This Day
True to the comical spirit of the slot, players continue to ravage this Viking-based game for the riches it offers. Although considered to be a relatively new title by iGaming standards, Viking Voyage is a game that has efficiently solidified its newly-found fame. While the slot's numerous features aren't establishing any new standards for quality, Viking Voyage shines with its balanced gameplay and truly original art style. If you have the chance to check this game out, you should definitely do so!
FAQ
Is There a Strategy for the Viking Voyage Slot Machine Buy Feature?
Yes, there is. Wait for coins to accumulate on different bet amounts, and if you can, switch between them right before there is a chance for them to activate automatically. This way, you will have several FS feature chances on stand by!
Does the Viking Voyage Slot Generate Coins in the Middle Reels?
Unfortunately no. Just like the Bonus Longboat symbols, Buy Bonus Coins can land only on the first and last reel. We should also mention that the observed frequency of appearance is much lower than that of a Bonus Longboat symbol – which means that you will probably have a better chance of scoring a ton of free spins, rather than reducing the price of the buy feature more often.
What Are Credits in the Viking Voyage Slot Machine?
By "credits", we refer to the universal type of currency used by the game. For example, all of the credit values here can be referred to as £! The values here usually apply for all major currencies (such as USD, EUR, etc.); however, there might be some differences with other types of money that will have a more far-reaching conversion rate. For all intents and purposes, however, you can take the face value of the numbers in this review, and apply them to your preferred currency!