Ugga Bugga Slot Review – a Guide for a Classic Game with a Tribal Jungle Twist
Ugga Bugga is still another online slot machine classic from Playtech, which was introduced to the market in 2006. It is designed for a jungle loving audience and has a very stylish theme with plenty of chances to win bonuses and coins. Ugga Bugga is rich with a wide range of symbols, including totems, drums, masks, huts, carrots, and food items, creating an immersive gaming atmosphere which is not easily forgotten. Ugga Bugga is an addictively enjoyable online game, in large part because of its theme and other features, which gives players the potential to win exciting bonuses.

Playing Ugga Bugga Is an Exciting Experience
Every casino player wants to find a game with a big jackpot, so he can really strike it big and take home a huge score. Players invest huge amounts of effort in-game, and it's natural to feel a little disappointed if, after all that time, you don't get the take-home prize you've been aiming for. Ugga Bugga by Playtech offers players an exciting game, with out of the ordinary multispin spin feature and an impressive RTP of 99.07%. The game has traditional wild symbol – a totem, which could grant players a maximum win of x1000. All of the features you'd expect to find are present, as well as some interesting innovations with regards to the way the theme is set up.
Wild Theme and Attractive Interface
Ugga Bugga's theme is based on the African jungle, with a clear slant towards the idealised version of the scene we've become used to in films and television programs. The tribal theme contains masks and tribesman huts, as well as pictures of food and symbols made deliberately flashy in order to attract more players. Many players love adventure, and this theme is based completely on adventure itself, creating a terrific environment for enjoying a gaming experience.
As a matter of fact, it's hard to think of a slot machine that makes better and more innovative use of the jungle available on the market today. The user interface is a breeze to use, and is very pleasant to look at, with beautiful, bright colours and high-quality graphical design. With Ugga Bugga, Playtech have created an exciting addition to their extensive catalogue, sealing their position as one of the very best slot machine providers on the Internet.
Slot Profile
| | | | | | | | | | |
| --- | --- | --- | --- | --- | --- | --- | --- | --- | --- |
| Slot | Provider | Release Year | Slot Type | Pay-Lines | Reels | Min Coins per Line | Max Coins per Line | RTP | Min/Max bets |
| Ugga Bugga | Playtech | 2006 | Classic Slots | 10 | 3 | 1 | 5 | 99.07% | 0.10-0.50 |
Practice & Play with the Free Demo Version
If you are new to Ugga Bugga and you want to try this game but don't want to spend your money on a new game so for this, you can play Ugga Bugga free by using a demo account. Ugga Bugga is a friendly user interface game that offers a demo account to its users so they can learn the specifics and techniques of the game. In a demo account, you can play freely without any fear of loss.
In a demo account, players can also see how much they could potentially earn in the real money game. It is very necessary for a user to know about how the game works and be aware of every option and how to use their money in different situations.
Ready to Play Ugga Bugga for Real?
If you're keen on earning money in real life and want to get rewarded after playing and spending your time on the game, you should try the second option, which is play for real money. This game offers you a really trustworthy environment but there is also another important point to look for and this is the best casino for you. On our website, you can discover many famous and trusted casino operators and decide which one will be the right choice for you.
Combinations and Payout Details in Ugga Bugga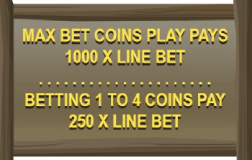 Ugga Bugga has 23 winning combos in general. The maximum prize reaches up to 1000 coins. The maximum bet could be up to 50 coins by using bet one option and you can also add coins to your bet. By clicking the spin button, you can start the process.
The interesting thing about this slot is its unique spin feature. When you click the spin button, only the first row of the slot will start spinning. After the slot stops, you will be able to "hold" (or not) the position of some of the symbols which appear on your screen. This way, they will stay still during the second spin. On the second spin, the rest of the symbols start to appear determine your winnings.
Complete Mobile Compatibility
This game can be played from anywhere in the world because this it is designed for a vast audience, and anyone with a smartphone and a good internet connection can play on their smartphone. This is a crucial feature to include, given that so many of us experience the Internet through our mobile phones. The game doesn't suffer at all on mobile devices, meaning that the same high quality you'll experience on your desktop will be replicated on your smartphone or tablet. It's worth noting, however, that even though the graphics don't suffer, the animations can from time to time run a little less than perfectly smooth on mobile devices when we tried them out for ourselves.
To Summarize
This is one of the best casino games for those of us who want to enjoy and earn at the same time. It's hard to sum up Ugga Bugga in just a few words, but we can do our best: it's a game with an interesting theme that makes players feel decent and pleasurable. A game with uncountable features and designed for users who have basic knowledge of casino games. Ugga Bugga contains wild symbols that are designed to complete the theme. This casino game is the best of all previous and current games. This game also offers a demo account to its new users and on that account, they can become an expert in this game and afterward, they can also play for real money.