Crown of Egypt Slot Review — The Honest Casino Game Analysis
IGT's online slots are an integral part of the iGaming industry. The company has entertained countless UK players with hits like "Da Vinci Diamonds," "Star Trek," and "Family Guy." However, times move on, and new games emerge. This raises the question: can IGT's classics compete with modern reel machines?
The aim of our new Crown of Egypt slot review is to provide you with an answer. We'll zero in on one of the developer's signature releases to discuss and compare its features and payouts. Read our unbiased report to establish whether this game is right for you.

A Few Words about the Crown of Egypt Slot Theme
As its title suggests, this slot revolves around Ancient Egypt, a theme used by every software supplier out there. Although it's not the most original concept, we have to note that many players adore the enigmatic civilization and its mystic symbols and deities. Furthermore, the Crown of Egypt slot visuals are crisp and pleasing, so the game doesn't feel dated. We'll share our impressions of the graphics in a bit. Now, let's move on to the symbols and features of this title.
Everything about the Crown of Egypt Slot Machine Features
If you take a good look at the above image, you'll notice something atypical about the layout of this product. Its five reels are longer because an extra row has been added, raising the total number to four. As a result, more symbols are displayed — 20 instead of the usual 15. This change also affects the pay lines. They are set to 40 by default, but you can also adjust them to 20, 10, or 1.

Furthermore, the Crown of Egypt slot game employs an additional payout mechanic dubbed "MultiWay." To activate it, you'll need to wager at least £0.80 per spin. It's analogous to the "243 ways" used in 5×3 slots. 1,024 lines are enabled due to the extra row, which assures that you'll get a win whenever a string of 4+ identical symbols lands, beginning from the first column. It's worth mentioning that "MultiWay" is separate from the regular betting lines; you can get line wins, and "MultiWay" wins on the same spin.
Lastly, when using this payout mechanic, winning sequences containing two or more symbols on the same reel will be multiplied accordingly. This may seem confusing, but we hope to clear things out with an example.
Let's say the Crown of Egypt slot machine produces a 5-of-a-kind with the highest-paying symbol — Cleopatra. However, the middle reel contains two Cleopatras instead of one. According to the "MultiWay" paytable, you should receive 500 coins for a Cleopatra five-of-a-kind. However, you'll win 1,000 due to the extra symbol on the third reel (1x1x2x1x1=2, so you get double the reward). In this line of thought, you would have bagged 1,500 coins if there were three Cleopatra tokens in the middle.
Payout Symbols and the Features They Unlock
In addition to Cleopatra, there are 10 other pay tokens in this game. In order of payout value, they include a pharaoh, the gods Ra, Anubis, and Hathor, plus four playing card ranks (Ace to Jack). The remaining two symbols are the Crown of Egypt slot Wild and the pyramid Scatter. As one might suspect, the former aids in the creation of winning combos with its ability to substitute normal tokens, and the latter will lead you to the free spins stage.
The Scatter will only show up on the middle reel. You'll need to land two of them simultaneously to receive 10 free spins while getting three or four yields 15 and 20 spins, respectively. Complimentary games are always great, but we don't like that the bonanza level doesn't include any multipliers or special features. Still, you can extend the stage for up to 130 extra rounds if more Scatters appear while it lasts.
This Slot Has Two Jackpots
If you look around the different menus of the Crown of Egypt slot game, you'll notice that it has two payout tables — one for "MultiWay" and one for the regular paylines. As such, the game's top prize will change depending on whether you have "MultiWay" enabled. If yes, then the maximum theoretical win is 512,000 coins. Still, this jackpot is nearly impossible to down, as it requires the reels to be filled exclusively with Cleopatra and/or Wild tokens.
If you skip "MultiWay," the jackpot drops to 200,000 coins. However, a much more realistic target is a single Cleopatra 5-of-a-kind that yields 5,000 credits.
RTP and Volatility of the Crown of Egypt Slot Game
Given the fact that you can control how many paylines are activated, it's hardly surprising that the RTP of the Crown of Egypt slot machine can vary. If you use a single betting line, your expected returns will stand at 92.90%. If all 1,024 winning ways are enabled, you'll benefit from a 95.03% RTP. In either case, the house edge is higher than the 4% average for online slots, which is regrettable.
In terms of volatility, we consider this release to be somewhere between "low" and "medium." This means that you should receive small to mid-sized rewards frequently. There is a potential for bigger wins, but they'll likely occur less often than with standard high volatility slots.
Graphics, Animations and Mobile Compatibility
This product became available to online players in 2012, and we have to admit that it has aged well. Its graphics are much more appealing than most of the other IGT machines that we've tried. In addition to the pleasant-looking background and symbols, the Crown of Egypt slot has a properly stylized interface that features responsive buttons.
The reels spin smoothly and display results without any delay. It's unfortunate that animations and moving elements are few and far in between, although that's hardly a deal-breaker. We have to commend IGT for continually updating this release throughout the years. The latest version is fully compatible with modern tablets and smartphones on iOS/Android and includes a mobile-friendly UI.
How to Play the Crown of Egypt Slot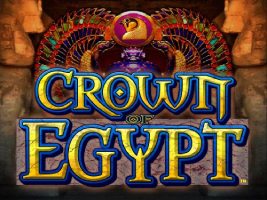 IGT is a legitimate developer that offers its software exclusively to licensed casinos. Thus, the Crown of Egypt slot machine can be located in some of the top UK gaming sites. We've selected five of them for your convenience. If you'd like to play for real money, pick one, create and fund your account, and locate the game using the search bar: Casino RedKings, Videoslots Casino, Grosvenor.
Now, it's time to decide how much you want to bet per spin, which is largely determined by the number of active pay lines. It's best to play with "MultiWay" turned on, but that means that you'll have to wager a minimum of £0.80. Use the "-/+" buttons on the lower-left side to adjust your stakes & win ways.
The free spin stage of the Crown of Egypt slot game isn't that impressive. It might make sense to go with fewer spins per session using "MultiWay" rather than reducing your pay lines and RTP to play the long game.
When ready, press the yellow circle in the middle to start spinning manually. If you'd like to activate auto-spins, use the icon on the lower-right side.
To Conclude
In our opinion, this release has more negatives than positives. Crown of Egypt looks good and boasts the interesting "MultiWay" mechanic that can yield decent payouts. Its jackpots are substantial, yet downing them will be more difficult than usual. On the flip side, our Crown of Egypt slot review experts note that activating all the pay lines is expensive. Even if you have the bankroll to afford it, the overall RTP rate is lower than average.
Still, if you like the Egyptian theme and are primarily concerned with your amusement, this reel machine is not a bad choice. If you'd like to try and claim the Crown of Egypt, make sure to pick a respected operator that will keep your information safe, provide you with great bonuses, and pay you out promptly. You can find our recommendations in the above section. Good luck!
Frequently Asked Questions
What's the House Edge in Crown of Egypt?
It ranges from 7.1% to 4.97%, which corresponds to an RTP rate of 92.9%-95.03%. The more pay lines are active, the lower the house edge. However, you'll also be wagering more money per spin that way.
What Is the Accepted Betting Range?
The Crown of Egypt slot displays your money as coins. If you wish to play with "MultiWay" turned on, it's £0.80-£80. Reducing your winning ways to 1 allows you to wager a minimum of £0.01.
Does Crown of Egypt Have a Bonus Level?
Yes, it's a free spins stage that is accessed when pyramid Scatters appear on the middle reel. Two Scatters award 10 free spins, three of them grant 15, and four give you 20. The free spins bonus can be extended if the above Scatter combinations appear while it lasts.