Hotline Slot Review – A Game with Constant Re-Spin Opportunities
2018 was an incredible year for the iGaming industry, as it was then, when NetEnt released its newest title – Hotline! Showing off a fresh look, responsive controls, and an intentionally "cliché" visual theme, the game not only became one of the most played titles of the season, but also one of the most played NetEnt games in the top rated casino sites in the UK! Today's Hotline slot review showcases this NetEnt title in its entirety – we've completely analysed the game, so you will know what to expect when playing it.
The Hotline Slot Machine Has a Familiar Story
If you're acquainted with television entertainment from the 80s, then you will definitely think that you've seen the Hotline slot before! The "bad" video quality of the intro, Miami palm trees, neon colours and synth-wave music; these elements are more than just a throwback to an era passed. In fact, the entire slot is modelled to look like a detective action series from the 80s. Complete with an "episodic" intro, the slot introduces fictional actors that star as even more fictional characters. Everything about the slot itself, is clearly based on one very specific cop action-drama series from 1984, called Miami Vice.
The Hotline slot game actually has a plot! Although it's not mentioned specifically, the cutscenes and quite detailed intro sequence introduce us to two "cops" called Quinn and Rivera. They are clearly chasing a lady in a black dress and black hat, that seems to break into vaults and steal expensive jewellery. The slot's story begins, when the two cops hop into their squad car and start chasing the lady, which is revealed to be "Kitty Weiss". Do the cops catch her in the end? Maybe you'll find out by playing the slot!

The Active and Passive Features of the Hotline Slot Game
On the background of 1980s Miami, the 3×5 reel layout of the Hotline slot game looks quite appropriate. A surprising factor here is not the gaming pattern of the slot, but rather than the number of symbols the game utilises, which is eight! The symbols themselves are Supercar, Scatter, Kitty Weiss, Rivera, Quinn, Red Crown, Green Bib Necklace, and Blue Ring. The lowest paying symbol is the Ring, while the highest – Kitty Weiss! The Hotline slot machine presents a number of interesting gameplay features, which you can try out for real money or in demo mode, in some of the following online gambling establishments: Rizk Casino, 888casino, Sol Casino, Casino Room, Casumo Casino.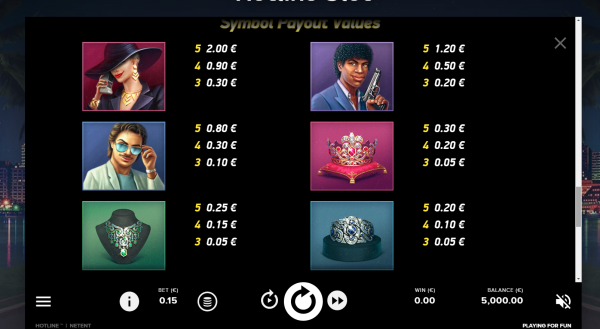 Increase Your Win Chances with the Hotline Bonus Bet
The first thing you will notice, are three specific buttons that are positioned in front of each individual row. Once a button is pressed, it will activate that row, allowing any wild symbols that land on it to expand, and initiate a respin! If another wild symbol is landed on a hotline row, any previously expanded wilds will remain and conjoin with them, forming a single large symbol. The more hotlines you've activated, the greater your chances will be to score additional wins and initiate respins!
Wild Symbols Will Substitute All Others
If after a spin, you've landed a Supercar symbol, it will mimic the type any other on the reels (except for the Scatter) and complete a winning symbol combination! Although the wild symbol's main function is to provide a substitution mechanic, this isn't the only thing it will be used for. In order for a Supercar to "fully activate", it will need to be under the effects of a "hotline".
The Free Spins Come with Sticky Wilds
If you're lucky enough to land three Scatter symbols, the game will grant you 7 free spins (FS)! Furthermore, the fact that this symbol is a scatter, means that it will initiate its free spins regardless of where it's landed! Once the FS mode is activated, you can look forward to a very specific benefit – the sticky expanding wilds. If a wild symbol lands on a hotline during FS mode, it will expand and stay there until the remainder of the free spins!
There is a bit of a drawback when it comes to this special feature. During FS mode, the re-spin feature is substituted by the "sticky" mechanic, which means that there is no way for the player to initiate a re-spin. On the other hand, initiating the bonus round mode seems to happen more often than not, which somewhat makes up for the lack of a re-spin mechanic.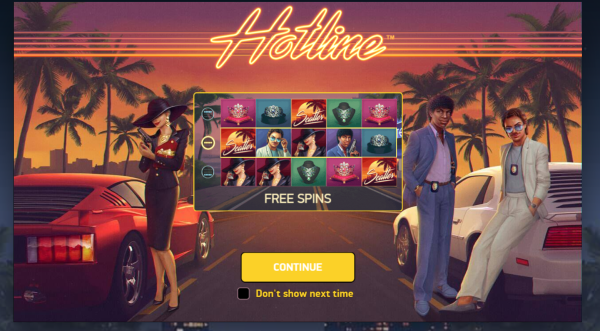 The Basic Slot Specifications and Ease of Play
The first thing to note about the Hotline slot game, is that it is incredibly easy to play. Because the 30 paylines of the slot are fixed, your bet per spin (BPS) value will be formed by simply selecting a preferred amount of money! Another advantage of the game is that it has medium volatility, which means that winning combinations will be expected to form a bit more often than not. Successful symbol combinations will be formed from left to right, with the exception of those made up of scatters. The Hotline slot RTP rate is calculated to be 96.13%! Considered to be "generous" by iGaming standards, this particular RTP value is favoured among beginner slot players and veterans alike.
The Betting Process and Expected Hotline Slot Game Payouts
There are 44 different betting amounts you can choose for your BPS, ranging from £0.15 to £150! Not only that, but with each activated hotline, the value of all bet presets will automatically increase. Since you always need to have at least one activated hotline, the cost of your BPS will increase with each activated hotline by 100%. For example, if a minimum bet is £0.15 with only one hotline, activating two will set your BPS at £0.30, while all three hotlines will bring your total cost per spin, at £0.45. The largest amount you can bet is £450! Do you feel like you want to change the way your bets and winnings look? If you do, simply access the slot's settings, and toggle the switch to "coins".
By adjusting the game to its minimum and maximum BPS values, we managed to find out that the smallest and largest payouts you can expect. A reward of £0.05 will be granted to the player, if they land a combination of three Blue Ring symbols (with only one activated hotline). Alternatively, if you decide to go all out with your BPS settings (including the activation of all three hotlines), a successful combination of five Kitty Weiss symbols will produce a reward of £2,000! Single payouts aside, the game lists that you can win up to x400 times your bet, which, if calculated at the highest possible bet setting, will result in a win of £180,000!
Auto Spin Function and Reel Speed Control
Clicking on the left side of the spin button will bring up the window for the autoplay settings. The first thing you need to do before engaging the auto mechanic, is to select a number of rounds you would like to process, which can be anywhere between 10 and 1,000. Once that is done, you will see additional settings which will allow you to program the autoplay function to disable itself, when:
any win is produced
a single win exceeds a specific value
if cash increases by a specific value
if cash decreases by a specific value
if free spins are won
The Hotline slot machine will process a spin at regular speed, in approximately 2.5 seconds. If you want to go a bit faster, simply toggle "quick spin", and you will play through each round in less than 2 seconds! There is a way to make gameplay even faster, and it involves the player performing the "slam-stop" manoeuvre. If you press the stop button immediately after initiating a spin, you can process through a round in approximately 0.3 seconds! Utilising slam-stop is not a tactic that is recommended for beginner slot players!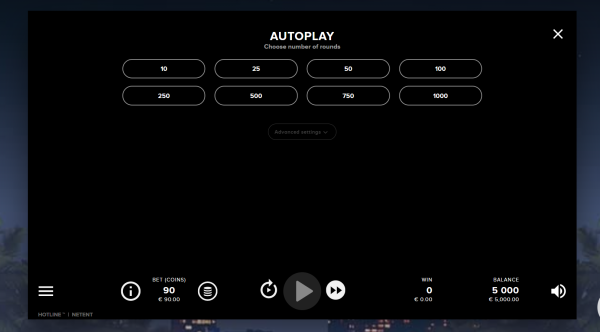 The Hotline Slot Mobile Optimization Is Superbly Executed
If you prefer to use your smartphone or tablet when gaming in an online casino, you will discover that the mobile version of the Hotline slot will run flawlessly on iOS and Android operating systems! Due to the high level of optimisation, there will be no need to download anything – simply open your preferred online casino with an updated browser app and start the NetEnt Hotline slot. The optimised version of the game will feature simplified controls, and an additional feature that will allow players to switch the gaming interface between right and left-hand views.
This 80s Title Is Never Going Out of Style
In an unprecedented event, NetEnt managed to create an incredibly immersive experience, by developing and releasing the Hotline slot game. The "retro 80s" theme is an incredibly strong factor in this slot title, but the driving force behind the game's popularity is its balanced specs and useful features! Although there are some minor drawbacks, the game still remains exceptional for playing. If you have the chance to try it out, give it a go – you will definitely be impressed!
FAQ
Can I Retrigger Hotline Slot Free Spins?
Once the bonus round mode starts, you will notice that there won't be a scatter symbol. Due to the already generous nature of the free spins, the scatter symbol will be removed, which means that you won't be able to retrigger the FS feature.
Can I Activate Additional Rows during the Hotline Slot Bonus Rounds?
Sadly, this is not allowed. Once you've landed the necessary amount of scatter symbols to engage the free spins mechanic, the bonus rounds will commence and play through with the number of hotlines that were activated before landing the scatter symbols.
How Do You Win in the Hotline Slot Every Time?
Unfortunately, you can't do something in particular that will guarantee you a perfect spin of the reels every time. All slot games (including Hotline) have a "house edge" to them, which is how the casino makes money. If NetEnt had developed the slot in a way that would allow players to get a perfect spin every time, no online casino would want it!