Coral Live Casino New And Improved
Well to be fair it is a year old now. But it is constantly being added to and the games selection just keeps on growing. Coral uses Playtech much the same as the other members of the so called 'Big Three'. Or two as it is now post-merger. There are a couple of live dealer options on the main casino page sicbo, roulette and baccarat. Could never understand why there would be a few random live games mixed in but hey let's talk about the main Coral live casino. Games in the live casino seem to be named the same as those run by Evolution, yet Coral customer service say their games are Playtech. Then another says maybe they could be Evolution, not very professional I'm afraid Coral. Then the customer service agent said she couldn't go into it further due to security policy of the company. Which smells like a load of bull but back to the review. The games are Playtech its just bad form to confuse matters. So anyway Coral live casino has a stunning layout. Click the live tab and land in a sea of blues, calm yet alive. The live casino home page has an ultra-modern feel. The really cool part that stands out about the landing page is you can scroll thought the 37 tables on offer and pick your dealer. There is a high def three quarter portrait shot of the dealer looking after any particular table. So if you have a favourite you can go straight there. And boy what a selection.

Recommended Casino Operators
Bwin
Free Spins
UKGC Regulated
Read Review
Mansion Casino
£5000 Welcome Bonus
UKGC Regulated
Read Review
888 Casino
£100 Welcome Bonus
UKGC Regulated
Read Review
Coral Casino

Bonus

£200

Regulation

UKGC

Games

Slots, Table Games, Video Poker

Websites

www.coral.co.uk
Roulette Ten Times The Fun
If you can't find a variant here that you like you will not find one anywhere. There are ten roulette offerings including a Slingshot automated version which kind of defeats the object of a live casino but there you go. There are exclusive Coral tables and several networked ones. Right this moment there is a Cheltenham Festival room where you can watch the races live and play roulette at the same time. I mean how cool is that? There is another exclusive Coral table, speed roulette, Iris, Prestige, London, and Grand and more. They are all roulette same game, same everything except décor. The choice is frankly almost too much. The interface is as smooth as the proverbial baby's. Whether you go full screen or window the HD streaming looks great.
Blackjack Even More
There are three exclusive Coral tables and then 8 more networked. If by some strange twist of fate there are no seats available you can have the bet behind option or you can join the unlimited player table or as they call it the Pegasus table. It seems all of the tables that are not exclusive or venue based are named after ancient Greek and Roman characters. The different tables for blackjack are mostly just décor related as well some do have different side bets and of course the VIP table with higher stakes. The Grand blackjack table is a rather strange brown colour that has a very retro feel the staircase behind looks a bit plastic. This version has 21+3 and pairs side bets. There are simply too many to go into each one. If you like a particular dealer or colour scheme then the choice is way over the top. If you play at peak times you may struggle to find a seat. Coral is adding tables at a fair rate of knots to combat this as blackjack will always be popular. All blackjack games in the live casino use 8 deck shoes with a shuffle when 4 remain.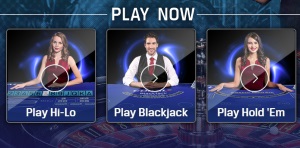 Baccarat Has A Surprising Choice – Limited On The Rest
There are even four tables for baccarat. So if you love Bond's game you can choose between Neptune mini baccarat or prestige mini baccarat if you like to multi-task. Or once again visit the Grand and play blackjack there or the Cupid table. There are some nice side bets at the Prestige and the Grand tables. There is player pair, dealer pair and perfect pairs. All the games run from an 8 deck shoe. There is one table for the very simple Hi-Lo game and one for casino hold'em as well.
Summary
The live casino by Coral is Playtech at its best the dealers are Riga's finest, professional, and smart and know what they are doing. The interface is a slick as it gets. Simple and intuitive a novice would not be scared off. The whole set up is very smooth looks fantastic and works very well indeed. The only issues are with the customer service agents some are great others are full of it. If you hate Playtech games you would not be visiting Coral anyway. Coral have managed to give something different in the world of networked live casinos.