Bwin Big Name Big Sponsor
Bwin Casino

Bonus

50 Free Spins on Starburst

Regulation

UKGC

Mobile

Yes

Games

Slots, Table Games, Video Poker

Websites

casino.bwin.com
* T&C's apply, click on Claim Bonus for details
Bwin are one of the biggest names in gambling. They are pretty well known in the general sporting arena. A major sponsor for some very big events, MotoGP and Portugal's premier league or Liga have Bwin as their title sponsor. The big names don't stop there you have Real Madrid, Juventus, Ac Milan, Manchester United and RSC Anderlecht. Football gains a considerable amount of cash from Bwin. These teams are known worldwide and are loved by millions by association with Bwin they are lending their reputation to them. Are they deserving of such a reputation? This Bwin casino review can maybe shed some light on the subject. It's not all great. Let's start with what is.
A Unique Platform For Sure
One thing going for Bwin online casino is the software package running the site. The graphics and audio are top end. It has a very modern feel to it, black and grey are the main colours but they really accentuate the splashes of colour elsewhere. It's not subdued but it is calming, your first impression is a bit strange because it's black and grey. Then you realise there's actually a lot of colour but you won't get eye strain if you like to play for long stints. It's well done. The software seems like it's a mixed platform some of the games are not instantly recognizable. But it is easy to navigate around the site and if you like to have a flutter on the nags or a few hands of poker Bwins site is integrated with its other online gambling platforms.
Bwin Bonus Not As Many As Before
Unlike most other online casinos the Bwin casino bonus is not so obvious. They are running a scratch card system at the moment with a range of bonuses. There is not a welcome bonus like everybody else runs. There is a 50 Free Spins on Starburst slot game for new players. In the past Bwin have run a lot of promos but these days that doesn't seem to be the case. Maybe it's because of the bad press they were getting surrounding some very high wagering requirements. But this brings us to one of the first concerns. Nothing is really very clear and obvious. You have to dig around on the site to find out anything. Even finding the chat service took some doing. Let's not get to negative there's still a lot of good things to say. But clarity is not one of Bwins strong points.
Gameplay
Thanks to the miss mash of games there is quite an unusual feel to Bwin. Around two hundred games is by no means many. In fact it is at the lower end of choices. They are fun however and Bwin casino games are nothing if not different. There is a 3D blackjack and premium roulette. However if you like to mix and match and play a lot of different versions then you will probably be a bit disappointed. There are still some pretty good jackpots to win with the last one paid out at over €4 000 000. This Bwin online casino review is trying to be honest. Far too many reviews are just blah blah how wonderful etc. So let's bring up the next sore point. It's not unusual amongst casinos but not too many people think about it or bother to read the terms and conditions carefully. There is a monthly limit on withdrawals as just said this is not unusual. But the fact is that $20 000 per month limit is low. This specifically includes progressive jackpots. So if you won the €4 000 000 it would take over 16 years before you got your money. This is one area where casinos should be challenged. A progressive jackpot goes straight from the network prize pot to the casino where the player won, so they are earning interest on your money. This is one of the worst issue with casinos, legitimate ones at that. It must be said that Bwin casino online is not the only one who does this. This is why you should always read those very boring terms and conditions.
Screenshots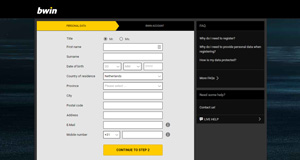 Bwin Casino Mobile And Pretty Good It Is Too
So mobile casinos are mostly the same. A lot of show and not much go. The mobile version of Bwin casino online is not the same as everyone else. This is one area that they shine. Bwin mobile casino is one of the best there is. If you want to download the app for either iOS or Android it is a very simple task. A lot of effort has gone into the Bwin casino mobile app and it shows. Whatever device that you have the app is brilliant. The games are stunning and have be made to work very well. Of course with the app there is no load time and the quality of play is down to your internet connection. But you don't have to download if you don't want. Just go to their mobile site from your phones browser and you have almost as many games as on your pc version. You can play the same progressive jackpots on the Bwin mobile casino. Table games are OK on your phone but the slots work better. It must be said that the app is far superior to the browser version. The clarity of the graphics is not so good and the load times are pretty bad. But the development is continuing at a remarkable pace so who knows these little glitches may well disappear soon.

Live Dealers The Novelty Is Past What The Reality?
Well the Bwin casino live dealer format has been with us a while now. The bugs seem to have been ironed out and it works well. The choice of games puts it in the higher end of the bracket especially if you like baccarat. There are a few versions of baccarat not usually found in the live package, to be fair not found in the virtual either. A nice selection of roulette, three card poker, casino hold 'em and even Caribbean stud. The live format can be played from your mobile as well although on a smart phone it's not so easy on a tablet it works. It goes without saying the dealers are a nice thing to look at and are extremely professional.
In Summary
Bwin have a very responsible attitude to their punters. Forget the negatives spoken about a lot of online casinos have them. The area where Bwin stand out from the crowd is they put their money where their mouth is. Most casinos advertise that they are committed to responsible gambling Bwin actually fund research into gambling addiction. Partnering up with a research team Cambridge Health Alliance real data is used to study the impact of gambling. The research has enabled Bwin to put into practice a predictive model that monitors betting patterns and behavior. This allows a proactive approach and has helped spot problems before they would normally have surfaced. The system is in its early stages but it looks like it may be a winner. Bwin has its faults but as things go it's one of the better online casinos.
Other Trusted Casino Operators
888 Casino
£100 Welcome Bonus
UKGC Regulated
Read Review
Slots Magic
100% Welcome Bonus
MGA Regulated
Read Review
Royal Panda Casino
£100 Welcome Bonus
UKGC Regulated
Read Review