10 Rare Pokémon Cards Worth Ridiculous Money
Published:

23rd April 2021

Author:

Morgan Bartlett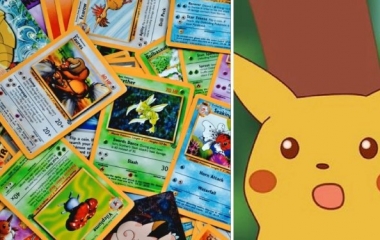 Pokemon cards were hugely popular in the 1990s, with Caterpies and Rattattas taking second place to special cards like a holographic Charizard. With Pokemon now a video game franchise, trading cards are still being produced, but some cards are so rare that they are worth a ridiculous sum of money. The 10 most expensive rare cards to date are listed here:
Tamamushi University Magikarp
USD50,000
Mint copies of this card have sold for around USD50,000. Whilst 1,000 copies of this promotional card were produced, they were not all distributed. The cards were given as awards at a tournament in Japan in the late 1990s. Since the Magikarp card is rarely seen on the market, even imperfect copies can sell for up to USD12,000.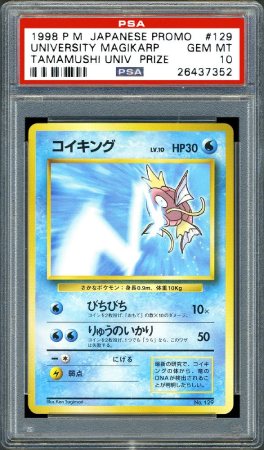 The Masked Royal Prize Promo
USD250,000
Awarded to winners of an illustration contest at Japan's CoroCoro convention in 1998, 41 copies of the card made, designed by original Pikachu artist Atsuko Nishada. Of the 19 cards said to still exist, 10 have been certified by the Professional Sports Authenticator (PSA). The card, which is the only Pokemon card with "Illustrator" rather than "Trainer" at the top of the card, also has a unique pen icon on the bottom-right corner to link it with the design contest. One of the cards sold for USD250,000 in October 2019.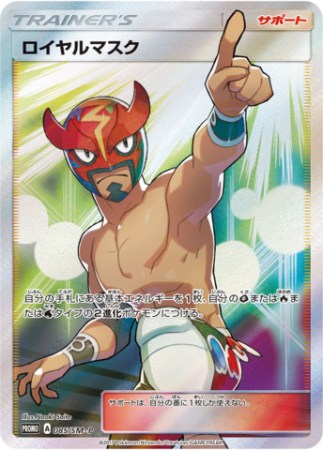 Pre-release Raichu
USD record-beating amount
This "Holy Grail" of Pokemon cards was not seen until 2006. It is alleged the card was printed in error in the run-up to the English-language release of Pokemon's Jungle in 1999. Around 100 Raichu cards from the game's base set were mistakenly reprinted with the text "Pre-release" stamped on the base. The game's English manufacturer is said to have destroyed all but 10 copies, which were gifted to those working for the company. A copy of this card was reportedly sold for USD10,500 in 2009. Today, collectors suggest it could break all records if it came up for sale again.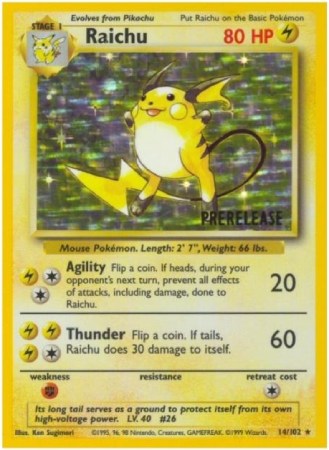 No. 1 Trainer
USD90,000
One of only seven copies of the No. 1 Trainer Pokémon card was sold for USD90,000 in July 2020. Possibly the rarest Pokémon card ever made, this holographic promotional card was awarded to regional finalists in the Secret Super Battle tournament held in Tokyo in 1999. The card features artwork by Hideki Kazama.
1999 First Edition Shadowless Holographic Charizard #4
USD220,574
This shadowless variant of the Shiny Charizard is another rare and valuable Pokemon card. Usually, the card has a shadow under the fire-breathing dragon Pokémon, but a printing error created a shadowless card. A mint PSA 10 graded card was sold at auction in October 2020 for USD220,574.
20th Anniversary 24-karat Gold Pikachu
USD2,081
A rare card made of 11 grams of solid 24-karat gold was sold for USD2,081 in October 2016. The card is a reprint of the game's original Pikachu and was created in 2016 to celebrate the Pokémon TCG's 20th anniversary. Created by Japanese jewellery maker Ginza Tanaka, the card was available via a lottery at the cost of JPY216,000 (approximately USD2,081) and came in a special frame and box.
Master's Key
USD21,000
The Master's Key card was given to each of the 36 competitors across all age divisions at the 2010 Pokémon World Championships held in Hawaii. The cards were given to trading card game tournament participants and competitors in the video game equivalent, with the presentation cases slightly different for each category. A copy of the Master's Key card sold at online casino auction for USD21,000 in November 2019.
Pokémon Blastoise #009/165R Commissioned Presentation Galaxy Star Hologram
USD360,000
The most valuable Pokémon card sold is the Blastoise #009/165R commissioned presentation Galaxy Star Hologram cards, of which only two exist. One card with a PSA 8.5 rating sold for USD360,000 in January 2021. The two cards were created in 1998 as a presentation piece by Wizards of the Coast to encourage Nintendo of Japan executives to contract it for TCG's English-language release, which happened in 1999. Details of the other card remain unknown since it has never appeared.
1999 Pokémon Japanese Promo Tropical Mega Battle Tropical Wind
USD65,100
Twelve of these cards were created as awards to the top players at the 1999 Tropical Mega Battle tournament in Hawaii, a forerunner of the Pokémon World Championships. The tournament saw 50 regional finalists from around the world. The 1999 Japanese language copy of Tropical Wind was sold for USD65,100 in October 2020.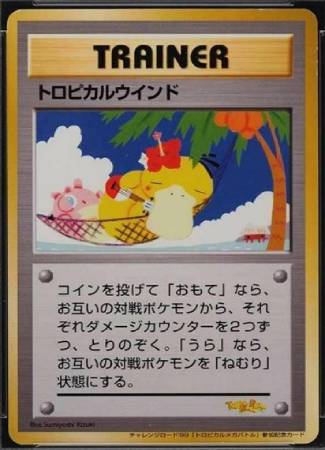 Espeon and Umbreon Gold Star POP Series 5
USD22,000
The Gold Star Pokémon cards are valuable due to their rarity, with only 27 Gold Star cards released between 2004 and 2007, with Espeon and Umbreon two of the rarest cards in the set. The gold star on the card indicates the card features alternative-colour artwork from the common version. An English-language version of the Espeon with a PSA10 rating was sold for USD22,000 in February 2021. An Umbreon also graded at PSA10 sold for USD20,000 in December 2020.