The Future of Crypto and Online Casinos – Analysis of a Popular Payment Trend
Published:

9th April 2021

Author:

Morgan Bartlett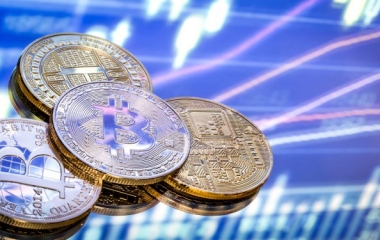 There is one specific thing that keeps happening today among many online casinos, and it is the incorporation of cryptocurrency as a payment option for both deposits and withdrawals. Using digital currency as a betting medium presents players with a number of benefits, which is why Bitcoin continues to gain popularity among the biggest iGaming brands right now. In today's article, we will explore the potential future of cryptocurrency in the online gambling sector and outline some of its popular advantages, as well as some of its inherent drawbacks.
The Initial Challenge with Online Casinos and Banking Service Providers
Regardless of how many accolades a specific online casino possesses in terms of regulation, licensing, and certification, there are jurisdictions that prevent their citizens from engaging in any type of gambling activity. As such, banking operators that function within that particular country will have limited usability, especially in casinos that operate on that territory. There are many such cases, where cryptocurrency is the only available method for players to operate with their funds, which is why the popularity of Bitcoin seems to soar, especially in recent times.
Our Personal Take on the Future of Cryptocurrency and the Online Casino Industry
Given that our job is to observe and analyse all appearing online casino trends, we believe that the world is heading towards a "unified global casino network". This is inadvertently tied to the fact that more online gambling establishments are incorporating cryptocurrency in the payment systems of their platforms. The future is more exciting; however, which is why we have expanded our thesis about the potential future of digital currency payments.
In the Future, All Online Casinos Will Adapt a Single Digital Currency Standard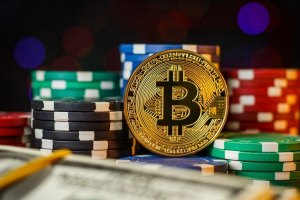 Yeah, we said it. We have gathered enough intelligence to speculate that in 10 to 15 years, a group of top online casinos will establish their own decentralised (or semi-decentralised) form of digital currency, which will be sold and accepted across each other's platforms. Bear in mind that this won't be any regular cryptocurrency! For the sake of having neutral volatility, every single point of this hypothetical "Casino Coin", will be permanently valued to the most relatively stable fiat currency that exists at that time.
For many years now, that has been the Swiss Franc (CFH); however, there is a chance that a different currency can be voted as being more stable at the time. Regardless, Casino Coin will be a currency that won't increase or decrease in value – the surplus that will be released can be in the trillions and quintillions; however, the deal is that the currency itself will serve as a sort of a "digital chip" and if it is tied to blockchain technology, it will be hack and fraud-proof!
Online Casinos That Don't Use Cryptocurrency Will Be Drastically Reduced in Number
Those online gambling operators that have decided not to move into the future of payment systems, will probably see the end of their brand, especially if the world witnesses the creation of a universal iGaming digital currency. The convenience and safety that is offered by crypto as a banking medium has often been one of the strongest points of the payment method itself. This is why, online gambling websites that have never supported crypto, are just integrating Bitcoin in their cashier systems, while casinos that have already worked with Bitcoin for a long time have started incorporating many other popular cryptocurrencies within their platforms (such as Dash, Litecoin, Ethereum, etc.).
It Won't Be Soon before Casinos Become Currency Exchange Hubs

The establishment of a universal casino digital currency that can be used by many online gambling institutions worldwide doesn't mean that other cryptos will vanish. They will change in terms of value, but the "Casino Coin" will always be considered as a steady crypto standard that can serve as a reference point for other types of digital currency. Casino players will be able to fully utilise the platform's cashier system in order to convert multiple digital currencies into a single one or vice versa. The bottom line is, that in the future, the most advanced online casino platforms, will rival the usability of the most famous digital currency exchange websites!
Online Casinos Are Expected to Be Universally Accepted
While currently some jurisdictions do not allow gambling of any form, this is about to change. Those players who would like to gamble will always find a way to do so, whether governments allow it or not. How are we so sure that even those countries that don't allow it will soon legalise it? It is simple, really – every unit of currency wagered in an online casino illegally, is a missed chance to be taxed! With the casino industry bringing billions of pounds of revenue, it doesn't come as a surprise that countries everywhere would like to prevent players from funding outside businesses. Sooner or later, the universal legalisation of online gambling platforms will come.
Challenges That Need to Be Addressed before Fully Embracing a New Payment System
To say that the majority of governments worldwide are sceptical about accepting crypto, will be a gross understatement. In fact, in some countries such as India, there are disputes about how to penalise the use of cryptocurrency. Some potential measures include hefty fines, coupled with a prison term sentence that can go up to 10 years! The majority of all governments worldwide are indeed quite sceptical about supporting cryptocurrency, but that is because they can't regulate it in any way.
The Use of Cryptocurrency Is Still Considered to Be Difficult
While many online wallets and service providers can help beginner cryptocurrency users, the concept of operating with it still requires a user to have specific basic knowledge in order to perform simple operations. This "far than user-friendly" concept is what often turns new crypto users off, which is why they prefer to use fiat currency when betting in an online casino.
The Future of Online Casino Payments Lies in Cryptocurrency
Many have speculated that Bitcoin is nothing more than a "financial bubble" that is expected to burst, and eventually leave a lot of investors hanging out to dry. While even to this day, there are many people who don't completely trust crypto payment, Tesla made history in 2021 by purchasing $1.5 billion worth of Bitcoin. This not only affected the price of the currency itself, but in a way solidified its number one spot as the most preferred type of crypto in the world. Digital currency will become the future payment standard not only for online casinos, but for every other business worldwide!