21 Movie Review — Using Smarts to Beat the House
Published:

29th April 2021

Author:

Morgan Bartlett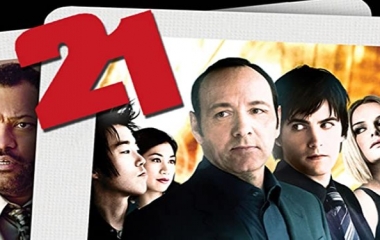 The gambling and insurance businesses are quite profitable and surprisingly alike. Countless people hit the tables, spin the reels, and pay for coverage on their homes, cars, and property. However, those who end up downing a jackpot or claiming compensation are few and far in between.
Most gamblers are aware that they're always playing against the odds, as the casino has a mathematical advantage known as the "house edge." However, in games of chance like blackjack, this advantage is almost non-existent. In fact, observant and math-savvy bettors can turn the tables and gain the upper hand, securing profits along the way.
This is the main idea behind "21," a 2008 Hollywood flick directed by Robert Luketic. In this review, we'll tell you everything about the 21 movie cast, filming locations and discuss its plot and gambling scenes without too many spoilers. If you'd like to watch the film, we have some tips for you near the end.
| | | | | | | | | | | |
| --- | --- | --- | --- | --- | --- | --- | --- | --- | --- | --- |
| Movie | Genre | Year | Director | Starring | Producers | Writers | Based on | IMDb Score | Rotten Tomatoes Score | Metacritic Score |
| 21 | Blackjack Movie, Drama, Las Vegas, Crime | 2008 | Robert Luketic | Jim Sturgess, Kate Bosworth, Kevin Spacey, Aaron Yoo | Kevin Spacey, Dana Brunetti, Michael De Luca | Peter Steinfeld, Allan Loeb | Bringing Down the House | 6.8/10 | 36% (Critics)/66% (Audience) | 48% |
Is the 21 Movie a True Story? Not Exactly
Let's start by discussing the idea behind this flick. The 21 movie is a Hollywood interpretation of Ben Mezrich's famous book "Bringing Down the House": The Inside Story of Six MIT Students Who Took Vegas for Millions." In addition to having a long and revealing title, this New York Times bestseller is marketed as "based on real events."
However, the book has stirred some controversy in the form of allegations from the Boston Magazine and the Boston Herald. These respected media outlets launched investigations into the story and subsequently claimed that large parts of "Bringing Down the House" were entirely made up by the author. When you add the fact that the director Robert Luketic and screenwriters Allan Loeb and Peter Steinfeld also let their imagination run loose, the "21 movie true story" myth begins to fall apart. There might be an inkling of truth hidden somewhere, but the film is mostly a work of fiction.
Where Does the Action Take Place?
Mezrich's gargantuan book title also gives insight on the filming locations for 21. None of the scenes was shot in a Hollywood studio. Instead, the movie primarily switches between the states of Massachusetts and Nevada. Iconic MA locations such as Cambridge and Boston are the setting for the movie's first act. Still, most viewers will quickly forget about them once the Vegas part kicks in.
You'll witness some of Sin City's most famed casinos and resorts, such as Caesars Palace, Planet Hollywood, the Hard Rock Hotel, and others. In fact, the 21 movie almost feels like one giant 2-hour promotion for Las Vegas behind the veneer of "beating the house."
The 21 Movie Cast
The 21 production team has cast a constellation of Hollywood stars that truly embody the movie's youthful, daring, and glitzy motifs. Although the plot revolves around a group of MIT students that includes Aaron Yoo, Liza Lapira, and Jacob Pitts, the story is told from the perspective of lead actor Jim Sturgess. Kevin Spacey and Kate Bosworth are in the two other memorable roles, while Laurence Fishburne is cast as the film's antagonist.
Where to Watch the 21 Movie Online
If you haven't signed up for Amazon Prime Video, you could watch this flick for free using the 30-day trial for new users. Of course, subscribers of the streaming service also have 21 at their disposal. Netflix doesn't own the rights to the movie, but YouTube and Google Play offer it for a one-time fee of £2.49. There's also a chance that your local TV stations might broadcast it at some point, so you could browse the guides of your provider.
21 Movie Synopsis
Alright, it's finally time to discuss the plot. While we won't reveal the ending, this part still contains spoilers, so some of you might want to avoid it. The story follows Ben (Jim Sturgess), a lovable, brilliant nerd who's a maths major at MIT. Ben's main goal in life is to become a doctor, and he's set his sights on Harvard Medical School.
He gets accepted into the prestigious institution, but there's one big obstacle in his way — the $300,000 tuition required by the university. He tries to get a full ride through the Robinson Scholarship, yet the abundance of competition and a discouraging chat with his director lead Ben to believe that he won't succeed. His widowed mother offers the last of her savings, but the protagonist refuses and tries to find another way.
After proving his brilliance by solving a brain teaser known as the "Monty Hall Problem," Micky Rosa (Kevin Spacey), Ben's maths professor, invites him to join a secret group that aims to hit Vegas casinos on the weekends. The group uses blackjack card counting and hand signals to identify hot tables and make loads of money. Ben initially rejects the proposal but then reconsiders, partly because Jill (Kate Bosworth), the prettiest girl in school, is a member of the gang.
After a while, the money begins to change the protagonist, which gets him into trouble with other group members, the professor, and security. An eventual fall from grace ensues, but in the end, Ben gets a shot at redemption.
A Guide to Card Counting
Now, the 21 movie might give you the impression that you can visit your local casino and make millions through the use of card counting. Admittedly, this method of gaining an advantage over the house works, but it's incredibly challenging if you're not a math wiz. Furthermore, modern casinos around the world train their staff to spot card counters and employ countermeasures and advanced technology to prevent the practice. If you get caught, you might face a lifelong ban from the premises. Meanwhile, counting cards when playing online is impossible, as virtual games always reset and re-shuffle their decks between your bets.
If you're still curious, continue reading this section for a guide to the "High Low" card counting method, which is relatively easy to understand. Of course, knowing all the regular blackjack rules and employing basic strategy is a must.
You'll need to start playing immediately after the dealer shuffles their cards. If not, you should be able to estimate how many decks have been discarded and how many are still in play. Your task is to closely monitor the cards dealt to all participants (dealer included) and keep a running count based on the below values.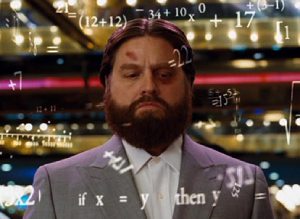 The "High Low" method separates the 13 playing card ranks into three groups:
High Cards — 10, Jack, Queen, King, Ace. Each of these has a value of -1.
Low Cards — 2, 3, 4, 5, and 6. Each is valued at +1.
Neutrals — 7, 8, and 9. These are valued at 0.
These values are completely separate from regular blackjack games, which you should know. You always start at 0 and then adjust the running count based on the cards dealt throughout the entire round. For example, if Jack+10 and 2+7 are dealt, your running count is -1 (-1-1+1+0=-1). Of course, additional cards dealt during hits, doubles, and splits must also be included.
If the running count is +3 or more, you should place bigger bets. When it's -2 or lower, you should bet small or avoid staking altogether. Additionally, if there are multiple decks in play, you'll need to divide the running count by the number of decks left in play to receive the true count and promptly adjust your stakes. This may seem like simple math but following basic strategy, while constantly running calculations in your head and looking unsuspicious while you're at it is quite hard.
Besides, you'll only gain a 2%-5% advantage over the house, meaning that you'll need to spend a lot of time on the table to make some serious cash. In the movie, these details are replaced with a few short montages for practicality.
Frequently Asked Questions
Who Starred in the Movie 21?
The lead trio consists of Jim Sturgess, Kate Bosworth, and Kevin Spacey. Other notable characters were played by Aaron Yoo, Liza Lapira, Jacob Pitts, Laurence Fishburne, Jack McGee, Sam Golzari, and Josh Gad. See our list to browse the movie's director, writers, and IMDb, Rotten Tomato, and Metacritic scores.
Where Can I Watch the 21 Movie for Free?
You can sign up for a 30-day Amazon Prime Video trial to enjoy this film for free. If you've already used your trial, we suggest looking at your TV guide. It might be featured on some of the channels.
Is the 21 Movie a True Story?
The MIT blackjack team was a real organization during the 80s and the 90s. The film is loosely based on a non-fiction book called "Bringing Down the House," which describes how the team operated. However, the Boston Herald and Boston Magazine allege that many events in the book were either exaggerated greatly or didn't happen at all.
Which Gambling Game Is in the Movie 21?
Blackjack, more specifically the traditional versions played on the Vegas Strip. The Vegas Downtown, Atlantic, and European versions have similar, but not identical, rulesets.
What's the 21 Movie Age Rating?
It's intended for ages 13 and up because it includes gambling, profanity, violence, the use of alcohol, and partial nudity.
Does Card Counting Work?
Yes, but pulling it off in a real-world environment is extremely hard and has its fair share of risks. You can learn more about one of the popular card-counting methods with our guide.