BetVictor Mobile App It's There But They Don't Tell You
BetVictor has been in the bookmaking business since 1946. They have been online a while now as well. There whole integrated package is slick and works well. All except for one thing there is very little information readily available on the site. If you are looking for some information regarding their mobile offering you will be hard pressed to find it. Read any BetVictor mobile casino review and they will be glowing they will waffle on how wonderful it is but not how to find it. There are apparently two wonderful native apps for the BetVictor sport book. You only find that out in the about us page. So you go into the live chat and ask. Not the best customer service at times BetVictor. But as it turns out you can just log in from your mobile browser or you can down load the app from either the Apple apps store or the android from the Betvictor site. But get this, we only found the page by Googling Betvictor mobile casino app. Here is the link https://www.betvictor.com/en/sports/betvictor-app . I mean come on how bad is that! Possibly the worst marketing blunder there could be. If a link is on the site it is not easy to find.

Recommended Casino Operators
Bwin
Free Spins
UKGC Regulated
Read Review
Mansion Casino
£5000 Welcome Bonus
UKGC Regulated
Read Review
888 Casino
£100 Welcome Bonus
UKGC Regulated
Read Review
BetVictor Casino

Bonus

£200

Regulation

UKGC

Games

Slots, Table Games, Video Poker

Websites

www.betvictor.com
After All That It's Really Good
Ok so you just log in from your mobile it's not so hard granted but if you want the app you have to search not what you would expect. The frustrating thing about it all is it's really good. The app is sports book orientated but casino games are integrated with it. It is a classy piece of work. The cool blues and black work well and the software is seamless. No load times and there is no quality difference between iOS or Android all features are the same. If you are just into the casino games there really is no point downloading the apps. The sports book app is excellent but the browser version of the mobile casino is so good if you don't bet on sports why bother.
Don't Be Fooled By The Site On A Desktop
If you log into Betvictor on your desktop and reduce the screen size you would think the site is not going to work on a mobile. It is not fully responsive but when you log into the site via your mobile device it knows and works. This is another little dent in the brilliance of BetVictor. I for one check out every site from my desktop first and this doesn't hold up to the major competition. The software used by BetVictor is as good as the big three so why it is not as good on the desktop is a bit of a mystery. So you are finally into the mobile casino and all of the misgivings fall away. The gameplay is just as good on your smartphone as it is on your laptop, pc or tablet. The size of the screen of course affects certain games more than others. Blackjack is not best played on a smartphone but BetVictor have managed to make it play as well as it could. The scroll and touch screen features on your phone are all taken into account very nicely. The functionality of the mobile site is easy to use and works well. BetVictor don't limit themselves to one software provider so they have managed to build up a good showing of games. Slots are of course the most prevalent game in the mobile casino. And boy are they good graphics look sublime and the audio is spot on even on slightly older devices. The load times are in no way slow and don't diminish the experience at all. Some of the jackpots available are mouth watering.
In Summary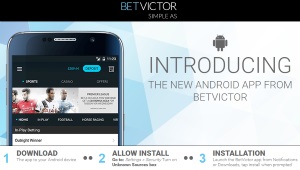 BetVictor are one of the safest online casinos there is. Their mobile site is no different. Your details are as safe here as any casino. The banking methods available using a mobile are varied. The UK gets the best of it but the rest of the world it depends on your location. Licensed and regulated with both the UK Gambling Commission and Gibraltar Gambling Commissioner you know you have somewhere to turn. The bottom line is BetVictor mobile casino is very good. It is actually one of the really good ones. It is very strange that they don't shout that from the roofs. There is no mobile tab in the header. There is not even a link in the footer. It is a complete mystery and I can't help wonder if they have lost some custom because of it. But that is not our worry. If you are looking for a good mobile casino you can trust then BetVictor is one.