What to Wear to a Casino – How Fashion Gambling Trends Have Changed
Published:

24th June 2021

Author:

Morgan Bartlett
If you've never stepped into a real casino and you try to imagine how people would be dressed in one, you're probably envisioning that scene from James Bond's "Casino Royale", where everyone looks like they are dressed for an official dinner event with Her Majesty the Queen. Although some of you might think that this is a bit too much when it comes to dressing up for a casino, there might be some actual truth to that.
In today's article, we will discuss which are the most appropriate types of clothes people should wear, regardless of their gender – although we will specify some tips for both the ladies and the gentlemen. Of course, there are exceptions to nearly all of the rules regarding casino dress code – which we will discuss as well.
Always Choose Fitted Designs for Shirts and Blouses
If you're in an environment that allows shirts and blouses, there will be a certain kind that you can put on. For example, a "common" or a "western" type of long-sleeved shirt is always a good and informal choice for the top part of your getup. Although ladies are welcome to wear most styles of loose blouses, we do recommend that gentlemen choose fitted shirts.
And what about t-shirts? Here is where it gets a bit tricky – the rule about t-shirts usually depends on how open to the general public the casino is. For example, nearly all tourist-friendly casinos will allow people in t-shirts to enter and play; however, the same cannot be said about exclusive gambling houses. In any case, if you do wish to go for a t-shirt on top, make sure you choose the Polo design, as it will provide a bit of flair to your overall casual dress style.
Don't You Dare Go in a Casino with Beach Shorts!
We are sure that to most of you, this is a logical statement; however, you will be surprised how much people don't care for the way they dress. If the casino you want to go in is located in a very warm area, the chances are that they will allow the use of casual shorts such as Bermudas, pleated, flat fronts, and some denim models (no daisy dukes). You might even get away with sporting cargo shorts as well. On the other hand, however, any type of shorts that are meant for running, swimming, cycling, or surfing are off the table.
Flip Flops – A No-Go Unless You're in a Tropical Casino
Some people say that shoes speak louder than words, so do not forget to pay attention to yours. It goes without saying that shoes are a crucial part of your overall casino outfit. Always adhere to the dress code, of course, but flats are just as valid as heels and perhaps more flexible, even in a formal setting. It goes without saying that flip-flops must be avoided unless the casino's destination and rules allow it.
With land-based casinos spread nearly in every corner of the earth, those which are located in vacation islands or tropical tourist destinations tend to be more forgiving when it comes to dress code. If the theme of the casino dictates that even the dealers are wearing Hawaiian shirts, you might get away with wearing flip-flops, although even in such establishments, both the staff and guests with basic common sense will wear shoes that cover their feet.
Stay Classy – A Dress Tip for Female Casino Players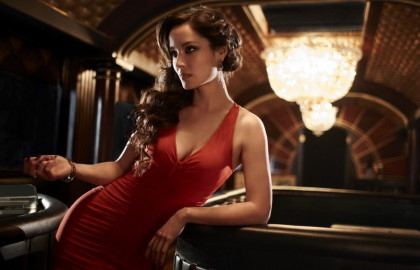 It's a proven fact that females take care of their appearance more than men, which is a good thing. On some occasions, however, in their efforts to look their absolute best, some ladies tend to overdo it. If you feel that a skirt is too short or the colours are too bright, then this is a dress that is perfectly appropriate for a club setting – not a casino.
The most stylish, elegant, and classy solutions come from choosing mid or high-length dresses or shirts. Some of the most popular choices for a casino gown include the A-line dress, the bodycon, the empire line, or the halter. As long as that outfit has an idea and it's not meant to be provocative, you will get respectful looks from your peers.
If a particular casino is doing a thematic clubbing event, then you can grab that eye-catching outfit and steal the spotlight! Even if that is not the case and you've decided to look provocative with your outfit, no casino will remove you from the premises, as long as it adheres to basic limits for decency.
Accessories – Always Choose a Balanced Approach
When choosing accessories, obey the mantra "less is more": keep it simple and elegant, and you will achieve a perfectly balanced look. This principle applies to all genders.
When it comes to the ladies, a single necklace with a pendant and a couple of earrings will do wonders for your overall styling. Remember that everything you add to your outfit is meant to serve as a highlight. The same styling approach should be applied to hand accessories such as rings and watches.
Money Can Bend the Rules of the Casino Dress Code
In a place like Las Vegas, there is a good number of casinos that don't ostracize folks for how they are dressed. As long as the player is dressed and has money, their business is accepted 90% of the time, regardless of the type of clothes and shoes they wear. There are many stories about people gambling on the tables in their hotel bathrobes and slippers! Although that might seem strange, when somebody spends a ton of money, the casino's management staff tend to overlook the dress code factor.
A Classy Casino Will Demand a Classy Outfit
There are casinos in the world that wouldn't even allow millionaires to enter the premises if they are dressed poorly. A gambling house that has an exceptional reputation among the upper echelon of society is uncompromising when it comes to the visual experience of its guests. This usually translates to a black-tie dress code for the gents and a dinner dress for the ladies.
Even if you can't dress up like you're attending the wedding of James Bond, you don't need to worry; even the most elite casinos have a bit of leeway when it comes to dress code. Simply go for modern business casual or semi-formal! This way, you will not only look pleasant to your peers, but the casino's staff will also appreciate your appearance. Dress sharp, stay cool!